Williams steals show from Lin-'Melo duo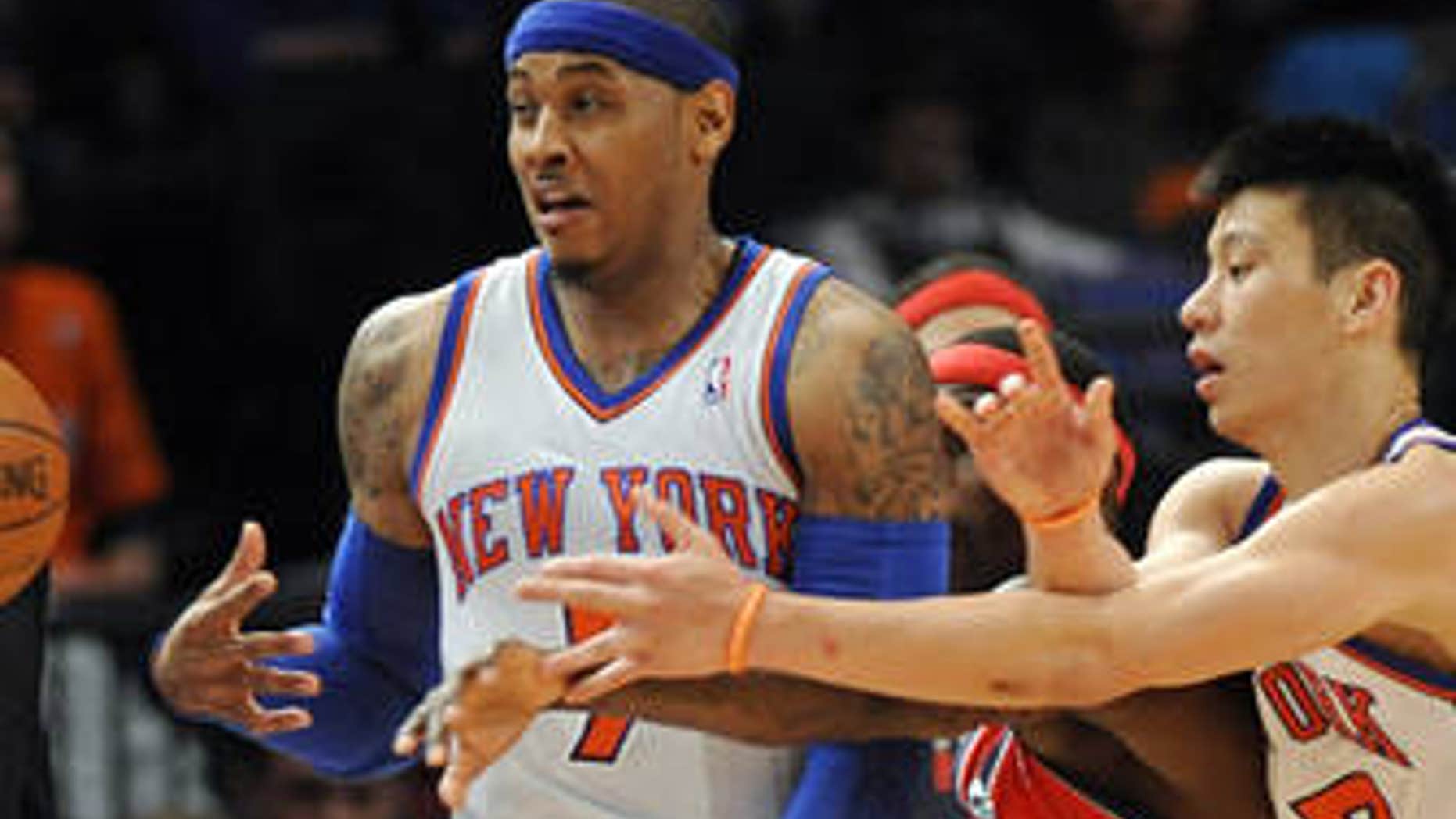 NEW YORK – The Jeremy Lin Meets Carmelo Anthony Era got off to a rocky start Monday.
But nestled in the New Jersey Nets' 100-92 win over the New York Knicks was more than just the fact that 'Melo's return did indeed end with a bad loss by a Knicks team that had been surging in his absence.
Yes, beyond a doubt, the Knicks will rise or fall based on how Anthony and Lin do or do not learn to coexist together on the floor.
But the next phase of Linsanity involves two types of stars: Those on Lin's team (most notably 'Melo) and those such as Deron Williams who are decidedly not on Lin's team and who share a real desire to squash the hype surrounding him -- and thus reassert themselves as the talk of the NBA.
The Miami Heat face the Knicks on Thursday, and behind its players' kind words about Linsanity is, you better believe, a growing hunger to put an end to it. Somewhere, Kobe Bryant surely dreams of getting another go against the young upstart. Same for Dirk Nowitzki, who lost to Lin's Knicks on Sunday, and same for all the other highly driven stars who don't surrender this kind of glory to unheard-of players without a bruising fight.
The NBA is filled with some of the world's finest competitors, after all, men who live lives centered on crushing all comers on the court. Men who would tend to take a no-name point guard usurping all the NBA glory a little personally.
It sure seemed like these things brought out the best in Williams' play at Madison Square Garden. At times curt about Linsanity during Lin's rise, and at hand when it began with a Knicks win over his Nets team two weeks ago, D-Will seemed determined Monday night to turn 'Melo's return and Lin's continued ascent into a stage for his own prodigious skills.
Skills, he may have thought privately, not given enough due given the national celebration that has sprung up around Lin since he burst on the scene.
In that spirit, Williams scorched New York, torching them for a season-high 38 points with the fire and flash of a guy a little tired of the basketball universe surrounding Jeremy Lin.
"The biggest problem," Knicks head coach Mike D'Antoni said afterward, "was Deron Williams was on."
Not quite, Mike.
The biggest problem is what Deron Williams' performance could represent: That a lot of teams and a lot of superstars in the days ahead are going to summon their very best against the Knicks.
The issue isn't just figuring out whether 'Melo can coexist with Lin. It's the fact that if it can happen, it needs to happen now. That's not really fair, or realistic, but that's the lay of the land in the NBA right now.
Lin, Anthony and the rest of the team are going to get a big old helping of what the Miami Heat got last year: A nightly adversary mustering the kind of energy, effort and desire to humiliate you that comes with being wildly, almost nauseatingly, celebrated. They need to be ready to face it today, not as soon as they're ready.
That's problem No. 1.
Problem No. 2 is that this onslaught of effort will rain down on the Knicks even as they try to figure themselves out during a shortened season with limited practices, new faces and an unexpected identity centered on Lin.
This team must integrate not just 'Melo but new additions J.R. Smith and Baron Davis, who made his Knicks debut Monday night. Amar'e Stoudemire will have to find his comfort zone among this crowded team, too, because nights like Sunday (17 points on 7-of-17 shooting and a paltry four rebounds) will be utterly unacceptable if this team hopes to be for real.
"Any time you have three new players or people coming back, your identity as a team is going to change with the personnel," Lin said. "That's what we needed to figure out, what our identity is going to be. We're not in panic mode because it doesn't just work where people just show up and all of a sudden you have great chemistry. So we're going to have to work through some struggles, but as long as we're all committed and buying in we'll be fine."
Yes, it's early. Yes, the Knicks -- from 'Melo to Lin to Davis to Smith to Stoudemire to everyone else -- need time to adjust. And yes, Lin played well against the Nets. He had 21 points, nine assists, seven rebounds and four steals.
He is certainly for real, and it's not as if Anthony's return turned Lin to mush, crushed his confidence, interfered with his rhythm or in general ended his run toward stardom. Instead, 'Melo looked both rusty and extraordinarily concerned that he not offer up fodder to the doubters who screamed he can't coexist with his new fellow star.
Anthony scored 11 points on just 11 shots, dished out six assists and turned the ball over six times. That's the line of a guy both out of sync and trying hard to make the Lin era work. That's the line of a guy playing selflessly, if not quite effectively. Even he needs time to figure this thing out.
"A little rusty," he said. "That was kind of expected. I wasn't really trying to overdo tonight. See what I could do. Just get this game under my belt."
'Melo also said he wants Lin handling the ball, and I believe him. He's seen this team storm back from being a joke to being a playoff contender. Any competitor would give that a shot.
But it's also true the future is now. 'Melo has returned, guys like Deron Williams are out for blood and the Knicks are operating under the sheen of an intense spotlight that might make them the story -- but also makes them a target.
"It is Day One," Lin said. "It is Day One. Obviously we're not happy with how it went, but sometimes when you go through these type of times you become a better team."
True. But usually Day One doesn't come toward the end of February. Because it has, the Knicks can't waste time. 'Melo and Lin need to mesh as soon as possible, including using the All-Star break and the three or four practices it'll provide to speed up the process.
Williams showed Monday night the kind of anger-infused competition the Knicks are going to face going forward.
Anthony and Lin have two choices. Either they beat back such efforts together, or they get used to being the inspiration for other players' moments of excellence.