William Perry auctioning off his size 25 Super Bowl XX ring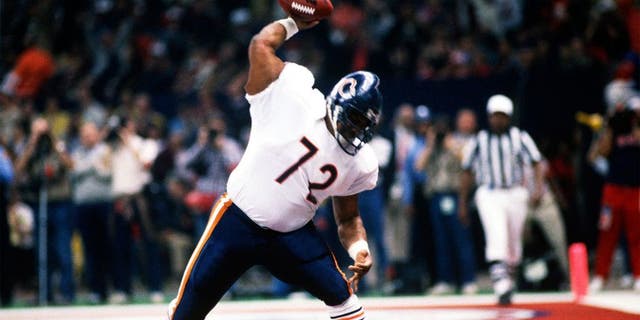 As William "The Refrigerator" Perry's life has fallen on hard times in recent years, his Super Bowl ring has gone along for the bumpy ride. And once again, it appears the record-setting piece of jewelry can be had for the right price.
The site Live Auctioneers is listing the ring as part of the annual National Sports Collectors Convention, which begins Wednesday and runs through Sunday at the Donald E Stephens Convention Center in Rosemont, Ill., just outside Chicago.
Perry rocketed to fame as a rookie in 1985 as the larger-than-life, fun-loving defensive tackle who terrorized offenses as part of the "Monsters of the Midway" defense while simultaneously plowing into the end-zone as a fullback, celebrating with his thunderous spikes. Perry has battled a variety of reported ailments since 2008.
In that year, he was diagnosed with Guillain -- Barré syndrome, a nerve-inflammation disorder. He has since reportedly suffered from hearing loss, seen his weight balloon to 400 pounds and struggled with alcoholism.
Last year his brother, former NFL defensive lineman Michael Dean Perry, claimed he was William's assigned guardian and conservator and that his brother owed more than $26,000 in back taxes, all while William was reportedly in jeopardy of losing his South Carolina home.
And now comes the posting of his famed Super Bowl XX ring for auction.
Back in 2011, a 10-year-old in New York bought the ring at Mickey Mantle's restaurant and sports bar, using $8.500 of his college fund to purchase the ring. While Perry never acknowledged how the ring wound up in the restaurant's sports-memorabilia shop, the boy returned it to The Fridge.
And once again, there is no word on how the ring ended up as part of the Heritage Auction lot which can be viewed Wednesday and Thursday. But, according to the online listing, Perry is willingly selling the ring.
"The ring will be accompanied by a letter of provenance from Perry himself, and a photograph of Perry holding both that letter and the ring itself. Letter of provenance from William "Refrigerator" Perry. Photographic documentation."
According to the listing, the bidding starts at $16,000 and is expected to fetch between $16,000 and $1 million. Also, per the listing:
"[This is] the largest NFL Championship ring ever produced, estimated at a size 25, though no measuring tool large enough to confirm this figure exists. While it is widely known in the hobby that the ring was rather widely reproduced due to its crowd-pleasing absurdity, we can confirm definitively that this is the one and only original presented to Perry for his part in "shuffling" to Super Bowl XX victory along with Walter Payton, Jim McMahon and Mike Singletary.
"The face of the ring is awash in genuine diamonds which allow just a hint of the navy blue stone beneath to peek through. Raised text at the perimeter trumpets the achievement: '1985 Chicago Bears World Champions.' Left shank announces 'Perry' above a figural helmet and text reporting, '16-1, GSH, Attitude.'
"Right shank reports the lopsided score, 'Bears 46 Patriots 10' above the logos of Super Bowl XX and the NFC, and a figural Lombardi Trophy."
Perry played 10 seasons in the NFL, the first eight-plus with the Bears before finishing up with the Philadelphia Eagles. He finished his career with 29.5 sacks and 506 tackles in 138 games. He also had three rushing touchdowns, including one in that Super Bowl win, all in his rookie season.