Will World Cup Stadiums Be Brazil's White Elephants?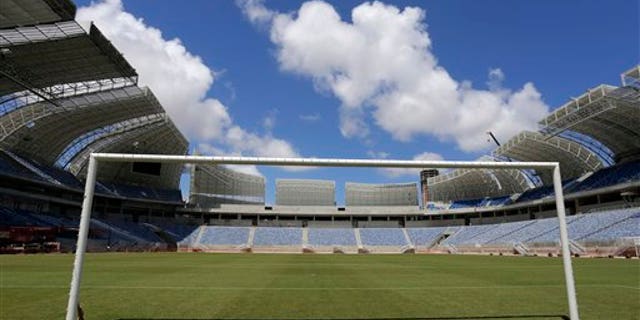 NATAL, Brazil (AP) – Say this for organizers of Brazil's World Cup: their taste in stadiums is impeccable.
The graceful Arena das Dunas in the coastal city of Natal, where the United States and seven other teams will play, is a prime example. This isn't simply a mere place to watch soccer, it's a shrine to the sport's wealth and power, its ability to commandeer resources.
The curves of the stadium's bone-white roof bring to mind wind-sculptured sand dunes. The light and dark blues of its 42,000 seats are a wink to the hues of the nearby Atlantic. Sea breezes naturally cool the airy bowl. In the pristine white changing rooms, players with an eye for detail might notice the stadium's name engraved on their lockers' chrome handles.
Then what? The gauge of Brazil's success as the 2014 World Cup organizer won't simply be if it pulls off a samba-filled month of futebol fun. An acid test will also be whether its World Cup stadiums built or renovated for $3.4 billion subsequently justify the investment that critics say could otherwise have been used to improve the lives of Brazil's millions of poor.
For the majority of Brazil's 12 World Cup venues, the future looks assured, because they have teams sufficiently big to draw spectators and revenue. For others, not slowly becoming monuments to wastefulness will be more of a challenge. They include new stadiums in Natal, in the Amazon city of Manaus, in Cuiaba in west-central Brazil's wetlands and in the capital, Brasilia.
When Natal's mayor, Carlos Eduardo Nunes Alves, was elected last October, the decision to spend $180 million had long ago been taken and construction was well underway. If given the choice, he says he would have preferred a stadium costing half that and the rest invested on schools, hospitals and transport for his city's 800,000 inhabitants.
"I hope these golden cages can be good for something," he said in an interview. "We have to think positively and make an effort to make this stadium a living thing and not a white elephant."
Build and they will come. That is the mantra World Cup organizers repeat over and over to justify these constructions. They say the venues' comfort and safety will draw families to soccer long after the World Cup turns its attention to Russia, its next destination in 2018. Governing body FIFA is already claiming success, saying that after six of the stadiums opened for business with the Confederations Cup in June, they have nearly all been pulling in crowds larger — much larger at three stadiums — than the Brazilian league average of 14,951 fans per game. The Arena Pernambuco in the Atlantic beach city of Recife is the exception, drawing an average of 11,955 spectators per game, FIFA says.
Brazilian officials say hosting pop concerts and other events will help make ends meet for stadiums that cannot live off soccer alone. In Natal, 10,000 seats will be stripped out of the stadium post-World Cup to manage costs.
In short, move along, no white elephants here.
But World Cup organizers have to say that, especially after Brazilians poured into the streets in June to demand better public services and decry World Cup expenses. The cost of building stadiums sufficiently large and modern to satisfy FIFA has become a protest battle-cry. In Salvador, aviation employees campaigning for better salaries have stuck up posters demanding "Less FIFA standards, more respect for workers" at the airport that will serve as the gateway for fans coming for six World Cup games at the city's new Arena Fonte Nova.
In Natal, the presidents of local teams ABC and America, which play in the Brazilian league's second tier, both expect far bigger crowds at that city's new stadium post-World Cup. The teams' flags already hang from its rafters. The divide between rival fans — the "ABCdistas" and "Americanos" — cuts through Natal like a fault line. Natal's mayor supports ABC; his chief of staff is an Americano.
The ABC motto, written large on the front of its existing, grubby and Spartan 18,000-capacity Frasqueirao Stadium, is "O Mais Querido," meaning "The dearest." With next-to-no prompting, ABC fans lustily belt out the team song and its chorus: "Salute the dearest! Salute the dearest!"
The Frasqueirao "is big enough for our needs," ABC president Rubens Guilherme Dantas said in a telephone interview. "There was really no need" for the new one.
"It's a lot of money, and society and the citizens are actually paying for that," Dantas said.
But "the Arena das Dunas is really a nice stadium, it's very pretty and very comfortable," he added. "It will attract a lot of people, especially families and kids, it will be more accessible to them, safer."
"I think we may get double the attendance in the new stadium."
Alex Padang, the outgoing president of America, echoed that. After the 40-year-old Machadao stadium was demolished in 2011 to make space for the World Cup ground, America set up temporarily some 50 miles from Natal, making it "the team that had to play away from home for the longest time in the entire world," Padang said by phone.
"There's no doubt that the Arena das Dunas will be good for us," he said. More than 1,300 people have joined the club's new membership program launched recently to take advantage of the new arena. This season, America attracted 2,000 fans per game, he said. In the new stadium, Padang expects crowds of 25,000 for important matches, falling to 5,000 for low-profile games.
"Our fans needed a long trip to get to our games, now they'll be a bus ride away," he said.
Follow us on twitter.com/foxnewslatino
Like us at facebook.com/foxnewslatino