Will wine country visit end Kyle Busch's winless streak?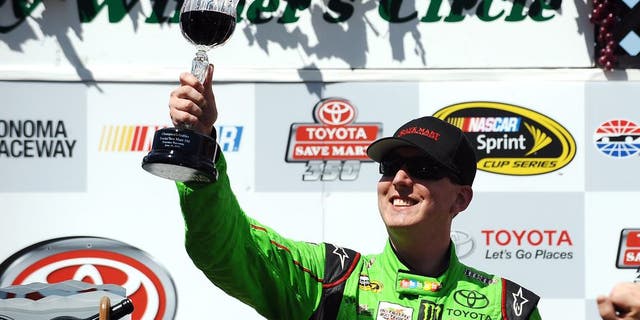 NEWYou can now listen to Fox News articles!
A seasons worth of frustration might finally end on Sunday for Kyle Busch, driver of the No. 18 Joe Gibbs Racing Toyota in the Monster Energy NASCAR Cup Series.
Busch hasnt been to Victory Lane in a Cup points race since winning his second consecutive Brickyard 400 last July.
Thats a winless streak of 31 races for Busch, the 2015 Cup champion.
This despite leading the most laps in four races this season and leading a total of 743 laps in the first 15 races of the year. Four times this year, Busch has finished second or third, but hes not won a points race yet.
A trip to the lush Napa Valley in Northern California might just be the ticket for Busch to find a much-needed reversal of fortune.
Consider the evidence: Nine drivers entered in Sundays Toyota/Save Mart 350 at Sonoma Raceway have won a single Cup road race each in their respective careers.
Busch already has won four times on Cup road courses, including victories at Sonoma in 2008 and 15, the latter kicking off his surprising run to a championship after missing the first eight races of that season with injuries suffered in a crash.
We thought getting the win would be the hardest part, but it was really not expected at Sonoma, Busch said of his victory here two years ago. My feet and legs were still recovering and there was a lot of shifting and it was hard on them. With 30 laps to go, it was hurting pretty bad but, when you realize you have a chance to win, it doesnt hurt as bad.
This time around, Busch is expecting another physical battle.
Sonoma is a place where you cant necessarily run 100 percent every lap, he said. Youve got to hold yourself back a little because the tire just wont withstand running on it as hard as you can every single lap with the fall-off. The better you can take care of those tires and the more you take care of yourself, then the more you take care of your car.
Busch said he expects patience will be in short supply, which is often the case at Sonoma.
Im sure there will be some hot tempers there when its hot, too, like there typically is at a short track, Busch said. And this, to me, is like a road-course, short-track race where theres going to be some beating and banging and moving some people out of the way, for sure.
As always, though, the goal will be pretty straightforward: Just win, baby.
Weve had some bad luck recently, so were hoping we can get a good run with our M&MS Caramel Camry at Sonoma and maybe finally get that win weve been looking for, Busch said.
The numbers suggest hell certainly have a shot.