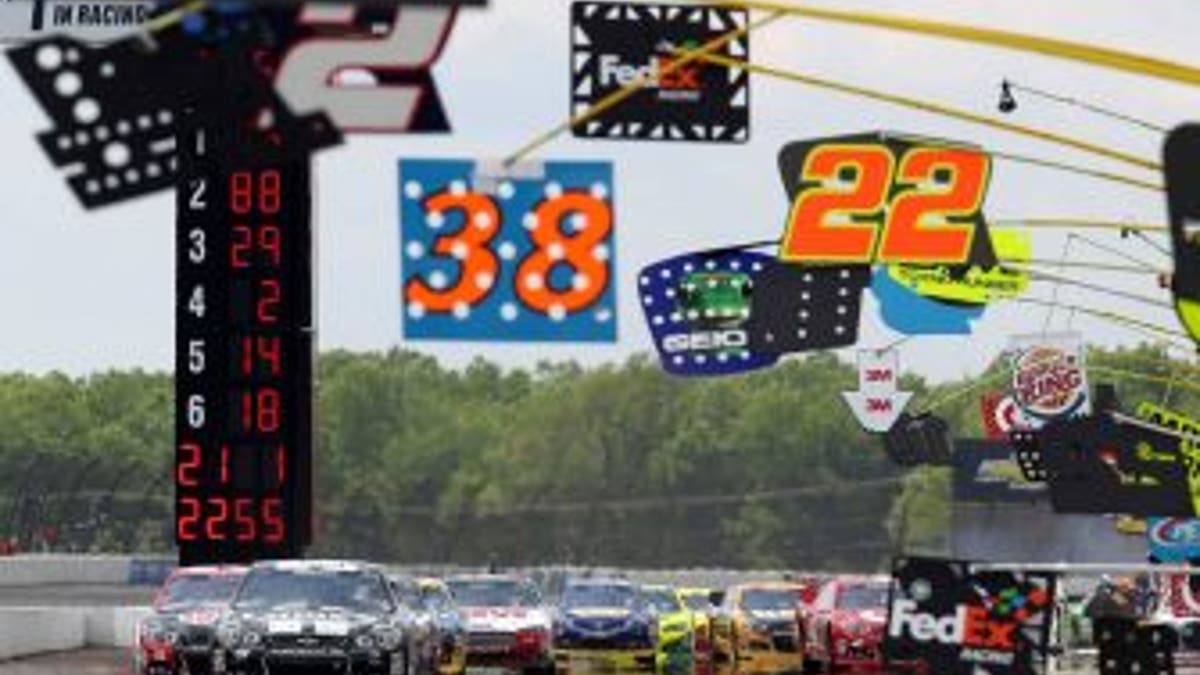 I see a couple and maybe even three things that will be different this weekend at Pocono. We know with the new rules package for 2014 that this car will race a lot different there. I actually don't think we'll see a new track record. I think we have to look back at Auto Club Speedway earlier this year as an example.
[audio-clip]
It's a 2-mile track and we didn't set a new track record there. What we've seen a pattern of at the bigger tracks, not counting Daytona or Talladega, is that while there is more downforce on these cars, there is also more drag on the longer straightaways. I think that's why we didn't see a new record at Auto Club Speedway and it's the same reason why I believe we won'€™t see one at Pocono.
What we got at Auto Club Speedway was one heck of a race. I think we will have one of the better Pocono races that we've had in quite a while. The downforce that I mentioned earlier will allow these drivers and cars to race through the corners. That's going to keep the action hot and heavy Sunday.
While I don't know yet if it will actually be a factor come Sunday, a story going into this weekend is that Pocono Raceway did away with the curbing over in Turn 2 -- what we always refer to as the Tunnel Turn. There's still a lot of banking in Turn 2 but the apron they put in there is flat. The question becomes whether a driver is going to want to get down there. I sure don't know yet. That could be a slippery slope. We know it will have a lot of grip, but I just don't know if the drivers will venture to try it.
So that's a couple variables going into Sunday that we'll keep an eye on. We also know that as soon as the green flag falls Sunday, the driver, crew chief and teams immediately start thinking about fuel strategy. You can only run about 30 laps at Pocono before you need fuel. We always tell you how the teams run a road course race backward in their calculations on fuel, and it actually is the same at Pocono.
Pocono is so big that you can be running up front and come in for fuel and four tires without the worry of going a lap down. So you can do what we call "short-pit" without the fear of the leader coming back around before you exit pit road and putting you a lap down.
We have some other unknowns entering Pocono. One thing that isn't an unknown is that even on the heels of his two wins in a row, expect Jimmie Johnson to run well Sunday. I'm also curious to see how the Toyotas perform. All five of them -- the three Joe Gibbs Racing and two Michael Waltrip Racing teams -- did show strength last week at Dover. Obviously, though, Pocono is a mile-and-a-half longer than Dover so the question becomes with the added power, will there be endurance issues with the engines?
I'm also curious to see if the Team Penske Fords of Brad Keselowski and Joey Logano will be strong on Sunday. So there are a lot of questions going into the race at the Tricky Triangle that we all know as Pocono Raceway and its 400-mile race Sunday.