Will Ryan Tannehill remain Dolphins' franchise QB after coaching change?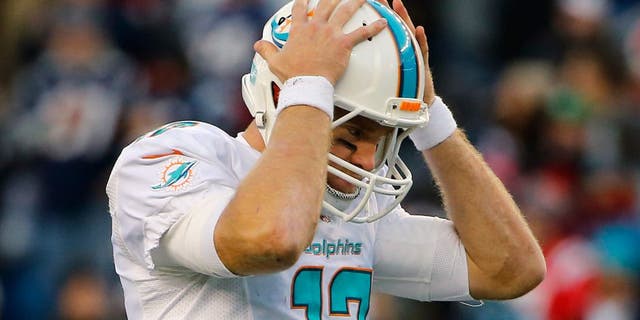 NEWYou can now listen to Fox News articles!
The Miami Dolphins made Ryan Tannehill their "franchise quarterback" this offseason by signing him to a six-year, $95 million deal in May. At the time, there was no question that the Dolphins had to re-sign Tannehill and hold onto him for the near future, but the firing of Joe Philbin could change that narrative.
Philbin, of course, was fired on Monday and interim head coach Dan Campbell will take over for the time being. Campbell has established himself already as a tough, hard-nosed coach and vows to make the Dolphins a more aggressive team.
A report surfaced on Monday that Tannehill has been frustrated by practice squad players, so much so that Philbin told them to take it easy on the quarterback. Tannehill had been picked off several times in practice and took a shot at his teammates by saying "Enjoy your practice squad paycheck, enjoy your practice squad trophy."
If true, that's obviously not something you want your franchise quarterback saying in practice, and it's likely not something Campbell will tolerate.
Now, that doesn't mean Tannehill will be on a short leash. That's hardly the case. But his contract favors the Dolphins and their ability to part ways before his deal ends.
As ProFootballTalk points out, it turns out to be a two-year deal with a team option for the remaining four years. If the Dolphins did want to part ways before the 2017 season, they'd avoid $17.975 million in guaranteed money that year, and $5.525 million in 2018. According to PFT, he's only guaranteed to be on the roster through 2016.
Most likely, Tannehill will remain the franchise quarterback for the Dolphins for the duration of his contract. He's improved each year since coming into the league and is one of the few bright spots on the Dolphins' offense right now. If not for him, they'd be even worse -- and yes, that's possible.
MORE NEWS: Want stories delivered to you? Sign up for our NFL newsletters.