Will Mayweather fight Pacquiao?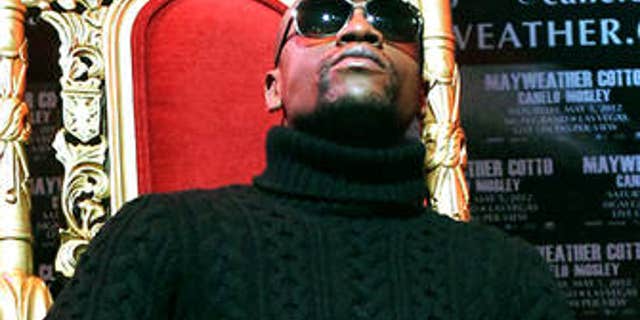 "Pretty Boy" Floyd Mayweather has found a way to make it to 44 wins (26 of those being KOs) with a zero in his loss column. No other boxer can brag about career numbers like his, which is fine with Mayweather. One thing Floyd is good at is hyping himself.
As the 36-year-old "Money Team" leader counts down the final fights of his storied career, he's making sure to cross out all possibility of the bout every fight fan would love to see: Mayweather vs. Manny Pacquiao. Pretty Boy Floyd said that once upon a time, Pacquiao had a chance to make the fight . . . and didn't.
"Basically,'' Mayweather said, "that's the best place I'd like to leave it."
Is Mayweather just too damn cocky to give Pacquiao a shot? It's no secret Mayweather wants nothing to do with Bob Arum, his former promoter who now handles Pacquiao. Mayweather told Yahoo! Sports that he would only consider fighting Pacquiao if Manny joined Mayweather Promotions. Essentially, Mayweather is trying to do the Jay-Z thing and own the competition.
Savvy business? Yeah, but it's not likely Pacquiao will travel down that road.
Well, according to what Mayweather told MLive.com , any offer to Manny seems to be off the table.
"That's probably how I was feeling at that particular time," Mayweather said. "I'm only human. Floyd Mayweather does contradict himself. I'm only human. I'm not perfect. I mean, I think we all do.
"How are things today? He's not going to get a chance to fight me. I was feeling that way weeks ago. Now, I'm feeling like I wouldn't even give him a chance. He had a chance, he blew it, so that's what it is."
So that's that, huh? From all the back-and-forth talk from each side and high hopes of boxing fans worldwide, Mayweather-Pac Man fight was all bluster from the start. It was never gonna happen.
The only thing that did happen from those talks was a defamation suit, which Pacquiao filed against the Mayweather camp for accusing him of steroid use.
The way I see it, Pretty Boy Floyd was scared to lose then; he's scared to lose now.