Will Georgia run Chubb as hard as they did a season ago?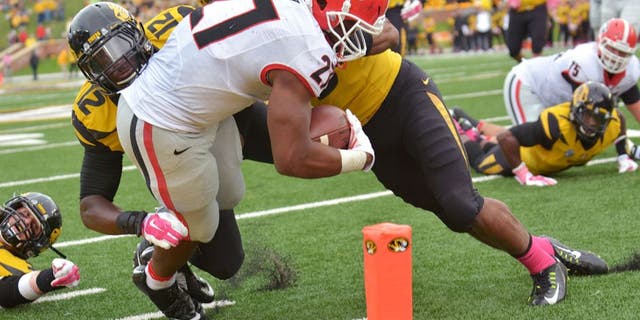 Nick Chubb came to Georgia as a highly touted back with a bright future ahead of him but with Todd Gurley, Keith Marshall and Sony Michel all splitting carries with Chubb this time a year ago, no one could have seen the massive production the freshman would eventually pile up coming.
Flash forward a year and Chubb is now the man in Athens. He's proven to be the workhorse back the team needed last season and he nearly carried them to the SEC title game, coming up just one game short.
But just because Chubb has proven he can handle the workload, should he have to? Here's what sophomore running back had to say before Georgia kicked off fall camp.
"If all goes well, I think we have more backs carrying the load, and a great passing game," Chubb said to the Atlanta Journal Constitution. "So I don't know how many carries I'll get, but whatever I'll get it'll be the best for the team, and the coaches will be in charge of that. So it's up to them."
Chubb was quick to point out that if that isn't the plan, the team already knows what he's capable of, he's proven he can carry the ball as many times as they need.
"If I have to do it, I'll do it," Chubb said.
Chubb finished third in the nation last season with total rushing attempts. Considering he only had 12 carries combined in Georgia's first three games, the coaching staff has to be more careful in managing his carries more effectively the season.
"I knew the kid was pretty good. I didn't realize the kind of stamina he had," Mark Richt said. "I thought he would be mentally and physically tough because of the program he came out of. But to carry the ball as many times as he did more by need than by design, he was able to handle it. He was able to stay pretty healthy throughout."
So whom will step up and shoulder the load with Chubb this season. Chubb himself sees senior Keith Marshall as the most likely candidate.
"He looks great," Chubb said. "I don't know how he looked in practice his freshman year. But I know sophomore year he didn't look like he was 100 percent. But now he's looking very good."