Will controversies overshadow Chase?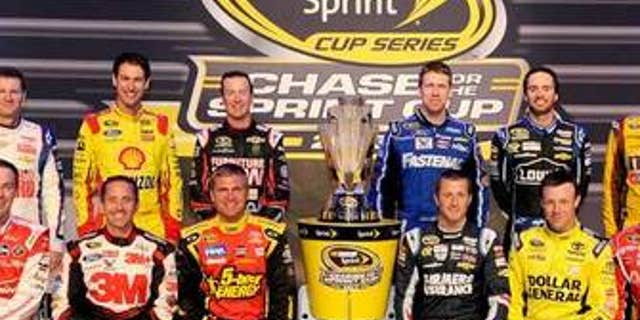 JOLIET, ILL. – While there is rain in the forecast for Sunday's race at Chicagoland Speedway, will it be the clouds of controversy from last weekend that inevitably overshadow the Chase for the Sprint Cup?
NASCAR spent the last week cleaning up the mess after competitors played hard and fast with the rules. The result? A finish that wasn't official until Monday night - nearly 48 hours after the race concluded.
The sanctioning body then elected to take Martin Truex Jr. out of the Chase, include Ryan Newman and through executive order from NASCAR chairman Brian France add an unprecedented 13th position for Jeff Gordon.
While Gordon's teammate Jimmie Johnson is pleased that the four-time champion was added to the Chase, he's still searching for closure entering this weekend.
"I believe there should be 12 cars," Johnson said. "One in, one out should be the deal. It's not, but there are a lot of things to consider and look at.
"From conversations I've had from things I've seen, read, speculations, truth - truth lies somewhere in the middle of all this that we keep talking about."
Johnson is right. And there really were no winners in the last week. But a warning issued to competitors by France on Saturday that team orders to manipulate races and other shenanigans will not be tolerated was a good place to start. NASCAR followed up later Saturday with a technical bulletin that outlined unacceptable practices.
Now, if there is any question whether spinning to bring out a caution, pitting to assist a teammate's position or bargaining with another organization for material benefit will be acceptable in the future, France put those assumptions to rest. The rules will go into effect Sunday.
While many of these strategies might have been commonplace in the past, during Saturday's meeting France told competitors to ponder some questions. When they're racing, are they giving 100-percent effort? Are the drivers doing everything in their power to hold or advance their position?
If they can answer yes to one or both, then their motives - and integrity - will not be called out.
France acknowledged that the competitors were insisting on the sanctioning body stepping up its regulations - and NASCAR responded.
For Johnson, it was necessary to correct the issues now before the past repeated itself with "two or three races left into the championship battle - and I don't want that in our sport."
"Hopefully, we can be aware, make the right adjustments, from NASCAR's standpoint and do a little better job of policing it," Johnson added. "Long term, ultimately, and I know it's a farfetched idea, we need to make some changes and look at all options. But to try to make these decisions, we have the technology out there.
"We don't have it in hand yet, but let's find a way to police this stuff live time and try to make decisions in the race. It's no fun when you have to worry about making decisions Monday or Tuesday because it's the racing that should dictate the finish and who is in and out."
Although NASCAR didn't discuss what technologies will be used to further police the races, the sanctioning body has eliminated multiple spotters on the spotter's stand and improved transparency by abolishing digital radios from the roof. A camera will be put in place to monitor the actions of the spotters as well.
NASCAR is currently doing due diligence to improve officiating in the pits through technology, but one official said Saturday that "the human element" will never completely disappear.
After a difficult week when Logano's legitimacy in the Chase was questioned first by the action of Michael Waltrip Racing's machinations last Saturday followed by Wednesday's reports of collusion (though unsubstantiated) with the No. 38 car, the 23-year-old Penske Racing driver put his No. 22 Ford on the pole for Sunday's race.
Gordon, who might have an asterisk by his name for being the 13th Chase driver, will start sixth. Then there's Martin Truex, once in the Chase and now out, rolling off 14th followed by his infamous spinning teammate Clint Bowyer in the 24th spot.
There might be an uncomfortable moment or two for any one of these drivers if they win one of the next 10 races or even the Sprint Cup championship - but nothing worse than they've already endured. Although it would be easy to continue to criticize or question the motives of any of these drivers or teams, once the green flag falls on Sunday, you can bet all they'll be thinking about is the race.
"I thought today that meeting was necessary and I am glad we had it," Logano said. "I am glad we can put it all behind us now and look ahead into the Chase. It is going to be an awesome championship because we have 13 cars that can win this thing. I don't know who the favorite is going into this. There are a lot of guys that can win it. Hopefully we are one of the favorites. I think we are.
"I feel like we can turn the page now before the race starts. Today was kind of the end of it all. I know that is what we all want to do and part of that meeting was to put it behind us and focus on this great Chase that is coming up ahead of us because I know that is going to be a hell of a race, that is for sure."
For the future of NASCAR, Saturday's tenets could prove to be a watershed moment. Other sports have had to evolve with the times and now it's NASCAR's turn. While their comments appear strong, over the next 10 races of the Chase it's the sanctioning body's actions that will be scrutinized - starting on Sunday.