Will Bruins have Lucic for Game 7?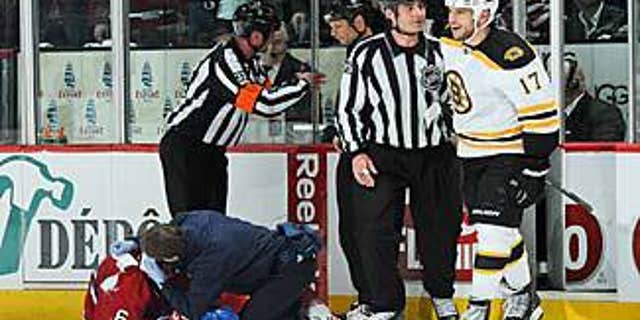 MONTREAL – Boston faces a make-or-break Game 7 Wednesday at TD Garden, and the team is not sure it will have its best player in the lineup.
Boston forward Milan Lucic incurred a five-minute major for boarding and a game misconduct in the second period for a hit on Montreal defenseman Jaroslav Spacek in what turned out to be a 2-1 loss Tuesday night at the Bell Centre.
There is a chance that Lucic could face supplemental discipline for the hit, which was from behind as Spacek was dumping the puck into the Boston zone at the 4:37 mark of the second period. Spacek was bloodied on the play and had to leave the game, but he returned later in the second period and finished the match.
Montreal scored the winning goal while Lucic's major was being served, although Boston's Patrice Bergeron was also in the box as Brian Gionta scored Montreal's second 5-on-3 goal of the night.
After the game, Lucic was not available for comment.
Boston coach Claude Julien was asked if he thought Lucic, his first-line winger and a 30-goal scorer during the regular season, is at risk of a suspension. The coach was non-committal in his answers.
"I have no idea," Julien said. "Like I said, I haven't had a chance to look at it. I don't even know how they are seeing it. Again, I think the five-minute was because he was cut, not because of the hit necessarily, but because of the cut. So the hit caused a cut, and that's the way it is.
"But again, I can't comment on much of that stuff because I've only seen it quickly. The last thing you want to do is make a bad comment on something that you haven't had the chance to look at closely."