Wild hope law of averages takes over vs. Blues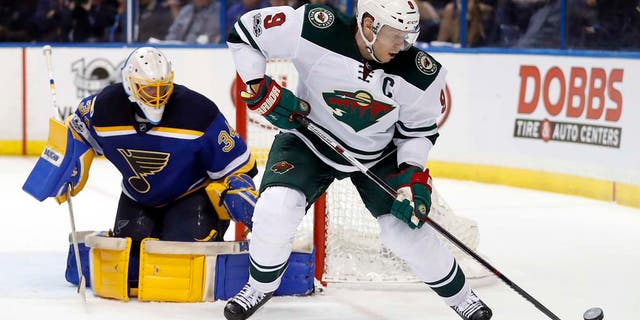 NEWYou can now listen to Fox News articles!
There's no denying it -- the Minnesota Wild are in something of a pickle. Wild
Down three games to none in their best-of-7 series with the St. Louis Blues, what can the Wild do to try and turn things around?
May we suggest perhaps shooting less? Yeah, we said less.
Minnesota is outshooting St. Louis in the series 117 to 79, the +38 differential is the highest thus far this postseason.
The Wild have outshot the Blues in each of the first three games of the series, which means Minnesota has now lost five straight games in the playoffs when outshooting their opponent. Last season, Minnesota outshot Dallas in Game 4 30-22 and 29-24 in Game 6, losing both games by one goal (3-2 and 5-4). Minnesota was outshot in Game 5 of that series 41-24, pulling out an overtime victory 5-4.
Yeah, Minnesota lost two other games to the Stars when they were outshot and in the 2015 playoffs in the first round against St. Louis were 2-2 when the Blues had more shots, but hey, we're just looking for something to work with.
Of course, seeing the teams returning to the mean would help, too. Note: We mean you Jake Allen.
The Blues goalie has been standing on his head this series. Consider that St. Louis allowed one goal in the playoffs last year just five times in 20 games (as we know, Allen and the Blues are 3-for-3 in 2017).
From 2015-16, Allen had eight playoff starts and in those games was 3-5 with a 2.55 goals-against average and .897 save percentage (compare that to 0.91 and .974 vs. the Wild thus far).
One more from the St. Louis side of things: The Blues defensemen have scored three of their seven goals this series, or 42.9 percent. During the season, St. Louis' blueliners accounted for just 15.0 percent of the team's goals, which ranked 18th in the NHL.
Of course, it would help Minnesota's cause if more than just Zach Parise and Ryan Suter got involved in the Wild's scoring. The veteran pair have combined for five points this series (two goals, three assists), while every other member of Minnesota has four points combined (one goal, three assists). Maybe it will be Charlie Coyle, who has tallied a goal three straight games in St. Louis.
And, hey, for you doubters all is not lost. While only four teams have come back from a 3-0 deficit in the playoffs, two are recent: Philadelphia over Boston in the 2010 conference semifinals and Los Angeles over San Jose in the first round of the 2014 postseason.
Statistics courtesy STATS and hockey-reference.com