Wild brawl erupts between both teams and referee at youth hockey game in Czech Republic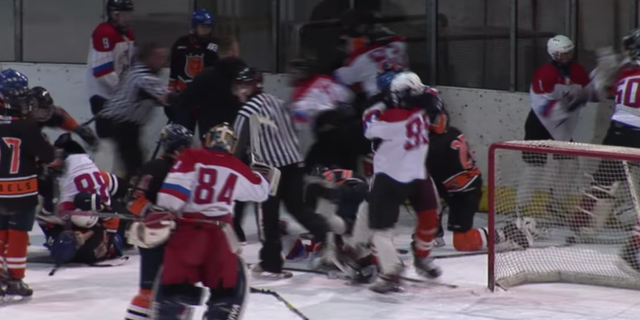 NEWYou can now listen to Fox News articles!
A recent Under-16 hockey game in Czech Republic took an ugly, ugly turnwhen a wild brawl broke out toward the end of the contest. The donnybrook not only involved several players from both teams….but one of the game'son-ice officials as well.
The incident came during the annual Easter Cup an annual international tournament held in the spring andsawHC Brest andLiba Academy 11 Kosice go at it during the bronze medal game. Apparently, that game went off the rails somewhere along the way.
Line brawls are most synonymous with "old time hockey" and not youth hockey, so it's a bit shocking to see these teenagers many of whom werewearing full shields on their helmets embracing the violent nature of the sport. Then again, not even many "old time hockey" brawls involved players going after referees in a fit of rage…and even less feature the referee actually throwing punches.
That's how you know this one was something else entirely.