Wil Myers takes BP for first time since wrist surgery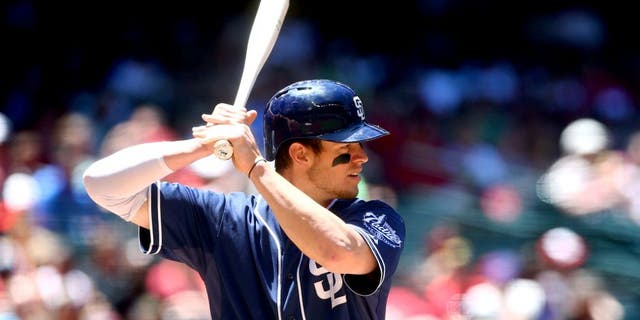 San Diego Padres slugger Wil Myers took a big step in his recovery from wrist surgery on Wednesday.
According to MLB.com, Myers took batting practice at an indoor cage at Nationals Park on Wednesday, marking the first time he's taken live batting practice since undergoing surgery on his left wrist to remove a bone spur in June.
"It felt good," Myers said.
MLB.com reports that Myers took 40 swings in total and is optimistic he'll be able to take batting practice on the field within the next few days.
"We'll see how [his wrist] calms down and see how it feels waking up tomorrow and go from there," Padres interim manager Pat Murphy said.
Prior to having surgery on his wrist, Myers was hitting .277/.327/.459 with five home runs and 19 RBI in 35 games this season.
As the Padres explore ways to keep Myers in the lineup despite his subpar defensive play in the outfield, he played a handful of games at first base earlier in the season, and was seen doing defensive work at first base on Wednesday as well.
(h/t MLB.com)