Wife of M's OF faces federal charges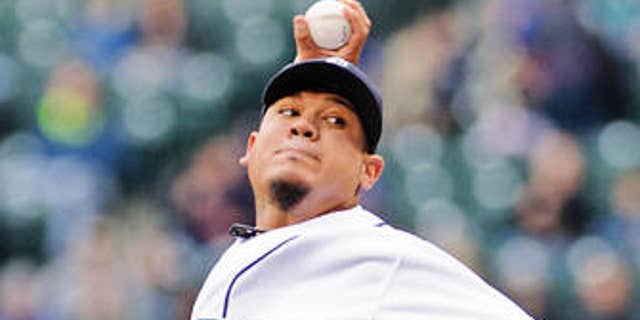 The wife of Seattle Mariners outfielder Carlos Peguero is facing federal wire-fraud charges for allegedly making nearly $180,000 in purchases using a debit card belonging to the wife of Mariners star pitcher Felix Hernandez, the Seattle Times reports, citing court documents and sources.
According to the report, Maria Jacqueline Peguero faces charges in the U.S. District Court in Tacoma of three counts of wire fraud, which could possibly cost her up to 20 years in prison. The report also said Maria Peguero is free on bond after pleading not guilty to the charges.
The charges, according to the Times, allege that Maria Peguero used a debit card belonging to Sandra Hernandez to purchase merchandise from Saks Fifth Avenue between June 26, 2012 and Oct. 9, 2012. The charges were filed by the U.S. Secret Service on Oct. 1. The Secret Service oversees the federal cybercrime task force.
While the complaint does not identify Hernandez or his wife by name, the Times says an annonymous source familiar with the investigation confirmed their identities.
Randy Adamack, the Mariners' senior vice president for communications, told the Times that team officials are "aware of this pending police matter, but are not in a position to discuss it further."
Hernandez, generally considered the ace of the Mariners pitching staff, is paid $19 million a year and has earned the nickname "King Felix." The 27-year-old won the American League Cy Young Award in 2010.
Carlos Peguero spent most of the past season with the Mariners' Triple A team in Tacoma. The 26-year-old, who signed with the Mariners in 2005, played just two major league games this past season and 118 in Tacoma, where he batted .260 with 19 homer runs and 83 RBI.
Maria Peguero, according to the Times, is the youngest daughter of late major league relief pitcher Pedro Borbon, who played 12 seasons in the big leagues, including 10 for the Cincinnati Reds.
The original article can be found at FOXSports.com: Wife of M's OF faces federal charges.