WIDE WRITE: Vince Will Lead the Way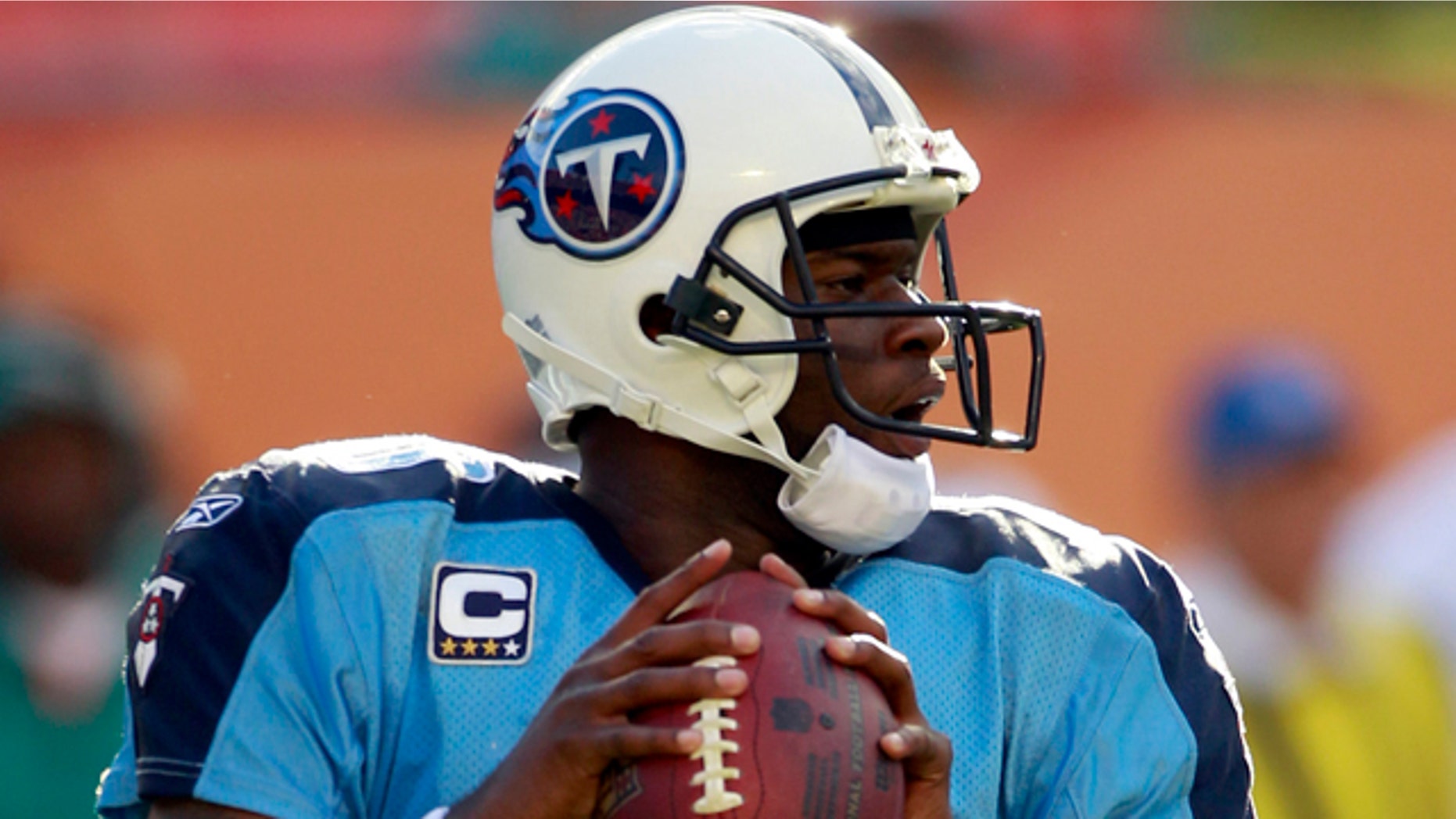 We hope you appreciate the quality advice you've been getting in this weekly column. One of last week's wide receiver recommendations, Mike Thomas of the Jaguars, not only had eight receptions for 149 yards - he caught a Hail Mary TD at the end of the game, and had the Pro Football Hall of Fame ask for his uniform. We're serving up Hall of Famers here, folks!
As noted previously, each position below will have a list of weekly "must starts" to go along with the usual recommendations. They're players that warrant "no-think" fantasy status due to talent, workloads or both, regardless of opponent. The lists are subject to change, but additions and deletions will be made sparingly. Also, if a player is ever "removed until further notice," it doesn't mean you need to bench him; it just indicates that his status has become a week-to-week proposition that depends on the rest of your roster.
If you disagree with any of the selections, or want to offer some of your own, please post a comment at the bottom of the page. We'll be here every Thursday until the end of your fantasy season.
Week 11 byes: None – bye weeks are done for the season. Woo-hoo! Also, remember that there's a Thursday night game between the Bears and Dolphins. Set your lineups early.
Quarterbacks
Must starts (6): Peyton Manning, Tom Brady, Michael Vick, Aaron Rodgers, Drew Brees, Philip Rivers
Start him: Vince Young, Titans
With Kerry Collins out for awhile due to a strained calf, Young and new best pal Randy Moss take the field at home against the Redskins. You might remember the Redskins as the team that gave up approximately 64 touchdowns on Monday night to Eagles QB Michael Vick. Washington's pass defense is ranked 31st in the league in yards allowed per game, has given up 18 touchdown passes, and aside from a four-interception game against Bears' pick machine Jay Cutler, hasn't forced many turnovers. The elements are in place for Young to have a solid day.
Sit him: Kyle Orton, Broncos
This is a tough one, but of all the good quarterbacks with difficult matchups, Orton seems like the logical one to sit. He and the Broncos visit the Chargers' third-ranked pass defense, and as well as Orton played against the Chiefs last week, he still gave way to backup Tim Tebow for a couple of short-yardage touchdowns. The specter of Tebow entering the game when the Broncos get near the goal line should be unsettling for Orton's fantasy owners, and it's an issue that is likely to rear its ugly head for the rest of the season. Orton's good, but his somewhat uncertain touchdown potential makes him a questionable start against tough opponents.
(Yes, we know Orton threw four TD passes in Week 10, and has 16 for the season. We just don't like that he's been coming out in favor of Tebow near the goal line lately.)
Pick him up: Tyler Thigpen, Dolphins
Thigpen is the last quarterback standing for the Dolphins, and you may remember that he threw for 2,608 yards and 18 touchdowns as the Chiefs' starter in 2008. He's not bad, and will have matchups against the Lions (ranked 17th in passing yards allowed) and Bills (18 TDs allowed) in Weeks 15 and 16. As backups go, you could do worse.
Running backs
Must starts (13): Adrian Peterson, Rashard Mendenhall, Arian Foster, Michael Turner, Ray Rice, LeSean McCoy, Peyton Hillis, Ahmad Bradshaw, Chris Johnson, Maurice Jones-Drew, Frank Gore, Steven Jackson, Darren McFadden
On the fence: Jamaal Charles, who is ranked fourth among running backs with 1,078 yards from scrimmage despite his part-time role.
Start him: Shonn Greene, Jets
With LaDainian Tomlinson having averaged just 3.4 yards per carry over the last four games, Greene seems to be getting a little busier – he ran 20 times for 72 yards against the Browns in Week 10. If you picked Greene in the second round of your fantasy draft, you're probably saying, "Yeah, right, I've heard this before," or, "I hate that %$#@! Damn him to hell!" This week against the Texans' mediocre run defense, Greene should again carry the ball as much as Tomlinson. And even though we won't guarantee a touchdown, we feel one coming.
Also: The Chargers' Mike Tolbert shares his workload with Ryan Mathews and Darren Sproles, which is a bummer. However, he has scored seven touchdowns in nine games, and the Broncos have allowed a league-worst 14 scores on the ground. Sounds like a match made in fantasy heaven ... Felix Jones was re-introduced to the Cowboys' offense in Week 10, with 17 touches, 139 yards and a touchdown against the Giants. Jones has been starting in just under half of FoxSports.com leagues, and with the Lions coming to Dallas with their 26th-ranked run defense, you should get him in your lineup.
Sit him: Ronnie Brown, Dolphins
Brown isn't just here because he ran 12 times for 11 yards in Week 10. The Bears' defense plays pretty well against the run, allowing just 82.3 yards per game. Also, Brown still shares his workload with the more productive Ricky Williams, who's averaging 4.5 yards per carry to Brown's 3.9. This matchup doesn't sound like Brown's best chance to shine. Remember: The Dolphins play Thursday night, so if you want to bench Brown, do it soon.
Pick him up: Jason Snelling, Falcons
Michael Turner is still the man in the Falcons' backfield, but the team has been doing a nice job getting Snelling into the mix in the passing game. Snelling has caught 15 passes over his last three games, making him a solid option in points-per-reception (PPR) leagues. In standard formats, if you need a bench back that will touch the ball 8-10 times per game, Snelling is your man. He's owned in 25.5 percent of FoxSports.com leagues.
Also: Keiland Williams racked up 115 yards from scrimmage and three touchdowns for the Redskins on Monday. With Ryan Torain a last-minute scratch and Clinton Portis still injured, there really wasn't anyone else to get the ball. With that said, we don't know if Torain or Portis will be back this week, or how effective they'll be when they do return. Williams could be a third-stringer, or he could be a back who gets almost all his team's carries and receptions down the stretch. If you're looking for a lottery ticket, he's it.
Receivers (WR/TE)
Must starts (16): (WR – 11) Miles Austin, Larry Fitzgerald, Calvin Johnson, Andre Johnson, Reggie Wayne, Brandon Marshall, Terrell Owens, Roddy White, Hakeem Nicks, Anquan Boldin, Brandon Lloyd; (TE – 5) Antonio Gates, Jason Witten, Vernon Davis, Zach Miller, Jacob Tamme
On thin ice: Austin and Witten. New QB Jon Kitna sure seems to love throwing to Dez Bryant.
Injury watch: Gates, who hopes to return Monday night after missing a game with a foot injury.
Start him: Santonio Holmes, Jets
Holmes is only in 43.6 percent of FoxSports.com starting lineups right now? Are people crazy? Holmes has led the Jets with 23 targets over the last three games, and has caught 10 passes for 190 yards and a score in his last two. Holmes isn't perfect, but you must have two or three really good wide receivers if you're not starting him. Check again to make sure those guys are better than Holmes, because they're probably not.
Also: Mario Manningham was targeted 16 times by Eli Manning in Week 10, catching 10 passes for 91 yards and a touchdown. With Steve Smith probably out for a couple more weeks with a partially torn pectoral muscle, Manningham should stay very busy, and in your fantasy lineup if you own him.
Sit him: Mike Sims-Walker, Jaguars
You're shrugging your shoulders, right? Sims-Walker is inconsistent, and you might not be starting him anyway (43.2 percent of you are starting him, actually). We thought about putting Philly's Jeremy Maclin in here, but we don't like the idea of benching him. Andre Johnson visits Revis Island this week, but he's unbenchable. Hines Ward's concussion probably won't keep him out, and while the Raiders have a strong pass defense, they might be without injured CB Nnamdi Asomugha again. This has all been a long way of saying that we don't hate any of the pretty good wideouts in Week 11. "Bench Sims-Walker" is the strongest statement we'll make here.
Pick him up: Brandon James, Colts
You know the old saying: If it's a Colts' receiver, pick it up. Austin Collie might be back as soon as this week, but last week James started in his first NFL game, and was targeted eight times while catching four passes for 36 yards. James might not become the next Reggie Wayne, but he could become a productive receiver in Peyton Manning's offense. That's worth a late-season pickup if you have a deep roster spot to fill, right?
Also: Preseason sleeper candidate Early Doucet finally had a good game for the Cardinals, with six receptions, 71 yards and a touchdown in Week 10. He's a longshot, but he could be decent … Dolphins TE Anthony Fasano had a strong outing against the Titans, hauling in five passes for 107 yards and a score. New quarterbacks often need safety nets, meaning that Fasano has a good chance to remain fantasy-relevant … Seahawks WR Mike Williams is owned in only a third of FoxSports.com leagues? WHAAAAAT??? Williams has double-digit receptions in three of his last five games, and is 12th among wide receivers with 80 targets. He's clearly Matt Hasselbeck's top receiving option, and you should grab him if you can … Bengals rookie TE Jermaine Gresham had his long-awaited big game with nine receptions, 85 yards and a touchdown against the Colts. Gresham has to battle marquee wideouts Terrell Owens and Chad Ochocinco for Carson Palmer's attention, but he has been targeted more than all but five other tight ends this season. Gresham has talent, and while you'd like to see another game like last week's before making a commitment to him, he's available in more than three-quarters of FoxSports.com leagues. It's not like the alternatives are better.
Good luck in Week 11!
John Halpin writes his "Wide Write" fantasy football column every week during the NFL season for FoxNews.com. He also writes fantasy columns and early-morning blogs four days a week at FoxSports.com/fantasy, and co-hosts a daily fantasy podcast. You can receive more fantasy news and contact John by following him on Twitter (@jhalpin37), or e-mailing him at jhalpin37@gmail.com.