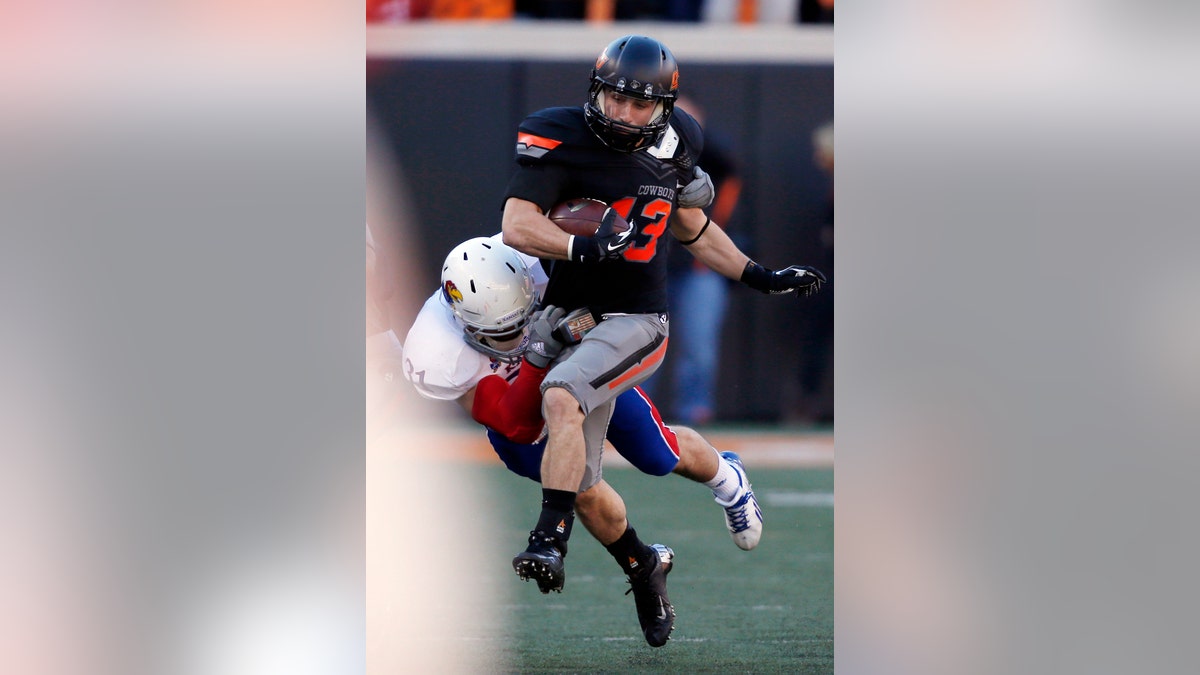 LAWRENCE, Kan. – The good news for Kansas is that two of its best players are back.
The bad news is that even with wide receiver Tony Pierson and linebacker Ben Heeney on the field, the results haven't been a whole lot different than when they were hurt.
Pierson played his first full game last week against Oklahoma State since sustaining a concussion in the Jayhawks' Big 12 opener against Texas Tech. He ran for 87 yards — including a nifty 50-yard down the sideline — in what still amounted to a 42-6 loss.
Heeney returned a couple of weeks ago from a knee injury that caused him to miss a pair of games, but the result against Texas was a humbling 35-13 defeat.
Still, coach Charlie Weis said there were some positives in seeing his two playmakers back on the field, and that could bode well for Saturday's game against West Virginia.
"I think he was some good, some bad," Weis said of Pierson, who is also the Jayhawks' leading receiver. "He was a little tentative on some things. He was a little tentative as a receiver. He didn't look so tentative when he was running those reverses."
Just as with Pierson on the offense, Heeney might have been the defender Kansas could least afford to lose. Despite missing time, he still leads Kansas (2-7, 0-6) with 63 tackles and nine tackles for loss. He also directs the defense when he's on the field.
He's had 20 tackles since he returned, nine more than any other Jayhawk.
"It was terrible," he said of his knee injury, which occurred in the first half against TCU on Oct. 12. "Obviously I'm a competitor and whenever my team's out there I like to be out there with them."
Even though Kansas uses only two traditional linebackers in its nickel scheme, once Heeney went down the options for Weis became slim. Samson Faifili, who started the first two games at weak side linebacker, sustained an injury and is taking a medical redshirt.
When Faifili went down, Jake Love became the starter, and he had to move to middle linebacker for his first start when Heeney got hurt. All that shuffling meant that reserve nickel back Courtney Arnick had to shift to linebacker to fill in.
So, safe to say Kansas was pleased to see Heeney back on the field.
"It brings a lot more stability, a guy you can count on making at least 10 tackles a game," Love said. "I definitely feel a lot more comfortable with Ben in there. It allows me to make more plays. They've got to focus on him so much."
Pierson and Heeney had both been having good seasons before getting hurt, a bright spot in what's turning into another bleak season for the Jayhawks.
They're mired in a six-game skid, and their Big 12 losing streak sits at 27 games — just two shy of Baylor's record for futility, which it bookended with wins over Kansas.
The Jayhawks will pull within one of that record with a loss to the Mountaineers (4-6, 2-5), who need to win out to become bowl eligible. The following week, Kansas faces Iowa State — the only other team in the Big 12 that has yet to win a game.
The season wraps up with a game against rival Kansas State.
"It stinks the way things are going right now," Heeney said. "The only thing we can do is keep moving forward and trying to get these wins. Obviously no one likes to lose. No one likes to lose however many games it is in a row."