Why Zinedine Zidane was the perfect man for Real Madrid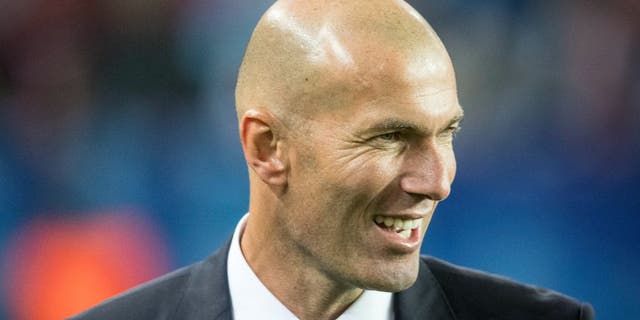 Zinedine Zidane was made to be Real Madrid's coach. In today's constantly shifting soccer landscape, he likely won't be their manager for more than a few more years, but for now, he's the perfect man for Madrid.
Zidane came to Madrid's bench with an unmatched pedigree as a player. Never have Real had a coachwho's won every single trophy possible as a player, despite their long list of incredible names throughout the years. Alfredo Di Stefano, Fabio Capello, Vicente Del Bosque, Carlo Ancelotti, and more all enjoyed successful careers as players, but none of them had close to the runZidane had.
That he won the hallowed Champions League trophy in a Real Madrid shirt gives Zidane a credence around the Bernabeu that no other manager can hope to offer. He's not just some coach. He'sZinedine freaking Zidane.
The fact that Zidane's been there as a player has worked to his benefit in a number of ways since he took over as manager. He knows the Madrid hierarchy inside and out, so there are no surprises in dealing with the notorious Florentino Perez, and his mercurial tendencies with the handling of his team. Zidane is a respected member of the Madrid fraternity, and one of the greatest to ever do it in the shirt. His words already carry a heavy heavy weight, and that's aided him as he's gone about his business at Madrid.
Perez is well known for his propensity for meddling in team selection and his desire to see his shiny purchases out on the pitch has been the ruin of more than one Real Madrid manager. As a player, he was outspoken against the sale of Claude Makelele, famously saying "Why put another layer of gold paint on the Bentley when you are losing the entire engine?" after Florentino got rid of the Frenchman in favor of David Beckham.Zidane is one of the most famous of those shiny purchases, and his previous success have given him leeway to manage the team the way he sees fit. However, Zidane wasn't just a star player, he understood how a team worked.Handed the keys, he's taken a verynon-Galactico approach to things, but it's unsurprising based on his past.
Zizou has been bullish on not picking players based on their reputation since even before he started as Madrid Castilla (Madrid's 'B' team) manager. He benched young starlet Martin Odegaard when he felt like it, and he's maintained that trend with the first team. He's regularly turned to Lucas Vazquez and Marco Asensio at key points throughout the season, and he's been unafraid to leave marquee signings like James Rodriguez on the bench for long periods of time.
Zidane's relationship with his players has been one of his most important tools as Madrid manager. The key to success in Madrid is just as much massaging egos and maintaining a dressing room filled with the very best players and largest personalities in the world as it is getting results on the pitch, and as the biggest star out of all of them, Zidane has been completely at ease in his dealings with his players. It's a testament to his ability that he's still getting performances out of players like James, Isco and Alvaro Morata, despite their lack of playing time this year. These are players who'd be the No. 1 option at just about any other team, but at Madrid, they've (for the most part) kept their heads down, worked quietly, and done exactly what Zidane's asked of them.
Zidane is a Real Madrid legend, and his status as a former player has aided him in his dealings with the team. Throughout his career he was well respected by his teammates not just for his skill, but for his hard work and positive contribution to the team dynamic.He's carried that hard work and conciliatory ability into the job with Madrid.
Zidane was long known as an incredibly cerebral player, and he's been the same way as a coach. It's clear he picked up a lot from working alongside Carlo Ancelotti as an assistant manager. He's very much Ancelotti-like not only in his man-management skills and relationships with the players, but in his willingness to experiment, be flexible, and tailor his tactics to his players.His players have seen the similarities as well.
He learnt a lot from Ancelotti; he has a lot of things about him that Carletto had," saidSergio Ramos before last year's Champions League final.
It's shown this year, and it's no surprise that Zidane was able to lead his Madrid side past Ancelotti's Bayern in the Champions League quarterfinals. They may have gotten some good fortune along the way, but Zidane's management was a key factor in the Merengues pushing on to the semis.
If you had to build a Real Madrid manager, it's hard to see how you'd come up with anyone other than Zinedine Zidane. He evenlooks like a Madrid manager. His angular, aquiline features and statuesque bearing make him look just as much like a menswear model on the sidelines as a coach, and even at 44 years old, you'd be hard pressed to find anyone who'd argue against him being able to step on the pitch and still do a job. He's got the star power and the ability, and his pedigree is unmatched.
Right now Zidane is Madrid. Madrid is Zidane.