Why Welington Castillo nearly quit baseball at age 16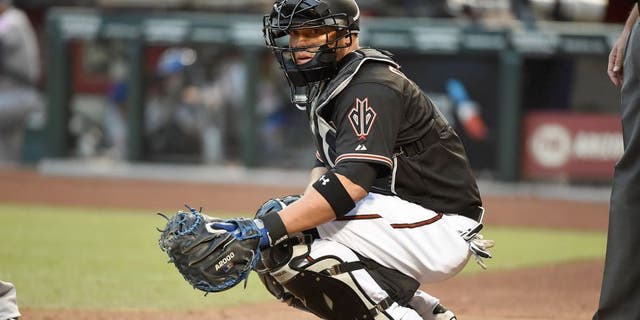 Arizona Diamondbacks catcher Welington Castillo is blossoming in his sixth season in MLB, but the fan favorite nearly made a decision to drop his dream of becoming a professional baseball player as a teenager.
In a profile piece on Castillo, the Arizona Republic reveals that the 28-year-old Dominican only played shortstop as a kid, but was told by major-league scouts at 15 years old that he would need to catch if he wanted to pursue a career as a professional player.
Castillo recalls one scout in particular who kept pestering him to transform himself into a catcher.
"That got in my head," Castillo said. "Every time he'd come to see a player, he'd want to see me. I'd tell him, 'I don't want to be a catcher.'"
At 16 years old, with limited opportunities to play his desired position of shortstop, Castillo quit baseball.
However, his break from baseball didn't last very long.
Three months later, he returned to the diamond, and began incorporating workouts at catcher into his routine with the nudging of his coach.
It wasn't exactly a smooth transition for Castillo, as he recalls it.
"The ball was bouncing and I was trying to pick it like an infielder," he said. "It would hit me in my neck, hit me in my arm. I would try to block and I couldn't. The ball hit me all over my body. I was so beat up."
While a few teams passed on Castillo due to his unrefined defensive prowess behind the dish, Cubs scout Jose Serra saw something special in him, and Chicago signed him in 2004.
"I'll never forget the first thing I said to him," Castillo remembered. "I said, 'If you sign me, I just need an opportunity. I will be a big-leaguer. I will do my best to try to make it to the big leagues. You're not going to sign another player.' He responded to me and said, 'I know. You're special. You don't know how to catch, but you're special.' He gave me the confidence."
The Diamondbacks, who acquired Castillo in June in a trade that sent Mark Trumbo to Seattle, are certainly glad the Cubs took a chance on the Dominican catcher, who has become known as "Beef" in Arizona.
Castillo is having a breakout season at the plate this year, hitting .269/.338/.543 with 15 home runs and 37 RBI in 62 games.
(h/t Arizona Republic)