Why this MLB offseason makes absolutely no sense in the outfield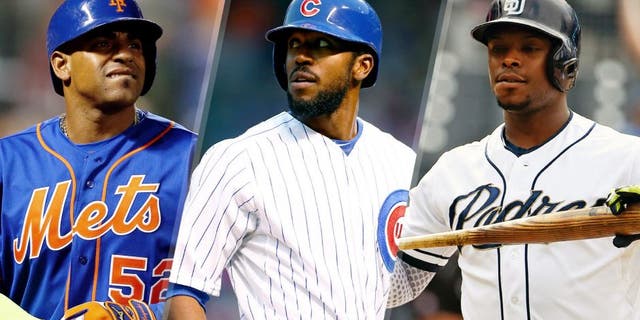 For weeks -- months, really -- the Colorado Rockies have tried to upgrade a perpetually threadbare starting rotation by trading from their stockpile of left-handed-hitting outfielders.
Having thus far failed in that pursuit, the Rockies on Tuesday agreed to sign . . . a left-handed-hitting outfielder, Gerardo Parra.
That makes sense only in the context of this winter's madcap outfield market, where very little has gone according to plan.
Jason Heyward signed with the Chicago Cubs after winning back-to-back Gold Gloves in right field . . . ostensibly to play center. Alex Gordon returned to the Kansas City Royals, even though a more lucrative contract elsewhere was viewed as the likelier outcome.
The San Francisco Giants were expected to sign a slugging left fielder; they opted for Denard Span, a fleet center fielder. Span's former team -- the Washington Nationals -- pursued Heyward in free agency before acquiring table-setter Ben Revere via trade.
The Major League Baseball offseason is an unseen, slow-churning Rube Goldberg machine, with its whistles only occasionally detected by the public. But the current class of free-agent outfielders is more perplexing than most, with Justin Upton, Yoenis Cespedes and Dexter Fowler unsigned barely one month before pitchers and catchers report.
Why the gridlock? There are a number of reasons. With annual industry revenues reaching a record $9.5 billion, according to Maury Brown of Forbes, players have justifiably high expectations. Chris Davis' continuing availability has kept the Baltimore Orioles from committing to Upton, their fallback plan. Agents may be waiting on a signal from the Los Angeles Angels that they're willing to address an obvious need in left field, even if it means crossing the luxury-tax threshold.
The sheer volatility of the market is a factor, too. Whether due to cyclical needs or lack of payroll flexibility, a relatively small number of teams are willing to commit significant dollars to everyday outfielders now. And in that environment, players haven't been paired with the suitors who seemed logical in November. The chess pieces have scattered everywhere, and it's taking weeks to pick them up.
Colorado's surprising move is merely the latest example, and it could create another: Parra's arrival means the Rockies are about to trade an outfielder -- Carlos Gonzalez, Charlie Blackmon, or Corey Dickerson -- for rotation help. If the Orioles or Angels trade for one of them, the collective demand for Upton, Cespedes and Fowler will diminish even further.
At least, that's what it could mean. With this winter's big-name outfielders, there's no such thing as a safe assumption.