Why the Jets need to end their standoff with Ryan Fitzpatrick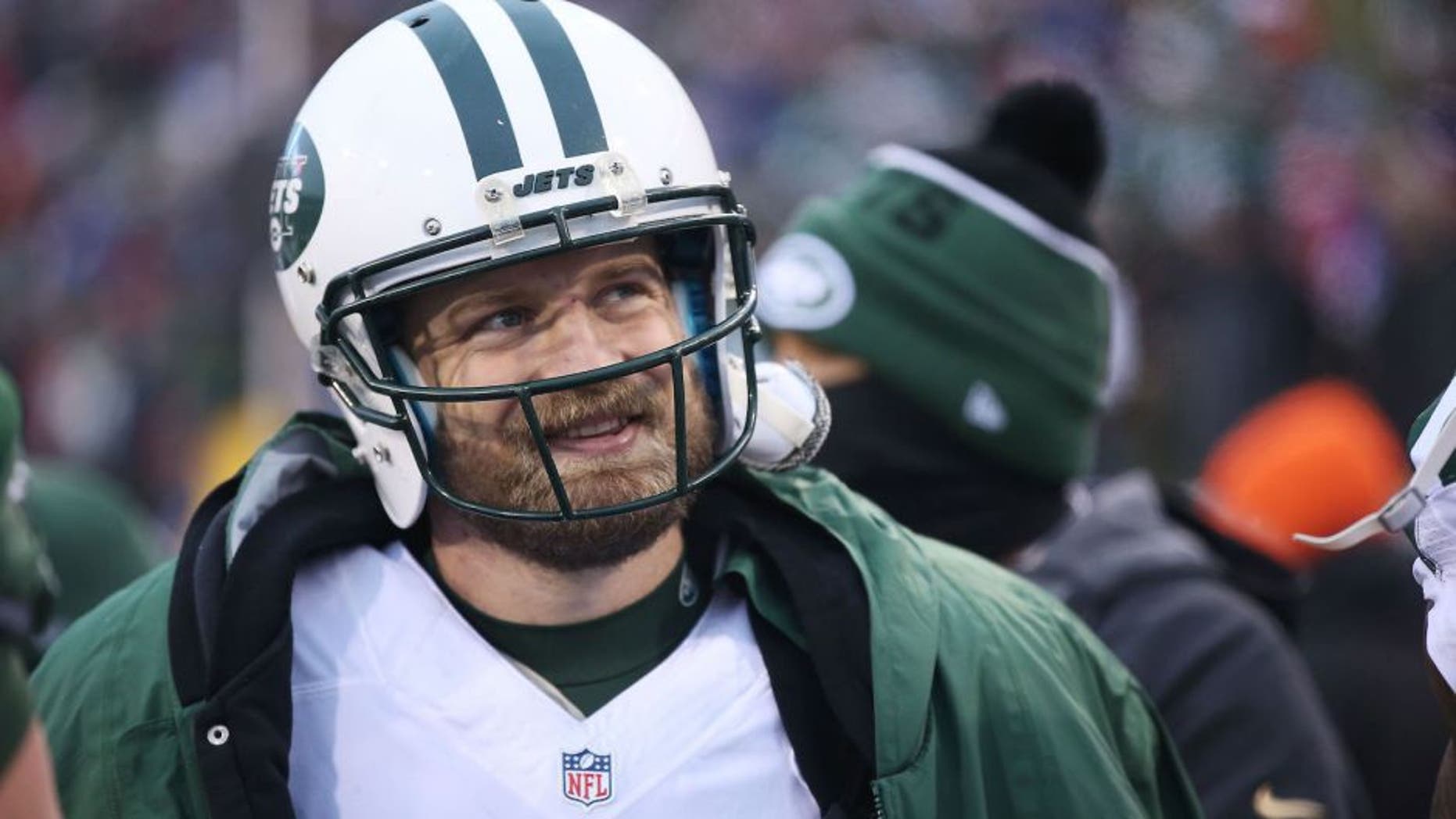 The New York Jets won 10 games in 2015, and were a Week 17 win shy of reaching the playoffs. Some of that was due to their completely overhauled defense, but most of it was thanks to the surprising high-powered offense. The man at the helm of that offense? Journeyman quarterback Ryan Fitzpatrick. The same quarterback who averaged 3.3 wins per season prior to joining the Jets last season.
Fitzpatrick is also the player New York has to re-sign to lead its offense.
The sides have been in a contract stalemate for several months now, with the Jets holding strong on their lack of desire to pay Fitzpatrick what he wants to be compensated. According to the New York Daily News, Fitzpatrick is willing to sign a one-year deal worth $12 million guaranteed. The Jets, however, do not want to incur a $12 million cap hit for one season, which is substantial for a marginal quarterback like Fitzpatrick.
Instead, New York is said to have offered the 33-year-old quarterback a three-year, $24 million deal, which has been on the table for months. It includes the same guaranteed money ($12 million), it allows the Jets to spread out the funds over several years, rather than one.
At this point, with mandatory minicamp quickly approaching, the sides appear to be far apart. Little progress has been made towards a reunion, and it's unclear if Fitzpatrick will be back in green for 2016. One thing is for sure: The Jets need to end this standoff and re-sign their quarterback. After a franchise-record, 31-touchdown season with 3,905 yards, it's no guarantee that he'll replicate those numbers, but he's the best option at this point. Here's why the Jets need to do what they can to retain their quarterback.
This is more about the Jets' other possibilities at quarterback. Currently on the roster, there's Smith, Bryce Petty and rookie Christian Hackenberg. Do you think any of those names excite the front office and coaching staff, or the fans? Absolutely not, regardless of the high praise coaches are sure to give Smith. They've seen what Smith can do for years now, and it's absolutely nothing special. He's 11-18 in his career with 27 touchdowns and 35 interceptions. Smith's development has been minimal, as has his maturity. Not every quarterback gets punched in the jaw by a teammate.
Petty and Hackenberg, on the other hand, have potential. The problem with potential is that it has to be realized. Neither player has taken a regular-season snap in the NFL. On just about any other team, Petty and Hackenberg would be third options with little chance of starting. But with the Jets' current situation, they have a fighting chance.
Outside of New York, the Jets have few options, either. The free agent market is dry, which isn't surprising. Starting-caliber quarterbacks aren't typically available in June, and this offseason is no different. The likes of Matt Flynn and Jimmy Clausen are possibilities if the Jets choose to bring in a veteran, but neither have drawn much interest from any teams. On the trade market, Colin Kaepernick isn't going to be moved. Nick Foles is unhappy in Los Angeles and is a possibility to be shipped out of town, but is he better than what the Jets had with Fitzpatrick in 2015? Absolutely not. Mike Glennon's name comes up often given the fact that Jameis Winston is the guy in Tampa Bay, but the Buccaneers are reluctant to deal their backup quarterback. In short, Fitzpatrick is their best option, and has been since they passed on Paxton Lynch in the draft. The Jets aren't going to find a better quarterback than Fitzpatrick at this point.
Part of why the Jets' offense was so great in 2015 was Fitzpatrick's chemistry with his receivers. The veteran quarterback was on the same page with his wideouts almost immediately -- particularly Eric Decker and Brandon Marshall. The trio set all kinds of records, including Marshall's 1,502 yards, which are the most in franchise history. Or the NFL mark Decker and Marshall set for the most games with one-plus touchdowns each in the same game, which broke a record previously set by Randy Moss and Cris Carter.
Fitzpatrick showed a great deal of trust in his receivers. He consistently relied on Marshall and Decker to go up and make plays on jump balls, which they did regularly. And after connecting for a score, the three celebrated together like kids in the backyard. Marshall has been an outspoken and sometimes demanding player in the past, but he was far from that with Fitzpatrick throwing him passes. Their chemistry was unmatched, and it showed in the stat sheet and in the locker room. Without Fitzpatrick, frustrations could boil over with Marshall and lead to a drop in production.
The biggest storyline out of Jets camp a year ago was Smith getting punched by IK Enemkpali, which ultimately wound up in the quarterback having a broken jaw. The injury gave way to Fitzpatrick as the starter, and the Jets never looked back. The locker-room incident led to several questions about the leadership and maturity of Smith, who was the presumed starting quarterback at the time. Was he groomed enough to be a starter? Could he lead an NFL locker room. Many began to answer those questions with no and no, and little has seemingly changed since then. While Petty was everything an NFL team looked for in a leader coming out of Baylor, he doesn't appear to be ready for the speed and challenge of playing in the pros. Not yet, at least. The same goes for Hackenberg. Adversity was commonplace for him at Penn State, from changing head coaches to a putrid supporting cast, but his tools need honing.
As for Fitzpatrick, his arm isn't elite, nor is his decision making. But his leadership last season was unquestioned. He played through injury with regularity, including torn ligaments in his left hand. He essentially played with one hand, showing unmatched toughness and determination to will his team to victory. Sure, he puts himself in harm's way at times with his decision to fight for extra yards, but that's just the way he plays. He'd rather lower his shoulder into a safety than slide and give up three extra yards. Those are the types of plays that fire up a team, and the plays that few quarterback choose to make.
Let's make this abundantly clear: Fitzpatrick is not the Jets' franchise quarterback, or the long-term option at the position. Barring a breakout season, Smith isn't either. It will likely come down to Petty and Hackenberg as the future quarterbacks for this team. Both players need refining, and while the coaching staff will help with that more than any player, having a veteran to learn from is paramount for a young quarterback. Aaron Rodgers learned from Brett Favre. Brock Osweiler learned from Peyton Manning. Tony Romo sat behind Vinny Testaverde and Drew Bledsoe.
Of course, some young players don't need that kind of mentorship. But the ones taken in the second and third rounds typically do. Petty and Hackenberg are no different. Fitzpatrick, though he's not a perennial Pro Bowler like the other veterans mentioned prior, can help teach Petty and Hackenberg the ins and outs of playing quarterback in the NFL, seeing as he's done so for more than a decade. He's as well-traveled as any player in the league, and has experience with a multitude of franchises and styles of offense. Without him, the young gunslingers on the roster will be forced to sit behind a guy like Smith, which won't provide much benefit.