Why the Giants' even-year success could (but might not) continue in 2016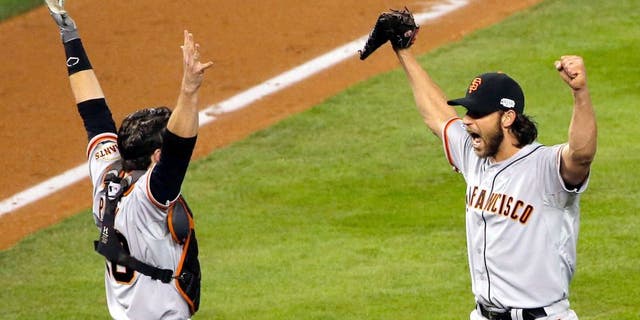 Despite it being an even-numbered year, MLB will go ahead and play the entire 2016 regular season and postseason.
For the San Francisco Giants, however, it's just a formality.
All kidding aside, the Giants won World Series championships in 2010, 2012 and 2014 --€" while missing the playoffs in 2009, 2011, 2013 and 2015. So the trend clearly is their friend as they prepare to report to their Cactus League headquarters.
There are plenty of reasons for Giants fans to be optimistic that their team will be the last one standing (and spraying champagne) again this October/November, but there also are some potential pitfalls.
Why the even-numbered magic will continue
1. Offseason additions. With the rotation a concern for the first time in years, the Giants spared no expense in signing right-handers Johnny Cueto and Jeff Samardzija to slot behind ace Madison Bumgarner. To fill their outfield and leadoff needs, the team took a chance on bounce-back candidate Denard Span, who is coming off hip surgery. There aren't too many holes in this lineup.
2. Their core. Bumgarner (2014 World Series MVP), Buster Posey (2012 NL MVP) and manager Bruce Bochy have been pivotal to the past three championships and arguably are the key pieces for a possible fourth. Among the position players, Hunter Pence, Angel Pagan, Brandon Crawford, Brandon Belt and Gregor Blanco all have two rings.
3. The bullpen. This unit is overshadowed by the rotation -- despite finishing in the top eight in the majors in ERA five times in the past six seasons -- and has some consistency of its own with Santiago Casilla, Javier Lopez and Sergio Romo along for the three-championship ride. The unit loses Jeremy Affeldt this season but returns George Kontos and Hunter Strickland, both of whom posted sub-1.00 WHIPs in 2015.
Why the streak is destined to end
1. Offseason additions. Our lasting image of Cueto is his dominant World Series start, but what about the 14 earned runs he allowed in 16 innings during the ALDS and ALCS and his 4.76 ERA in 13 starts with the Royals? What if Samardzija's 4.96 ERA last season wasn't an aberration? And what if Span has a lost a step?
2. The competition. The NL West has three legitimate contenders in the three-time defending division champion Dodgers, the much-improved Diamondbacks and the Giants. And then there's the NL Central, which sent three teams to the postseason in 2015, and the NL East, which features the pennant-winning Mets.
3. Health. After not missing a game from 2013-14, right fielder Pence played in only 52 games last season. Second baseman Joe Panik played only three games after Aug. 1, and only two members of the rotation (Bumgarner, Chris Heston) made 30 starts. No one can predict injuries, and they literally can cripple any team's chances.