Why the Cole Hamels trade might pay even more dividends for the Rangers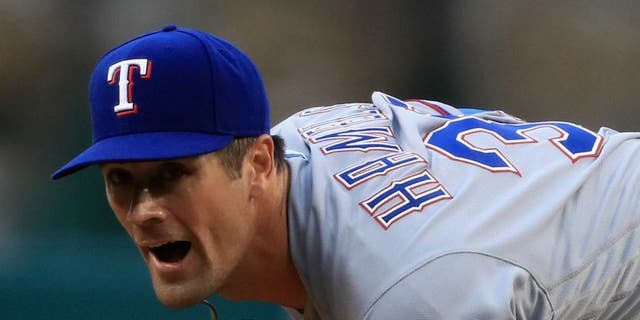 NEWYou can now listen to Fox News articles!
Leftover notes from our first two MLB on FOX broadcasts -- Rangers at Angels last Thursday and Dodgers at Giants on Saturday:
The idea, when the Rangers traded for Cole Hamels, was that they had another wave of young talent coming, a wave that would inject necessary youth into their club.
The deal for Hamels and Jake Diekman last July cost Texas catcher Jorge Alfaro, outfielder Nick Williams and pitchers Jake Thompson, Jared Eickhoff and Alec Asher.
But the Rangers kept four prospects who still could be important parts of their future, including outfielder Nomar Mazara, whom the team just promoted to replace the injured Shin-Soo Choo.
One of those four prospects --€" the others are corner infielder Joey Gallo, middle infielder Jurickson Profar and center fielder Lewis Brinson -- also could be part of the Rangers' next big trade.
Yes, the Rangers expect to be in the market for a "controllable" starter come July -- a Chris Sale, a Sonny Gray, a Tyson Ross. But they will be reluctant to move any of their big four for anything less than a premium talent.
Mazara could replace Ian Desmond in left next season. Brinson is the center fielder of the future. Gallo could replace Mitch Moreland or Adrian Beltre, both of whom are eligible for free agency.
Profar, then, appears the most expendable, but what if the Rangers decide that they prefer him at short over Elvis Andrus? A trade of Andrus would not be out of the question, though he is still owed $88 million over the next six seasons.
Whatever the Rangers decide, they're in a seemingly strong position going forward. Even after making the Cole Hamels trade.
BELTRE PROVED A BARGAIN
Sometimes, free-agent contracts that seem excessive prove to be anything but.
According to a major-league source, former commissioner Bud Selig sharply criticized the Rangers at an owners meeting after the team signed Beltre to a five-year, $80 million free-agent deal in Jan. 2011; Beltre was entering his age-32 season, and Selig felt the team was taking an undue risk.
Well, Beltre proved an excellent value, perhaps Jon Daniels' best free-agent signing. But now Beltre is eligible for free agency again, and he'll be 38 next season.
The Rangers want to keep him -- Beltre is on track to get his 3,000th hit sometime in 2017. But as I discussed Saturday in my Full Count video, the negotiations will be difficult: There is no comparable for a 37-year-old third baseman who is still an elite performer.
ANOTHER WEAPON FOR KERSHAW?
Dodgers catcher A.J. Ellis says the more that left-hander Clayton Kershaw throws his changeup, the more it can become "a special weapon."
Kershaw used the pitch only 44 times combined the past two seasons. He threw six in his 96-pitch outing against the Padres on Opening Day, but none against the Giants on Saturday.
Ellis jokes that Kershaw will need to master the changeup if he ever becomes a left-handed specialist, "another Mike Remlinger."
On a more serious note, Ellis attributes the greatness of pitchers such as Kershaw and Madison Bumgarner to their competitive natures and work ethics; such qualities enable them to evolve.
THE MATURITY OF SEAGER
Dodgers farm director Gabe Kapler tells a story that speaks to the maturity of Dodgers rookie shortstop Corey Seager.
In 2014, Seager hit extremely well after getting promoted to Double-A. In '15, he had a big spring. He figured to start the season at Triple-A, but the Dodgers still were concerned about his strikeout rate, so they sent him back to Double-A.
Most players would be visibly disappointed under such circumstances, but Seager took the news in stride, telling Kapler, "I totally get it."
Kapler said that Seager was so relaxed and self-confident, it's almost as if he was saying, "Doesn't matter where you send me. I'm in no rush. I'll be a productive major leaguer in six months either way."
DUFFY'S RISING -- AND SURPRISING -- POWER
How is it that Giants third baseman Matt Duffy is hitting home runs in the majors at a far higher rate than he did in the minors?
Duffy, listed at 6-foot-2, 170 pounds, attributes his increase in power to the realization that he does not need to "muscle up" to go deep. He felt that way in college because he played in an extreme pitcher's park at Long Beach State.
The way Duffy describes it, the park at Long Beach made AT&T Park look like a hitter's paradise -- it was big and ball didn't fly, and he would overswing with his arms.
Duffy, 25, also had surgery for a digestive disorder before his junior season, and finished his college career with zero home runs in 571 plate appearances before the Giants made him an 18th-round pick in 2012.
In the minors, he averaged a home run every 83.6 plate appearances. In the majors, he is averaging one every 50.4, with 14 in 706 plate appearances overall.
Duffy says that once he reached the majors, Giants hitting coach Hensley Muelens helped him make better use of his legs and hips. The difference is noticeable.
ANGELS' SANTIAGO: ALWAYS REACHING OUT
Any number of players do amazing community and charitable work, but Angels vice president of communications Tim Mead says Angels left-hander Hector Santiago is almost in a league of his own.
Santiago will do appearances even on days he pitches, a time when most starters are incredibly routine-oriented, locked into their own zone. His commitment is genuine, Mead says -- Santiago is not doing it for publicity, he's not doing it for money.
Case in point: This spring in Arizona, Santiago told Mead that he wanted to donate clothes to a homeless shelter, and that he had a friend who was a barber and would give haircuts to the kids there.
The barber came and gave haircuts to about 15 kids, and Santiago joined him at the shelter to say hello and sign autographs. He constantly seeks out ways to make a difference, even catches the Angels' first pitch when he is not starting.
"I don't think he sleeps," Mead says.
TABLET FEVER
Baseball reached an agreement with Apple shortly before the season started to equip every team with iPad pro tablets and make them available in dugouts. Some players are putting them to good use, some aren't.
Giants catcher Buster Posey, for example, says that he is using the iPads to refresh himself on opposing relievers, saying it's quicker than flipping through written scouting reports.
Dodgers first baseman Adrian Gonzalez, though, says he already has done all of his homework by the time the game starts, pointing to his head.
"It's already been computed in my mind," he said. "I know exactly what I want to do against them."
NEW HITTING COACH MAKING AN IMPACT
Turner Ward, the Dodgers' new hitting coach, is one of the many reasons behind the resurgence of right fielder Yasiel Puig.
Manager Dave Roberts says that Ward's secret is that he makes hitters verbalize what they intend to do, both in one-on-one and group settings. That approach leads to greater accountability.
If a player says he's going to do something and then doesn't follow through, it's on him.
THE REVIVAL OF UTLEY
It's not by accident that Dodgers infielder Chase Utley looks physically revived at age 37.
Utley cut back on his offseason training regimen after dealing with right ankle inflammation last season, taking about a month off to rest the ankle and refraining from hitting for another month after that.
All that was a departure from previous offseasons -- Utley usually gets back to work quickly -- but he wanted to start fresh, get out of some bad habits that he lapsed into last season.
The plan worked; he looked rejuvenated while starting the season 9 for 29 with two doubles and two walks. Howie Kendrick comes off the disabled list Tuesday and will get most out of the at-bats at second base, reducing Utley's role.
THE REVIVAL OF SPAN
It's difficult enough for an outfielder to recover from hip surgery. It's even more difficult when the outfielder is entering the free-agent market and wants to prove to teams that he will be healthy the following season.
Denard Span was in precisely that position this past offseason. He underwent the surgery early last September to make sure he would be ready for the start of the season, then effectively rushed his rehab, occasionally working out twice a day, occasionally working out seven days a week.
His goal was to show teams that he was on track, and the Giants liked what they saw, signing him to a three-year, $31 million contract with the Giants on Jan. 7.