Why the Cavaliers just might have the Warriors exactly where they want them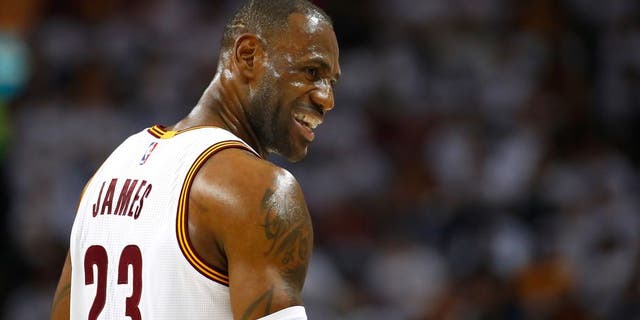 NEWYou can now listen to Fox News articles!
Three games into the NBA Finals rubber match, it was clear that the Warriors are physically superior to the Cavaliers in virtually every way. But on a night when most were expecting Golden State to finish off LeBron and Co. on Cleveland's home court, the Cavaliers fought back in a different way, using their mental toughness to unhinge the Warriors the same way they did last year.
We all remember what happened in 2016 when the series shifted back to Oakland for Game 5 with the Warriors up 3-1 and a presumptuous Klay Thompson engaged in some friendly pregame trash talk or so he thought.
That comment from Thompson seemed to spark a fire inside LeBron that hadn't yet been seen in the series and his teammates followed suit. Thompson's "man's league" comment poked the proverbial bear and it came back to bite him when the Cavs used it to help fuel their dramatic comeback run to win the NBA title.
Sure, there was plenty more that went into those next three games, but Thompson's jab would be the culmination of all the negative chatter from the haters and doubters who said there was "no way" the Cavs were good enough to win one moregame, let alone beat the 73-win Warriors three straight times.
You'd think the Warriors had learned from it and moved on, or better yet, had grown up. You'd be wrong.
In the fourth quarter of Game 3, with the final seconds winding down, Kevin Durant nailed a go-ahead three to put the Warriors on top, which led to some truly bizarre behavior from teammate Steph Curry.
Apparently the crude gesture didn't sit well with the Cavs, who felt seriously disrespected by Curry's odd celebrationon their home court.
And after watching the Cavaliers come out with a vengeance in Game 4, no, it wasn't forgotten.
Cleveland steamrolled the Warriors with aggressive, physical play and an explosive offense that scored a Finals record 86 points in the first half. The Cavs battled through on-court brawls, groin shots and a flurry of technical fouls, avoiding elimination with a 137-116 victory over Golden State. After the game, LeBron revealed that the Warriors had once again supplied pregame bulletin board material, when his teammates overheard their premature plans for celebration.
"Some of the guys heard they were saying how they wanted to celebrate on our floor once again and spray champagne in our locker rooms," James said.
Instead, the Warriors are heading home for Game 5 with a 3-1 advantage over Cleveland. Deja vu?
"I don't think there was any concern or thoughts about history," Warriors head coach Steve Kerr said, when asked about how things played out last season. "I think it was we played a desperate team on their home floor, a great team, with great players, and they came out and handed it to us. Simple as that."
Despite putting on their bravest faces for the postgame podium, you have to think at least some level of doubt has now entered the Warriors' minds. And as we saw in last year's Finals, it only takes one little snag for the whole thing to unravel. And maybe, just maybe, LeBron and the Cavs have their foe right where they want them.