Why Mark McGwire would make a great manager someday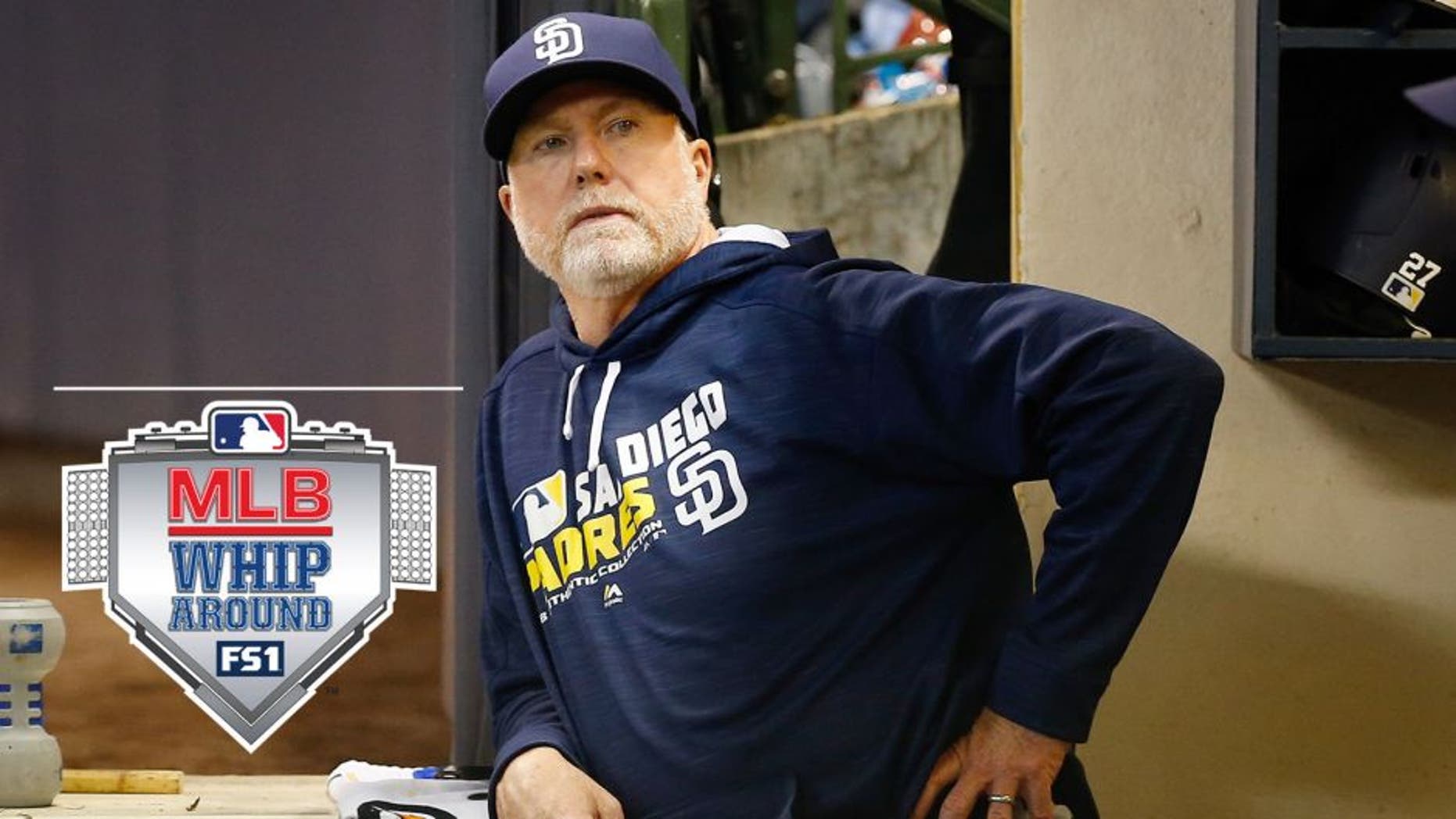 Week 12 of the MLB season is in the books and many drafted high school and college baseball players are getting rich this month. The leader in the clubhouse is the Reds' first-round pick -- third baseman Nick Senzel out of the University of Tennessee -- who went No. 2 overall and has signed for $6.2 million. Let's go Whip ...
This weekend, I spent some time with Padres rookie manager Andy Green, who offered some great insight into his own plight in becoming a big-league manager as well as selecting his coaching staff.
Green spent 10 seasons as a player professionally and another five coaching in both the minor and major leagues. He knows a lot of people. So I was surprised to find out that when he selected his bench coach, Mark McGwire, they had no previous relationship, never even met, before McGwire interviewed for the position. It's surprising because that position is critical, especially for a first-year manager, and one that usually goes to a trusted confidante that has a previous relationship with the manager.
Green had heard good things from mutual acquaintances like Tony La Russa, but it was that initial personal meeting that helped him find his right hand man.
"He obviously brought a lot to the table with who he was as a player, something I don't have," said Green, "But it was great thoughts that put him over the top."
Green told me McGwire is the most humble superstar he has ever been around. He doesn't want to talk about himself or his career, he always wants it to be about their current players. He also said it only took about a couple weeks for Big Mac to get his flow and learning what Green needs from him during a game. That's an incredibly short amount of time for two guys who had never worked together.
So when I asked him if Mark McGwire could be a big-league manager one day, Green was hesitant to speak for his bench coach.
"It's not my place to say what his desires might be, but in my opinion he could absolutely do it and do it well if he wanted to," Green said.
Pete Rose was inducted into the Cincinnati Reds Hall of Fame on Saturday. His speech was classic Pete, nothing rehearsed, no notes, and all from the heart. He finished by saying people from Cincinnati love five things: chili, pizza, ice cream, ribs and the Cincinnati Reds. He walked it off and drew a huge ovation.
Afterwards, Pete said that day was the greatest moment in his career. Those are big words from a man who has accomplished so much in the game.
"You have to remember something, CJ," he said, "I grew up five miles from here."
That's pretty cool. Hometown kid does well and sees his name alongside the greatest names of one of the oldest franchises in Major League Baseball.
Adam Duvall has exploded onto the national scene this season. On Monday Duvall was tied for the league lead in home runs with 21, 16 more than his career best of five, which he hit a year ago. What has been so peculiar is that Duvall is currently posting an OBP of just .288. After some research with STATS MLB, I found out that baseball has never had a 40-homer season with an OBP below .300. Here are the top home-run hitters all time who could not get their OBP over the .300 mark:
Only four players have done it, with Dave Kingman turning the trick four times himself.
I asked Reds manager Bryan Price about this and whether he believed Duvall would be the first to hit 40 with a sub .300 OBP or if something would give. He said he believes the discipline will improve for Duvall, who in exchange for a few home runs should see his OBP rise over the second half of the season.
Currently Duvall ranks in the top 10 in the National League in many of the negative plate discipline categories, like swinging strike percentage (eight), O-swing percentage (seventh) and overall swing percentage (ninth). Clearly there is some room for improvement, but Duvall does not want to give up much power in exchange for a few more OBP points. At 27, he's emerged this season, and the power is clearly his key asset.
So often when a star-for-prospect trade happens in baseball, we say we have to wait 3-4 years to see what those prospects become before we can really say who won the trade.
Last season, the Reds traded ace Johnny Cueto to the Kansas City Royals for three left-handed pitching prospects. Less than a year later, we can call this trade an absolute winner for both sides. The Royals got their World Series ring and Cueto received $130 million from the San Francisco Giants. The Reds got three very good-looking lefties in Brandon Finnegan (23), Cody Reed (23) and John Lamb (25). Each has seen the big leagues and each has shown the Reds why they should be optimistic about the future.
Reed just made his second big-league start last week, and though he is winless, he's already racked up 15 strikeouts in 12 innings and shown a fastball that touches 96.
Finnegan has made 16 starts for the Reds and has allowed just 80 hits over 94 innings. Maybe more importantly, manager Bryan Price told me Finnegan is as tough and confident as any pitcher he has on his club. It's those intangibles, along with some more consistency on his arm side run fastball, that he believes could propel Finnegan to become a very good and very consistent big-league starter.
Lamb is just 1-4 in his 10 starts in 2016 but has had impressive starts against solid lineups like the Giants (6 IP, 1 ER), Rockies (7 IP, 1 ER) and Cardinals (7.1 IP, 1 ER) this season.
A lot can happen, but realistically the Reds are probably going to end up with at least one good starter out of this group, maybe two, and one good reliever. That's a good return on two months of a starter who was on his way out of town anyway at the end of the season in Cueto.
Jose Reyes is back with his original club, the New York Mets. The Mets signed Reyes and sent him to their Single-A club in Brooklyn. Lots of opinions are coming in for a player who recently served a domestic abuse suspension and was released by the Colorado Rockies despite approximately $37 million left on his contract.
From a baseball standpoint this is a no-brainer for the Mets, who need offensive and infield help and might just get it from a former star at a fraction of the league minimum. Perhaps they can capture some of that magic from their former four-time All-Star, perhaps not. Either way, it's exactly the kind of low-risk move the Mets needed to make.
Some will look to bury the Mets and even Major League Baseball for allowing Jose Reyes back into the game. It's very simple: He paid his baseball penalty and did not face any criminal prosecution. A district attorney in Hawaii did not see enough evidence to bring charges against Reyes after his wife refused to cooperate. Baseball dealt Reyes the stiffest penalty to date for domestic abuse allegations. As it stands, he doesn't deserve to be banished from the game.
Domestic abuse should not be tolerated, but it's hardly our place to convict Reyes for something the system did not. The Mets have a need, and Reyes is an eligible player who could fill it, so they gave him a second chance. Simple as that.
MLB Whiparound -- The Show, airs weeknights on FS1.