Why Kyle Lowry may be the most valuable player in the NBA playoffs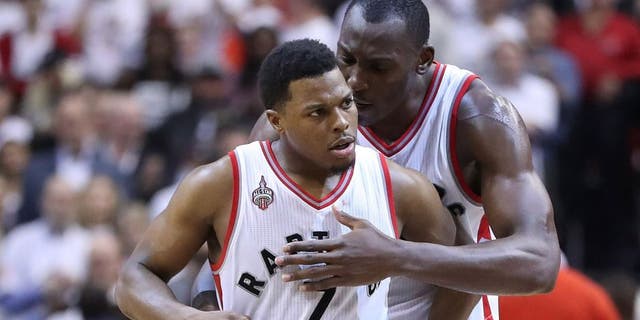 NEWYou can now listen to Fox News articles!
It's more than fair to say that Kyle Lowry is the NBA's most overlooked star. The 6'0" Toronto Raptors point guard isn't particularly fast, strong or athletic. He can't snap his fingers and create points out of thin air like Russell Westbrook or Steph Curry. He doesn't bulldoze his way through the lane or shake defenders off his back whenever he wants.
Defenses don't specifically strategize to shut him down, and his per-game numbers don't make you think Basketball-Reference.com transmitted a virus into your laptop. But, through one of the worst shooting slumps in NBA playoff history, Lowry remains one of the most valuable players still left in the postseason.
What these numbers mean: When Lowry isn't on the court, Toronto's offense is less potent than the Philadelphia 76ers and its defense is flimsier than the Los Angeles Lakers. When he's on the floor, Lowry holds everything together, whether he's playing with starters or bench players (Toronto continues to crush everything in its path whenever Lowry is the only usual starter embedded with four reserves).
On/off splits are not the be-all, end-all of statistical analysis. They don't account for the opposing players Lowry faces when he's on the floor, who his teammates are up against when he's on the bench, which teammates he's playing with or how ineffective whoever's replacing him is.
Taking all that into consideration, it's still remarkable how Lowry keeps everything afloat. And numbers that adjust for most of the variables listed above still view him as a top-10 player.
But if you've watched just about any random 10-minute span of Lowry's postseason, you know it's been a complete and total nightmare for him on an individual level. The 30-year-old is only shooting 33.5 percent from the floor and 22.5 percent from behind the three-point line, averaging over five fewer points than he scored in the regular season despite playing two more minutes per game.
His PER is lower than Iman Shumpert's.
But Lowry's influence expands beyond stat sheets and advanced numbers. He's never not hustling, and has recovered more loose balls and tallied more deflections than anyone else in the playoffs. Only Draymond Green and Paul George have taken more charges, too.
This is partly due to the fact that Lowry's played more minutes than anyone else, and partly due to the fact that he never gets tired and has a tangibly positive effect on basketball games when his outside shot isn't falling.
When it is falling, the Raptors look like the 56-win team that fought their way to a reputable two-seed. They're really, really good, and it's a testament to the internal battle between doubt and confidence that continuously rages inside Lowry's soul that he's entirely coolheaded in crunch time when the Raptors need him most.
Each time a Miami Heat big defends the pick-and-roll by sagging back to grant Lowry an open three, he makes them pay for it. He isn't a better player than LeBron James, Steph Curry, Klay Thompson, Draymond Green, Kevin Durant or Westbrook, but he's just as integral to Toronto's ecosystem as any of the aforementioned stars are within their own organizations.
For the time being, that alone may very well be enough to push the Raptors further than they've ever been.