Why Jimmy Garoppolo's uneven outing is teaching tool for Patriots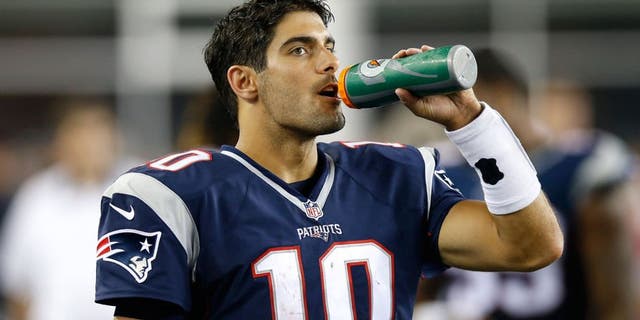 New England Patriots quarterback Tom Brady piloted two series in Thursday night's 22-11 preseason loss against the Green Bay Packers before making way for backup Jimmy Garoppolo.
Brady, who currently is suspended for the first four games of the regular season, watched his understudy struggle to find his footing for what would be more than three quarters.
Playing behind the second-string offensive line and largely without any Week 1 regular season playmakers, Garoppolo showed some areas to improve upon. The second-year product from Eastern Illinois was sacked seven times, threw an interception and made a couple of other questionable decisions.
As Garoppolo continues to understand the complexities of the Patriots offense, he was effective in the short-passing game. Offensive coordinator Josh McDaniels picked up the tempo and relied on the three-step throwing game heavily after Garoppolo threw the interception to Packers cornerback Ladarius Gunter.
Garoppolo, 23, previously underthrew two deep balls outside the numbers, which were both nearly picked by Packers rookie cornerback Quinten Rollins. Garoppolo finished the game completing 20 of 30 passes for 159 yards and no touchdowns.
McDaniels, however, was able to get Garoppolo in rhythm and the quarterback completed 10 consecutive passes.
Garoppolo often looked undrafted rookie wide receiver Chris Harper's way, completing all seven targets for 48 yards. Second-year running back James White also was a Shane Vereen-like threat out of the backfield, hauling in four receptions for 52 yards.
The Patriots' lone series that was capped by a touchdown was fueled by bowling-back Jonas Gray. The second-year back rumbled to an impressive 55-yard touchdown run in the first quarter.
As Brady faces off in federal court with the NFL regarding "Deflategate", Garoppolo must continue to get up to speed as the Patriots kickoff the regular season against the Pittsburgh Steelers in exactly four weeks.
Rookie of the night goes to Lions RB: Add rookie running back Ameer Abdullah to the growing list of impact playmakers in the Detroit Lions' offense.
Never one to overreact to preseason football, but Abdullah flashed his ability to make a cut and accelerate on a 45-yard run. Abdullah pulled away from New York Jets' defenders before falling to the turf.
Abdullah, who was the fourth running back selected in this past year's NFL Draft, finished the game with seven carries for 67 yards, averaging 9.6 yards a pop. With running back Joique Bell easing his way back from injuries, Abdullah has the potential to unlock the offense with his electrifying runs.
Blow to Redskins' offense: Washington Redskins tight end Niles Paul sustained a season-ending ankle fracture dislocation, head coach Jay Gruden told reporters after the game. Paul, who was carted off in an air cast, is a huge loss for the Redskins as Jordan Reed and Logan Paulsen continue to work back from injuries. Furthermore, third-string running back Silas Redd was carted off with a right knee injury.