Why is Greg Biffle's crew chief not at Dover this weekend?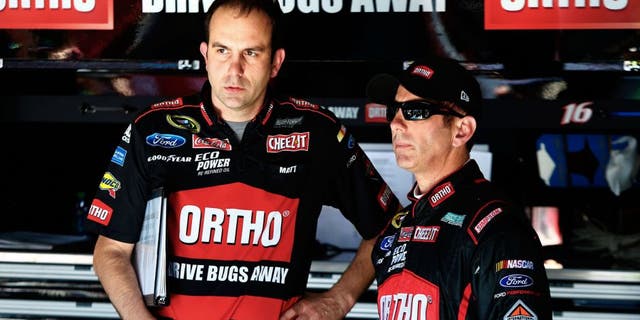 NEWYou can now listen to Fox News articles!
Greg Biffle may or may not have crew chief Matt Puccia with him for Sunday's AAA 400 at Dover International Speedway.

That's because Puccia didn't make the trek to the "Monster Mile," instead staying home as his wife, Alyssa, gave birth Friday to the couple's new baby, Kennedy Harper Puccia. Roush Fenway Racing Sprint Cup team manager Kevin Kidd has taken Puccia's place on the pit box so far at this rainy Dover weekend.

Kidd said he's just trying to keep things basic in Puccia's absence.

"My approach basically is just to allow the guys who have prepared all week for this to do their jobs. I'm trying not to get in the way," said Kidd. "There are a bunch of smart guys on this race team, and really the role I'm trying to do is just direct traffic and manage the overall team, but I'm not getting too spun out on chassis changes and things like that. I'm letting the smart guys handle all of that."

As far as Puccia's possible return on Sunday, that is still to be determined.
"It will probably be a Sunday morning game-time decision, and I'm leaving it completely in Matt's hands," Kidd said. "If he wants to come up and do the race tomorrow, then we'll certainly welcome him. As a company, we'd love to have him back, but we also want to be respectful and do the right thing as an employer and give him some time to be with his family right now."

"The great thing about it is we've got a solid team and it's not early in the season, so we've got a good, solid program together," said Biffle, who was 17th in Saturday's first round of Cup practice at Dover. "We would definitely miss Matt making all the decisions calling the race."