Why Gadelha's coach thinks TUF between her and Joanna Champion will be 'horrible'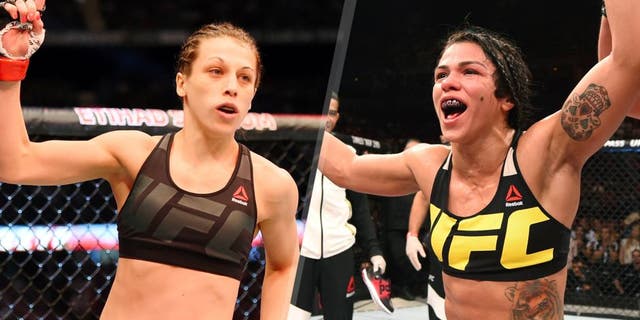 Joanna Jedrzejczyk and Claudia Gadelha were already heated rivals when it was announced they would rematch one another, this time for the UFC strawweight title. To add to the intensity, the women are also set to coach opposite one another on an upcoming season of TUF.
Gadelha's coach Andre Pederneiras has seen some trash heated, close-quarters tension in his days, most recently between his fighter Jose Aldo and Conor McGregor, and he thinks that things could erupt worse between Gadelha and Jedrzejczyk than anything that happened between Aldo and McGregor.
"I believe it can be worse because it's 45 days," he recently told Guilherme Cruz of what it will be like for Joanna and Claudia to have to be around one another so much, while filming TUF.
"You will see someone you don't want to see for 45 days, twice a day. It won't be good. It's going to be horrible. Horrible. They both have strong temper, so it can't be good. It's going to be perfect media-wise, but won't be good for them. I don't think they will end up fighting during the reality show, but we will get a lot of mess."
Only time will tell how each woman handles that messy situation. Pederneiras is confident, however, that his charge will come out on top come fight night.
When the two fighters first met, a title shot was on the line, and Joanna edged Gadelha with a close decision. The Brazilian's coach says that Claudia was just getting warmed up after three rounds, however.
Now that they'll be fighting for five, championship periods, the Nova Uniao leader is confident that Gadelha will beat Joanna Champion.
"If they had fought five rounds that night, Joanna would never win. If you watch the first fight, 'Claudinha' was dominating the first round until she got knocked down in the end, and they scored it for Joanna. 'Claudinha' was better in the second round and even better in the third," he explained.
"If you follow that rhythm, she would be even better in the fourth and fifth rounds."
Pederneiras says that both women have improved a great deal since their first bout, and that Gadelha shouldn't trade strikes with Joanna. However, he believes his fighter can strike well enough to close the distance and do work on the ground.
"Both fighters changed a lot since that night. Joanna is defending [takedowns] better, has a better ground game, and 'Claudinha' worked on her boxing to close the distance," he concluded.
"No one's stupid to stand and trade with Joanna for five rounds. When she gets to the ground, she'll do what she does best."