Why Devin Hester is a Pro Football Hall of Famer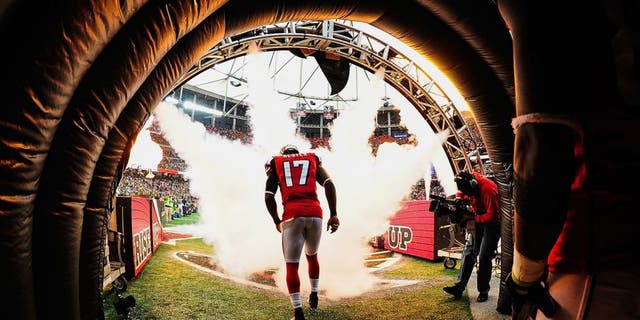 NEWYou can now listen to Fox News articles!
On Tuesday, the Atlanta Falcons released Devin Hester, the NFL's all-time leader in return touchdowns. And now the question begging to be asked is what the news means for Hester -- and his legacy -- going forward.
Last year, a turf toe injury limited the 33-year-old to five games, and Hester will be 34 by the midway point of the upcoming season. So he's not quite spry by NFL standards, regardless of position. And as a return man in particular, he's downright old.
In fact, Hester was the oldest kick returner in the NFL last season -- no, John Kuhn falling forward for a few yards after a kickoff bounced to him as the up-man doesn't count -- and was the third-oldest player in the league to return a punt: 36-year-old Steve Smith and 34-year-old Wes Welker each returned two, to Hester's eight.
By comparison, the league's two most productive kick returners, Cordarrelle Patterson and Ameer Abdullah, were 24 and 22, respectively.
And while age isn't necessarily a death sentence in the punt return game -- Darren Sproles returned 38 punts at a nearly 12-yard-per-return clip at age 32 last year and Hester still produced at an elite level his first year in Atlanta in 2014 -- it's clear that Hester's best and fastest days are behind him.
None of that necessarily precludes Hester from being signed by a team, of course -- the four-time Pro Bowler still has value. The question is how much. As recently as last season, Hester said he wouldn't push the issue when it came time for him to call it quits.
"The moment that I feel like I'm useless and I can't do the things I did is the day I'm going to hang up my cleats," Hester told me at the time. "But until then, as long as I still feel explosive, I still feel myself running away from guys, I'm going to continue to play."
So it remains to be seen whether Hester can and will run away from guys for another year or two. But one thing that shouldn't be up for debate, if and when he moves on to the next phase of his life, is Hester's candidacy for the Hall of Fame. Simply put, Hester deserves to have his bust in Canton, regardless of the precedent set by return men before him.
Of the 303 members in the Pro Football Hall of Fame, there isn't even one who spent his career primarily as a return man. But that's not to say there haven't been worthy candidates.
Eric Metcalf never got a sniff from Canton, despite being the all-time leader in punt return touchdowns until Hester came along -- and Metcalf also had a 1,000-yard receiving season to his name. Neither did Desmond Howard, who won a Super Bowl MVP on the strength of his special teams efforts.
Then there's the standard bearer, Brian Mitchell, who is second to only Jerry Rice in career all-purpose yards. The big hang-up with Mitchell is that more than 80 percent of his 23,330 yards came via returns. And with more than 19,000 return yards and 14 total touchdowns, he's on the outside looking in, as well.
"I thought that Brian had as good a case as anyone," Howard told me last year. "And if Brian ain't in there, then I don't know what it's going to take to get someone like that in."
Hester, however, should be different, if only for the way he revolutionized the position.
"People talk about how guys who are in the Hall of Fame are guys who have changed the game of football, and he's done that," Dave Toub, Hester's special teams coordinator in Chicago, told me last year. "They were talking about changing the rules on punt because of him, and now everybody has a returner, everybody knows how important it is. He opened up the door for returners."
Larry Coker, Hester's college coach at Miami, agrees.
"It would be unique, and it would be a good uniqueness," said Coker, who stepped down earlier this year after five seasons at UT-San Antonio. "With what he's done for the return game and the games he's won as a returner, I think he for sure has the merit and will deserve consideration for the Hall of Fame. There's no doubt in my mind."
At this point, the only specialists in the Hall are punter Ray Guy and kicker Jan Stenerud, each of whom transformed his respective position. But it's hard to make the argument that Hester didn't at least have a commensurate impact on the return game during his decade in the league.
The game has never seen a returner who, in his prime, was as feared as Hester -- a fact that underlines just how impressive he's been. In an era where the return game has been greatly de-emphasized through rule changes, and coaches have made it a point to keep the ball away from guys like Hester, Hester still found a way to excel and set records that may never be broken.
"He makes a very strong case in a time, in an era where we're kind of going away from special teams and you're looking at high-powered offenses and all the different things that are going on with the game," said Brendon Ayanbadejo, who blocked for Hester with the Bears. "So the timing may not be the best when it comes time to vote, but I think it'll be one of those things where you're not going to see a novelty player like him anymore."
And while that novelty may be what ultimately keeps Hester and other all-time greats out of the Hall, other legends rightfully contend that fewer snaps shouldn't mean less consideration.
"There's no reason why he shouldn't be in the Hall of Fame," Mel Gray, the oldest player to ever return a kickoff for a touchdown, said of Hester, adding, "It's a great part of the game and a part of the game that makes a big impact on the outcome. They've got to give us more reason than just saying returners can't get into the Hall of Fame just because they're not on the field enough."
For his part, Hester tends to shy away from the debate about whether he, or returners in general, should be in the Hall. When we talked, he conceded that he would "love to get in" and "hopes his name will be mentioned" in the discussion. But the fact is he's the best to ever return kicks and punts, and he earned that reputation at a time when doing so was the hardest it's ever been.
With that in mind, it doesn't feel like an exaggeration to say Hester is both one of a kind and perhaps the last of his kind. If a legacy like that doesn't warrant enshrinement among the greatest to ever play, then I'm not sure who or what does.
You can follow Sam Gardner on Twitter or email him at samgardnerfox@gmail.com.