Why Atlanta's Vic Beasley is Super Bowl LI's most important player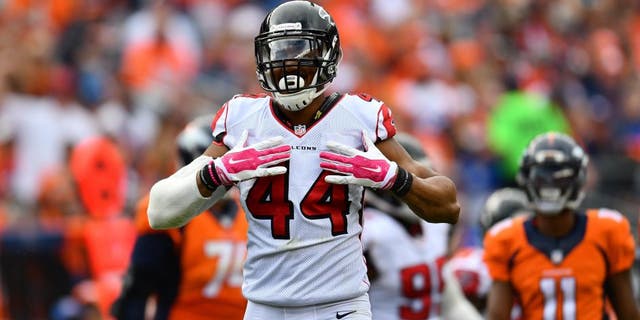 Super Bowl LI has been dissected in thousands of different ways in the past two weeks, and most of the conversation has revolved around the two incredible quarterbacks squaring off in Houston on Sunday (6:30 p.m. ET, FOX).
That's not at all shocking -- it's a lot more fun to talk about offense and it's really easy to forget that an offense puts 10 other players on the field.
But money talks too, and it's creating a different narrative ahead of Sunday's battle between the Atlanta Falcons and the New England Patriots.
In Las Vegas, there's a run on Falcons pass rusher Vic Beasley in Super Bowl MVP betting -- William Hill US told ESPN that it has dropped Beasley's odds from 100-to-1 to 50-to-1 since last Thursday in response to heavy wagering on the second-year player.
It makes sense to bet on Beasley -- if the quarterbacks are the favorites to win Super Bowl MVP (and they rightly are), then the next best bet is to pick the guy whose main responsibility is to stop that player. Just look at Von Miller in last year's Super Bowl -- he took out Cam Newton and was rewarded. Look at Andre Iguodala against LeBron James in the 2015 NBA Finals.
There are hundred of factors in play heading into Super Bowl LI -- the possibilities heading into the game seem endless (though after two weeks we might have found them all), but the game will in all likelihood be determined by the play of Beasley -- the NFL's leading sacker.
That's not necessarily a good thing for Atlanta.
Atlanta's defense will go as Beasley goes Sunday, and that could well be the difference in the contest.
The Falcons are going to put points on the board against New England -- it's just too good of a unit to falter now, even against a better-than-average defense -- and Tom Brady is going to distribute the ball in a quick, efficient manner against a young secondary that was one of the worst in the NFL at stopping exactly what the Patriots love to do.
New England's offense might not be sexy Sunday -- it's more likely to be 70 dagger stabs than 10 broad cuts with a sword -- but if we've learned anything over the past 17 seasons, it's that the Pats' offense is going to be ruthless and effective. Dive deeper into the stats and you'll see that since Brady returned in Week 5, the Pats' offense isn't far behind Atlanta's all-time great outfit.
There's really only one thing that can change the complexion of what's setting up to be an offensive showdown between two truly great units: Beasley.
You saw what pass-rush pressure did to Brady in the Patriots' divisional round playoff game against the Texans -- he looked mortal, and if not for Brock Osweiler being worse than bad, Houston could have won that game.
It would stand to reason that the NFL's sack leader would be able to get that kind of pressure on Brady (and if not him, that he could draw enough attention from the offensive line so someone else in the Atlanta defense could).
But it's not as simple as that.
The stats say Beasley has improved dramatically from his rookie season. After being selected No. 8 overall in the 2015 NFL Draft, Beasley had four sacks in 16 games in 2015. This year he had 15.5 to lead the NFL in only 12 starts.
That's impressive, of course, but it's also misleading.
Yes, Beasley made a leap from Year 1 to Year 2, but he did not suddenly turn into Miller.
Beasley's sack conversion rate on hurries was nearly twice the NFL average (15 percent), and more than 40 percent of his sacks came in two games against two of the worst offensive lines in the NFL -- the Rams' and Broncos'.
Furthermore, Beasley is something close to a one-trick pony -- he's a speed rusher and he loves the left starting block. He's not going to bull rush or swim move, he's going to drop his shoulder and try to run around a right tackle as fast as he can, hoping he can circle back to the quarterback. More than 15 times this year, that plan worked.
But it probably won't work against Marcus Cannon, the Patriots' right tackle who was one of the best offensive linemen in the NFL this season, or Brady, who really has to worry about pressure from only one side of the Falcons' defensive line and is pretty good at mitigating those sorts of things.
If Beasley is neutralized, that's terrible news for Atlanta, but New England really can put salt in the wound if it decides to target the defensive end in the run game.
Beasley, as you could imagine by his speed-rusher style of play, has been poor against the run all season (to be fair, he's hardly the only one on Atlanta's defense with that rap), and New England might decide that instead of challenging Atlanta's young but athletic secondary, it's instead going to target the Falcons' poor gap control and tackling on run defense -- Atlanta was 29th in the NFL in rush defense, per DVOA.
Beasley has been on the field 751 plays this season, but only 186 have been run plays, and that 25 percent mark is no accident -- Falcons coaches don't want Beasley on the field on rushing downs because he's a liability.
If the Patriots run the ball early and often Sunday, the Falcons will have to make a choice on Beasley -- keep him on the field and be gashed or rotate him off and let Brady audible into whatever passing play he wants at the line of scrimmage.
Dan Quinn might be a great coach, but he doesn't want to get into a substitution chess match with grandmaster Brady.
Beasley is going to have an impact on the game Sunday. If the Patriots throw the ball often and never truly establish a run game and Beasley has a monster game -- a half-dozen hurries on Brady, and perhaps a sack or two -- the Falcons stand a great chance to win Super Bowl LI. But if the Falcons lose, you'll likely be able to look to Beasley's impact (this time, in the negative sense) as well.
If there's one man to watch Sunday, it's not either of the quarterbacks, it's No. 44 in black and red. Vic Beasley is the X-factor in the Super Bowl, but we don't know yet which team he'll benefit.