Who's the favorite to win at Dover? Try ol' 'Six-Time'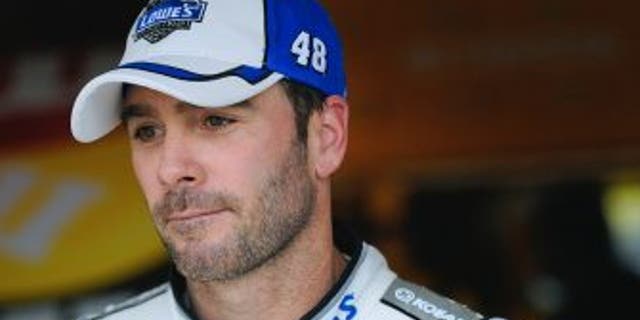 NEWYou can now listen to Fox News articles!
So now it's time for racing at Dover. This is one of the most exciting and possibly treacherous races of the year. Unfortunately for 42 other drivers, Jimmie Johnson has reared his head last Sunday at Charlotte and made it clear you can't forget about him this season just yet.
Considering that Jimmie just happens to be the winningest driver at Dover and coming off a huge win at Charlotte, how can you not think he's the driver everyone will be chasing Sunday?
It doesn't matter what rule package NASCAR puts out there. It doesn't matter what car they put out there. Jimmie Johnson literally is "The Man" at Dover. It's really going to be interesting to see how the new rules package for 2014 will play out there. Please don't for one second believe these race cars won't be almost like rocket ships and bad fast on that one-mile high-banked concrete racetrack.
You will see all this speed in the corners. Even though Dover is a one-mile race track, you speed almost two-thirds of your time in the corner. It's simply going to be ultra-fast. The thing I like about Dover is the length. The length of the race is 400 miles, and I think that's just about perfect.
On Sunday you can expect to see some long green-flag runs but also look for the cautions that will bunch everybody back up. Trust me, you can't run that close together at those kinds of speeds and not have somebody get into somebody else, which will bring out the yellow flag more than once on Sunday.
Pit road at Dover is one of the more treacherous places on the circuit. While the pit boxes themselves are a decent size, the actual pit road is very narrow. It never fails and it won't again Sunday, when we see somebody get into somebody else on pit road.
Now for me, the saddest part about going to Dover -- as hard as it is to believe -- is it's the final race in 2014 for our NASCAR on FOX team. It just seemed like it was yesterday we all were heading to Daytona. The other thing Sunday signifies is when the checkered flag falls. When that happens, we are officially halfway through the 2014 regular season for the NASCAR Sprint Cup Series.
Will we have a repeat winner Sunday? Will we have yet another new winner in 2014? Will someone like Matt Kenseth, for example, finally break through, get his first win of the year and become our 11th winner in these first 13 races?
We still have a lot of heavy-hitters who haven't found their way to Victory Lane yet. Believe me, the clock is ticking as we head to the Chase and it's getting louder and louder in the heads of these drivers who haven't been able to spray victory champagne yet in 2014.