Who's strongest among the 5 winless Chase drivers?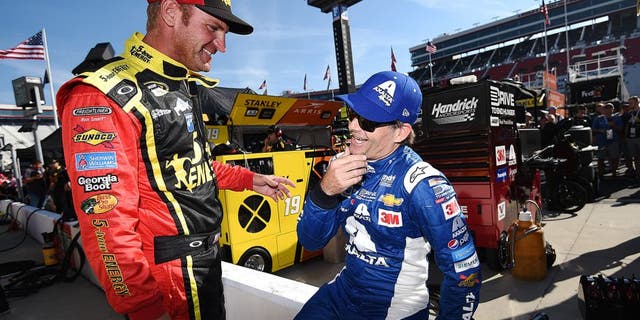 NEWYou can now listen to Fox News articles!
As we head to Darlington this weekend, we know no matter what happens there or next Saturday night at Richmond that we will have three drivers who will enter the 2015 Chase for the Sprint Cup based on points.
Personally, I believe we are going to have five drivers make the Chase on points. I just don't see a new winner this year coming out of either of these two remaining races. To be perfectly honest, I just don't think I see a new winner coming out of the remaining 12 races of the season.
What Ryan Newman showed everyone last year is that you don't have to win races to be a player in the championship. It literally took Kevin Harvick winning the last two races of the season to win the championship, or Ryan would have won it on points without a single win during the year.
The question to me is who is the best of those five drivers who are now in on points? I'm probably going to surprise a lot of folks with my answer. Honestly, it probably wouldn't have been the answer I would have given you two weeks ago even. When I look at Jamie McMurray, Ryan Newman, Paul Menard, Jeff Gordon and Clint Bowyer right now, I see Clint being the best of these five drivers.
If nothing else, I see Clint as being the most consistent. Here are a couple examples. McMurray finished 11th at Bristol which was his best finish since also finishing 11th at Sonoma. That combined with the fact that he only has two top-five finishes all year long doesn't scream consistency to me. Now to his credit, Ryan is coming off two consecutive top-10 finishes, but his last top-five finish was clear back at Bristol in April.
Paul Menard had a tough Bristol. His last top-10 finish was at Pocono in June. He, like Jamie, also only has two top-five finishes for the entire season so far. Jeff Gordon got a third at Pocono, but he only has three top-five finishes for the season. That pales to 2014 when the man had four wins and 14 top-five finishes.
Clint finished fifth at Bristol. Since the crew chief change, which has covered the last 10 races, Clint has produced two top fives and seven top 10s. While maybe not knocking on Victory Lane's gate just yet, that No. 15 car and Clint have become Mr. Consistency. A month ago I wasn't sure Clint was even going to be in the Chase, but of the five guys that I believe will be in the Chase on points, Clint is my pick to be at the top of those five.