Who'll win Week 9's biggest games?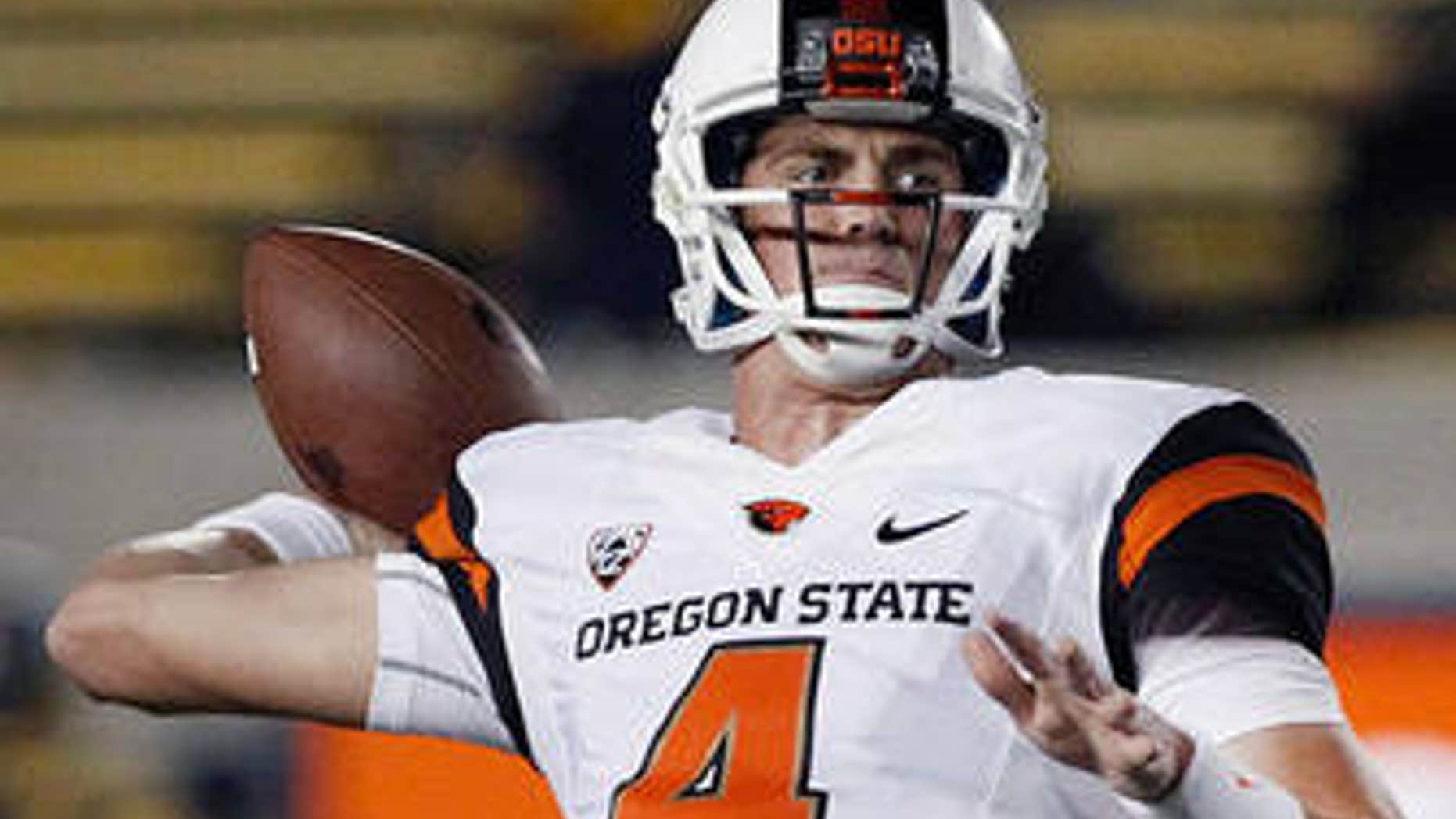 Last week, upsets rocked college football.
Six of the top 11 teams -- Clemson, LSU, Texas A&M, Louisville, UCLA and South Carolina -- lost. On top of that, No. 15 Georgia, No. 20 Washington and No. 22 Florida also fell.
So, are you ready for a week or normalcy? Well, that's not what you're going to get, as Corvallis will be the site of another landscape-shifting upset.
Check out CollegeFootballNews.com for more on this week's games.
No. 6 Stanford at No. 25 Oregon State Saturday, 10:30 p.m. ET, ESPN Why You Should Give A Hoot: By Sunday morning, the Pac-12 North is going to have a little more clarity than it does right now. A pair of 6-1 teams are set to tee it up in Corvallis for a divisional semifinal game, if you will, with front-running Oregon waiting in the wings. Oregon State has rebounded miraculously from its loss to Eastern Washington on the opening weekend, winning six games in a row.
The Beavers, in fact, have climbed all the way into the top 25, riding the strong right arm of QB Sean Mannion and the soft hands of WR Brandin Cooks. OSU is still somewhat lurking in the weeds, but its relative anonymity disappears with an upset this weekend.
Stanford recovered from its lone loss to Utah by handing UCLA its only defeat of 2013. By beating the Bruins, the Cardinal moved all the way up to No. 6 in the BCS rankings. In other words, the program remains in the hunt for not only another Pac-12 crown, but a shot at the BCS National Championship Game as well. Reser Stadium will be a study of philosophical opposites, with Stanford's power contrasting Oregon State's finesse.
Why Stanford Might Win: The Cardinal are the first team this year that'll punch Oregon State square in the jaw. Stanford is a bare-knuckle program, far different than anyone the Beavers have faced. The Cardinal are content with smash-mouth football on both sides of the ball. Oregon State lacks the defensive muscle to win the battles at the point of attack.
Stanford will run Tyler Gaffney with success, setting up Kevin Hogan on play-action to find game-breaking WR Ty Montgomery. OSU plays with a similar offensive pace and philosophy as UCLA. The Cardinal just got done limiting the Bruins to 266 total yards and one offensive touchdown.
Why Oregon State Might Win: No one has slowed down the Beaver passing game in 2013. Even Stanford is unlikely to be the first. Mannion and Cooks have been phenomenal so far this season, forming the best pitch-and-catch combo in college football. Mannion has thrown a nation's-best 29 touchdown passes, while Cooks has remarkably hauled in 76 balls for 1,176 yards and 12 touchdowns.
When the wideout gets maximum attention, he still makes plays, though it also opens things up for teammates, like Richard Mullaney. If Oregon State begins to roll, Stanford lacks the system and the firepower to win in a shootout.
What Will Happen: Stanford isn't the same team everyone thought it was in early September. Neither, for that matter, is Oregon State. Utah exposed the Cardinal two weeks ago. The Beavers are now poised to bump the defending champs from this year's Pac-12 race. Yeah, Stanford has more overall balance, but Oregon State's stars, spurred on by the home crowd, will lead the way to an upset. By the end of the weekend, Mannion and Cooks could be household names well outside of just the West Coast.
Prediction: Oregon State 31, Stanford 28
[Read the full prediction at CollegeFootballNews.com ]
No. 12 UCLA at No. 3 Oregon Saturday, 7:00 p.m. ET, ESPN Why You Should Give A Hoot: UCLA doesn't want to become Washington. U-Dub faced Stanford and Oregon in consecutive weeks, lost to both and hasn't recovered since. The Bruins, having already fallen to the Cardinal a week ago, 24-10, are determined to rescue their season before a slide begins. There's also the wide-open Pac-12 South, which becomes increasingly tougher to capture with each league loss.
The Ducks have yet to win a game by fewer than three touchdowns this season, yet they're still No. 3 in the initial BCS rankings behind Alabama and Florida State. Not to worry. The program is confident that everything will work out just fine as long as it continues to roll along without much resistance. Oregon's Marcus Mariota versus UCLA's Bret Hundley is one of the most anticipated matchups of young quarterbacks of 2013. NFL scouts are especially interested in both redshirt sophomores.
Why UCLA Might Win: Few teams harbor the offensive firepower to keep up with the Ducks. The Bruins are one of those teams. Hundley gives UCLA a shot to win every game. He's that rare athlete who can carry a team with either his right arm or his feet. Plus, the dual-threat is surrounded by an abundance of speed on both sides of the ball.
Head coach Jim Mora is in the process of building the kind of team that can compete physically with the likes of Oregon. On defense, the Bruins will track the ball from sideline-to-sideline with ends Eddie Vanderdoes and Keenan Graham and linebackers Anthony Barr and Eric Kendricks. Obviously, Eugene is a challenge of a different kind, but UCLA has been a good road team so far in 2013.
Why Oregon Might Win: This is a bad week for UCLA to be banged up. The Bruins won't be at full strength this week, especially along the O-line. The Ducks, to the contrary, expect to get back their most explosive playmaker, RB De'Anthony Thomas, from an ankle injury. Oregon is going to score. The 57-point-per-game attack always does.
But what happens to Hundley if ends Tony Washington and Taylor Hunt are chasing him from the pocket all night? The Ducks are an opportunistic bunch, ranking 13th in the country in sacks and second in takeaways. Forced throws wind up becoming pick-sixes for cornerbacks Ifo-Ekpre-Olomu and Terrance Mitchell.
What Will Happen: Under different circumstances, maybe UCLA wins. But limping into Autzen Stadium? Uh-uh. You better be at full strength to entertain thoughts of beating Oregon on the road. UCLA is clearly heading in the right direction under Mora, but that shaky O-line is going to be an impediment to success. It'll be nice having Thomas back, but the Ducks probably won't need him. Mariota and a seemingly boundless array of skill players will fuel another comfortable Oregon win.
Prediction: Oregon 45, UCLA 21
[Read the full prediction at CollegeFootballNews.com ]
No. 10 Texas Tech at No. 15 Oklahoma Saturday, 3:30 p.m. ET, FOX Why You Should Give A Hoot: Baylor, Baylor, Baylor. It's all about Baylor and its high-powered offense and gaudy numbers, but this week it's Texas Tech's time to show it belongs in the discussion for the Fiesta Bowl. The Red Raiders are unbeaten, too.
The general assumption is the losses will start piling as the schedule gets tougher, but this has been a strong, resourceful team that has won every game but one by double digits. The Kliff Kingsbury era couldn't have started any better, but beating Oklahoma on the road would generate a new kind of buzz.
Oklahoma didn't exactly bounce back from its clunker against Texas, and now, after an unimpressive 34-19 win over Kansas, there might be a harsh truth to face: The team just might not be that good.
The Sooners have been sluggish, for the most part, but they've been winning. Blasting Tulsa and coasting by ULM didn't impress anyone, and while the wins over West Virginia, Notre Dame and TCU weren't pretty, they were wins. However, with Baylor in a few weeks, there's a chance to be the star of the Big 12 again with a few wins before getting the relative layups against Iowa State and Kansas State. Texas needs to lose a few times for OU to possibly get to the Fiesta Bowl, but for now, just getting by the Red Raiders will be enough.
Why Texas Tech Might Win: The defense. Texas Tech has been all about the offense over the years, but its defense is making up for inconsistencies on the other side. The new coaching staff has helped the O roll - there's no real complaining about averaging 41 points per game.
But the defense has been controlling games with a strong pass rush and a run defense that gives up a few scores - allowing five in the last two games - but only 3.34 yards per try. For the offense, the OU stats against the pass are off after Kansas came up with just 16 yards through the air. Other than Notre Dame, teams with decent passing attacks haven't had too many problems.
Why Oklahoma Might Win: Texas Tech, welcome to a ground game. The Red Raider defensive front has been strong against the run and has made more than its share of plays behind the line, allowing more than 200 yards on the ground just once this year. TCU was that one team, and it's not exactly a power, but it generated a push.
The Oklahoma offensive line struggled against Texas, but for the most part it's been one of the team's biggest strengths and should power away on the Red Raider defensive front. On the other side, Oklahoma's secondary has been a rock, leading the Big 12 and currently ranking fourth in the nation in pass efficiency defense - it doesn't give up anything deep.
What Will Happen: Can the Oklahoma defense rise up? Yes, but it won't be enough. Davis Webb will look like a freshman at times with some key mistakes, but the Red Raiders will be plucky, OU QB Blake Bell will be Ok, not great, and Tech will pull off the eye-opening win it's been shooting for.
Prediction: Texas Tech 30, Oklahoma 27
[Read the full prediction at CollegeFootballNews.com ]
No. 21 South Carolina at No. 5 Missouri Saturday, 7:00 p.m. ET, ESPN2 Why You Should Give A Hoot: Now it's for real. Beating Vanderbilt was fun, and whacking Georgia set the tone, but hanging 36 with relative ease on a Florida defense that came into the game ranked among the nation's best showed just how serious an SEC title contender Missouri really is. But it's the SEC, which means the schedule doesn't let up, with Ole Miss and Texas A&M still to face along with next week's home game against Tennessee.
After going 5-7 in its first season in the SEC, Missouri has already had a successful second season, but the realistic goals have quickly changed. Yes, the Tigers played a Georgia team with almost no skill talent left to help Aaron Murray. Yeah, they caught Florida the week after it lost top running back Matt Jones and didn't have quarterback Jeff Driskel or its best player, defensive tackle Dominique Easley.
Now, it looks like the Tigers are going to catch the Gamecocks without starting quarterback Connor Shaw, who suffered a knee injury late in the loss to Tennessee. Missouri is also without its starting quarterback, James Franklin, and South Carolina has to take advantage of backup Maty Mauk now that the D has seen him. Even with the loss to the Vols, and even at 4-2 in conference play, the Gamecocks are still alive.
South Carolina should catch some of the same breaks Missouri has, and winning out - combined with another Georgia loss and a Mizzou loss to Ole Miss or Texas A&M - would put Steve Spurrier's team in the SEC championship. However, if Missouri can win, it'll have a two-game lead over Georgia and Florida - plus the head-to-head tie-breaker - and will be three up on South Carolina. Essentially, barring a total gag, the Tigers can book their tickets to Atlanta with a win.
Why South Carolina Might Win: Again, it's one thing to face a new, talented quarterback without being able to properly scout him, and it's another to have game film to study. The South Carolina defense should be able to pin its ears back to get into the backfield against a good, but not great, Missouri offensive line that's allowed a few too many sacks.
The Gamecock pass rush has been underwhelming so far considering the talent, but Kelcy Quarles has been good at getting into the backfield and Jadeveon Clowney is overdue to shine (he had 1.5 sacks last year against Mizzou). Get more pressure on Mauk, and big mistakes might come.
Why Missouri Might Win: The South Carolina pass defense can get beaten deep and might have big problems with the very big, very talented Mizzou receivers. Can the Gamecocks keep up with a Tiger attack that's balanced, effective and consistent? Their pass rush has been OK, but the Missouri pass rush has been dominant. Michael Sam has cranked out nine sacks in his last four games and destroyed Florida last week.
The South Carolina pass protection has been spotty, and now with Dylan Thompson under center, the Tigers should be able to force mistakes from an offense that has a big problem giving the ball away. The Gamecocks are awful in turnover margin, and they'll need to be on the right side to have a realistic shot.
What Will Happen: Missouri will keep the magic going with defensive pressure and overcome a shaky day from the offense. The balance will be there in the second half, but Mauk will turn the ball over at least twice and South Carolina will take advantage. However, the Gamecock offense will fizzle late as Mizzou pulls away in the fourth.
Prediction: Missouri 31, South Carolina 21
[Read the full prediction at CollegeFootballNews.com ]
Tennessee at No. 1 Alabama Saturday, 3:30 p.m. ET, CBS Why You Should Give A Hoot: For now, forget beating Alabama -- can anyone score on the D? It's seems like years ago since Johnny Manziel and Mike Evans were doing their thing in the wild shootout with the Tide in College Station. Since then, Alabama has been so good, it's making winning seem boring.
While SEC favorites were dropping left and right last weekend, the Tide got off the bus, stretched out and whacked Arkansas 52-0 without really breathing hard. Granted, the schedule hasn't been brutal, with LSU coming up in a few weeks and the date at Auburn to close things out, but no one's even coming close.
How dominant has Alabama been? Even with decent teams in Ole Miss and Arkansas on the slate, the Tide have won their last five games by a total score of 201-16, or an average of 40-3, allowing six points to Colorado State, three to Georgia State and seven to Kentucky.
However, Tennessee is starting to play really well since getting its doors blown off at Oregon and losing at Florida. The Vols lost a 34-31 heartbreaker to Georgia and followed it up by fighting through a 23-21 program-changing - maybe - win over South Carolina last week. This is still a rocky team with an unsteady offense and shaky D, but it's playing just well enough to potentially give the Tide a scare.
Alabama has won six straight in the series, mostly blowouts, with Tennessee last winning in 2006. Before that, it was all Vols, winning nine times in 10 years.
Why Tennessee Might Win: Can Tennessee attack Alabama's offense and be disruptive? The Vols have cranked up the intensity up front, doing a fantastic job of getting behind the line and coming up with plenty of tackles for loss. The run defense might not be stellar - Georgia was able to run for 238 yards without Todd Gurley - but it comes up with its share of stops.
Alabama is able to come up with the spectacular from time to time, but it's more about the methodical. The Vol defense has just enough talent up front to hold its own early on.
Why Alabama Might Win: Playtime is over for the Tennessee offense. It's not like it lit up South Carolina, with little pop to the passing game and a mediocre day on the ground, but it was helped in a huge way by a plus-2 turnover margin and a huge day from the secondary. Alabama has turned the ball over just four times all season, and QB AJ McCarron has been deadly accurate, hitting on 70 percent of his throws and hasn't thrown a pick in a month.
Alabama isn't going to give Tennessee the breaks on one side of the ball, while the other side that hasn't allowed more than 160 rushing yards in four games isn't going to have much of a problem with the middling Vol ground game.
What Will Happen: More of the same. The Alabama offense will be balanced and effective, with a few big pass plays here and there to open things up, while the defense will bother Tennessee quarterback Justin Worley and won't give up 14 points. Again.
Prediction: Alabama 38, Tennessee 10
[Read the full prediction at CollegeFootballNews.com ]
The original article can be found at FOXSports.com: Who'll win Week 9's biggest games?.