Who'll win Week 7's biggest games?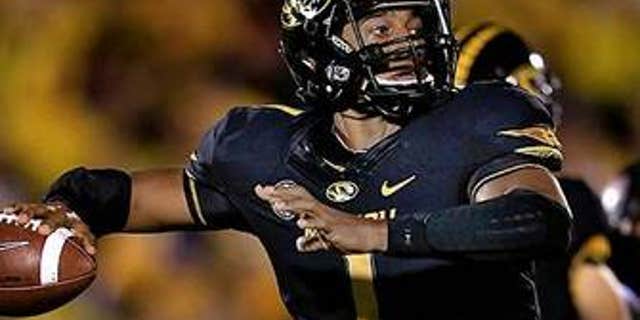 NEWYou can now listen to Fox News articles!
Last week was devoid of upsets and any real surprises.
All of the legitimate national title contenders won, and therefore the top half of the AP poll remained relatively unchanged.
That won't be the case in Week 7. At least one contender will go down, and in this space that will be Georgia. How will Mizzou go into Athens and pull the upset?
We cover that, LSU-Florida, the Red River Rivalry and more in this week's Fearless Predictions.
Check out CollegeFootballNews.com for more on this week's games.
No. 25 Missouri at No. 7 Georgia Saturday, Noon ET, ESPN Why You Should Give A Hoot: You ready for some big boy football? Former Missouri defensive tackle Sheldon Richardson called out Georgia before last year's inaugural SEC game in Columbia, and Jarvis Jones and company were more than happy to welcome the new guy to the big time with a dominant 41-20 win. But this Tiger team is much different and will be facing a limping Bulldog squad.
Georgia might have beaten Tennessee in a thriller, and it might still be knee deep in the national title hunt despite the opening day loss to Clemson, but the whole "Next Man Up" movement needs to kick into full force with running back Todd Gurley still hurting after missing the game against the Vols, No. 2 back Keith Marshall out for the year with a knee injury, receivers Michael Bennett and Justin Scott-Wesley injured, and safeties Connor Norman and Tray Matthews sidelined.
The Bulldogs are still a tremendously talented team, and Aaron Murray is as effective as any quarterback in college football, but this might be the game the Tigers show they're ready to play in the SEC.
Quarterback James Franklin is healthy and he's playing like it. Meanwhile, his receiving corps is one of the deepest and most talented in the SEC and his running backs are adding more than just balance. The 5-0 Tigers had no real problems with dangerous Indiana and Vanderbilt teams, and they rolled against Murray State, Toledo and Arkansas State. Now it's Game On.
The East is up for grabs, and the timing couldn't be better for Mizzou. Georgia is hurting, and Florida and South Carolina will have to come to Columbia. While a road game at Ole Miss and a date with Texas A&M remain, the Tigers could be in for an interesting ride if they can earn a win this Saturday.
This is only the third meeting between the two schools. Along with a win last season, Georgia beat Mizzou in the 1960 Orange Bowl.
Why Missouri Might Win: One of Georgia's biggest problems has been a secondary that gives up too many plays. Even with a decent pass rush, the Bulldogs are having problems against decent, accurate passers like Tajh Boyd, Zach Mettenberger and Connor Shaw, with opposing offenses completing 61 percent of their throws. James Franklin might not be a bomber the quality of Boyd or Mettenberger, but he's connecting on 70 percent of his throws thanks to more time from the line, better decisions, and a receiving corps that's eating secondaries alive.
The Tigers will trot out a slew of NBA swing forward-sized playmakers, and moving the ball down the field shouldn't be a problem against the worst D in the SEC on third downs. The Mizzou passing game should be fantastic, but ...
Why Georgia Might Win: Georgia should be able to light up the Tiger defensive backs. Most teams are throwing on the Tigers to keep up the pace, but over the last three games, Indiana, Arkansas State and Vanderbilt have had way too easy a time even in the face of a fantastic pass rush coming from the outside. The Georgia offensive line has been able to keep Murray relatively clean, and even when he's been under pressure he's made all the right reads and throws. Missouri will move the ball, but as Murray and Georgia have shown time and again, the Bulldogs can respond.
What Will Happen: This will be Mizzou's breakout moment. Georgia will get good performances across the board to make up for key injuries, and the power running game will get J.J. Green going, but Franklin and the Tiger receivers will be too effective in yet another entertaining shootout.
Prediction: Missouri 38, Georgia 34
[Read the full prediction at CollegeFootballNews.com ]
No. 2 Oregon at No. 16 Washington Saturday, 4:30 p.m. ET, FOX Sports 1 Why You Should Give A Hoot: U-Dub in the Pac-12 Game of the Week: The Sequel.
In a slightly cruel twist of scheduling fate, Washington faces the league's two best teams in back-to-back weeks. Last Saturday, the 16th-ranked Huskies earned a ton of national respect, yet came up a field goal short at Stanford. They actually outplayed the Cardinal in many phases of the game with the glaring exception of special teams.
U-Dub is the genuine article this year, but it'll fail to seize momentum if it can't shock second-ranked Oregon. The Huskies and their fans despise the Ducks, but they've lost nine straight by an average of nearly 26 points per game. Another defeat, especially in Seattle, will cap Washington's ceiling in 2013.
Oregon just keeps rolling along with the consistency of a fine timepiece. They've gone through the first five games unchallenged, reaching at least 55 points in each blowout. Still, critics have started pointing to the Ducks' schedule, which has featured a wave of also-rans that includes the likes of 2-3 Virginia and 3-3 Tennessee. Oregon can strength its case as the next best team behind Alabama and remain firmly ahead of Clemson, Ohio State, Stanford and Florida State by maintaining its dominance over the Huskies.
Why Oregon Might Win: Kevin Hogan isn't Marcus Mariota. True, the Washington defense played exceptionally well last week, as it has all year, but Mariota and the rest of the Ducks present a unique challenge. With or without RB De'Anthony Thomas, whose ankle kept him out of last week's game, Oregon will spread the field with playmakers capable of stretching the Huskies vertically and horizontally.
Thomas is one of a kind, but backups Byron Marshall and Thomas Tyner bring a thunder and lightning element to the backfield, respectively. Mariota's receivers Josh Huff and Bralon Addison possess breakaway speed that can prevent the Huskies from committing too many resources to the box.
Why Washington Might Win: Physical teams have given Oregon problems in the past. Last week on the Farm, the Huskies offered a four-quarter showcase of their physicality. Despite losing, Washington stood toe-to-toe with Stanford and never once backed down.
The Huskies are vastly improved in the trenches, the one area of the field that's haunted them in recent years. A sound offensive line has helped unlock the abilities of RB Bishop Sankey and QB Keith Price, who were terrific in the first month. On the other side of the ball, Justin Wilcox's D held the Cardinal to 279 yards last week. Although Oregon won't be mistaken for Stanford, the Huskies feel they have the necessary toughness up front and speed on the perimeter to keep the Ducks close this week.
What Will Happen: Washington is capable of winning this game, but it won't. The divide between the Huskies and Ducks is closer now than it's been over the past decade, and Washington can legitimately compete with its hated rival from the south. Actually outscoring high-powered Oregon, though, is something very few schools have accomplished in the last five years.
The Huskies are not going to lose sight of the Ducks thanks to the running of Sankey and the passing of Price. However, Mariota will earn the victory, the game ball and even more support in the Heisman race.
Prediction: Oregon 44, Washington 33
[Read the full prediction at CollegeFootballNews.com ]
No. 17 Florida at No. 10 LSU Saturday, 3:30 p.m. ET, CBS Why You Should Give A Hoot: The difference between being in the national title chase and being destined for just another New Year's Day bowl is paper thin in the SEC: 11-1 puts you in discussion for a BCS game; 10-2 gives you a Big Ten school to beat up.
This isn't an elimination game in the SEC race (at least not for Florida) but it's not far off. LSU can't afford a second SEC loss with Alabama and Texas A&M still to deal with in the West. And while the Gators can play for the conference title by sweeping the East, they still have to visit Missouri, South Carolina, and Georgia, leaving little margin for error.
It's not like LSU is flying under the radar but it's not getting the respect it deserves in the rankings, considering its lone loss came in a wild shootout at Georgia. However, there's a general sense that everything is in a bit of a holding pattern until the team's showdown with Alabama on November 9th.
In a league full of wild offenses and superstar quarterbacks, pounding the ball and playing great defense isn't sexy, but the Gators are plugging right along after losing starting quarterback Jeff Driskel for the season. Florida dominated in the loss to Miami, but Driskel's breakdowns and turnovers proved too costly. Now no one seems to be paying attention, but one win over LSU would change all of that.
LSU and Florida have played each other every year since 1971, and for the most part - at least lately - they've waged some wars. Florida dominated in the Steve Spurrier coaching era, but LSU has won two of the last three meetings. This series has seen just about everything and the games are always entertaining, whether a wild shootout or a slugfest.
Why Florida Might Win: Don't dismiss the Florida offense. The defense gets all the credit, ranking second in the nation having allowed just 217 yards per game, but the Gator attack is brutally effective with a tough, pounding ground game and good play coming from quarterback Tyler Murphy. But how do you keep the LSU offense down? One solution may be to control the clock and keep things moving, and no one hangs on to the ball better than Florida.
It helps when the defense gets off the field in a hurry, but Florida does a nice job of milking the clock, keeping the ball for a nation-leading 37:39 a game. LSU's defensive front is solid, but it's not generating enough of a pass rush and it's okay at best against tougher ground games.
Why LSU Might Win: Yeah, that ball control and defense thing might be all well and good for the Gators, but that strategy mostly works when they don't have to mount a big comeback. The Florida offense has been fine since Murphy took over, but Kentucky and Arkansas aren't LSU. Points are going to be at a premium, and despite all the good things the Gators might be able to do, they're going to have to convert good drives into precious points each and every time, which is unlikely. Kicking issues won't help matters: the Gators have hit just five of nine field goal attempts. LSU's Colby Delahoussaye has hit all seven of his tries.
What Will Happen: Florida will give LSU fits. The Gator running game will be effective, Murphy will make a few big plays, and the defense will keep Jeremy Hill in check. But then Mettenberger will come through. He'll have a mostly rocky game but will come up with one or two big plays in the second half to finally give the Tigers control. Field goals will be the difference.
Prediction: LSU 23, Florida 17
[Read the full prediction at CollegeFootballNews.com ]
No. 12 Oklahoma vs. Texas Saturday, Noon ET, ABC Why You Should Give A Hoot: Texas is 2-0 in Big 12 play ... Texas is 2-0 in Big 12 play ... Texas is 2-0 in Big 12 play ...
If you buy into the old adage that you are what your record is, then Texas is still in decent shape, and wins over Kansas State and Iowa State have readied the Longhorns for the Red River Rivalry. Despite all negativity surrounding Mack Brown and his squad, the narrative could do an about-face with a win over the Sooners.
On the other hand, a rough loss could rush the timetable for Brown's departure.
Texas had a decent 2012, finishing with nine wins and a bowl victory, but a 63-21 loss to Oklahoma was the ugliest moment early on. Arriving on a three-game losing streak in the series, and after dropping the last two by a combined score of 118 to 38, even a close loss might not be so bad for the Longhorns. Unfortunately for Brown, that's how low the bar has been set.
At 5-0, the Sooners aren't necessarily in the national title mix quite yet, mostly because they've been maddeningly inconsistent. After looking terrific against Tulsa and Notre Dame, too much of a fight was required to get by a sluggish TCU. While Oklahoma appears to be on track for another double-digit win season, the Sooners could still use a third straight obliteration of the Longhorns.
Why Oklahoma Might Win: If Oklahoma can get slightly physical, Texas will crumble. The Longhorn defense has a world of talent and more than enough athleticism to go around, but it can't tackle. Bottom line: Texas doesn't bring guys to the ground. There's too much bouncing, too much pinballing, and not enough wrapping. Even when a call has gone out for the team to get nastier and tougher, it hasn't mattered much: everyone who has tried, with the exception of Kansas State, has cranked out big yards in chunks.
The biggest problem is getting off the field, with offenses repeatedly converting on significant third down plays. Oklahoma isn't fantastic at keeping things moving, but they've been good enough to own the time of possession, ranking ninth in the nation by keeping the ball 33:36. The defense deserves most of the credit for that, but the O isn't bad at grinding out the clock, either.
Why Texas Might Win: Lost a bit in all of the issues facing Texas is an offense that's actually doing a decent job. Iowa State didn't allow the Longhorns to explode, but quarterback Case McCoy and the running game came through when needed to pull off the win. The Longhorn offense has shown balance, using a decent passing attack against the Cyclones and running well in the loss to Ole Miss.
As bad as the Longhorns have been defensively, they've still been able to get to the quarterback. OU QB Blake Bell needs a clean pocket and time to let downfield plays develop, and while the line has given him what he's needed, the Texas front four could change that.
What Will Happen: Texas will come out inspired, energetic, and looking ready to turn the season around, but then Oklahoma will come up with a few big touchdown plays, deflate the Longhorns, and take care of business.
Prediction: Oklahoma 37, Texas 17
[Read the full prediction at CollegeFootballNews.com ]
No. 15 Baylor at Kansas State Saturday, 3:30 p.m. ET, FOX Why You Should Give A Hoot: What, exactly, does Baylor have to do to make you a believer? Its schedule hasn't exactly been brutal, but if it was so easy to hang 70 points a game, everyone would be doing it.
Last year, Kansas State was the hot team everyone was watching. The Wildcats came into Waco 10-0 and with a spot in the BCS championship in its own hands before leaving with an ugly 52-24 loss. This year, Baylor is better and Kansas State is worse, and while the stakes might not be as high, it's a critical time for Bill Snyder's Wildcats after starting out 2-3 and suffering road losses to Texas and Oklahoma State. This game kicks off a run of five home games in the next six for the Wildcats, but it will take a special effort to hold down the nation's hottest team.
Over the past few seasons, the Baylor offense rocked and rolled, but the defense gave up yards and points just as quickly. This year - 42 points against West Virginia aside - the D is holding up its end of the bargain by allowing just 23 points in the first three games. Granted, Wofford, Buffalo and ULM didn't exactly pose serious challenges, but this is a new Baylor team.
Why Baylor Might Win: How do you slow down the Baylor offense? No one has an answer so far, but generating a little pressure into the backfield might help. The Bears have only been sacked five times in the first four games, and a lack of hits on the quarterback has allowed big plays to be made downfield. Baylor has shown the ability to do a little of everything offensively, and QB Bryce Petty has been able to get the ball out of his hands in a hurry when needed.
But he's at his best when his targets get into space and move. BU scores fast so Kansas State has to be able to hang on to the ball and control the clock in order to win. However, unlike last season, the Wildcats don't own third downs, turnover margin or time of possession.
Why Kansas State Might Win: Power, power, power. No one has run the ball on Baylor because 1) no one on the schedule so far has a strong enough ground game (at least by BCS league standards), and 2) the games have gotten out of hand so quickly that running attacks have been abandoned. Kansas State has the type of offensive line than can set up and start shoving, despite being one of the only teams that couldn't run well on Texas and being held to 144 yards by Oklahoma State. To earn a win against Baylor, Kansas State has to sustain long, clock-controlling drives and protect the ball.
What Will Happen: Kansas State will be able to slow things down for about a quarter, and the Wildcats will look like the Wildcats of old with a few tough scoring drives. Then Baylor will get its offense in gear en route to a big scoring run. KSU won't get enough pressure on Bryce Petty, and the home runs will follow.
Prediction: Baylor 52, Kansas State 30
[Read the full prediction at CollegeFootballNews.com ]