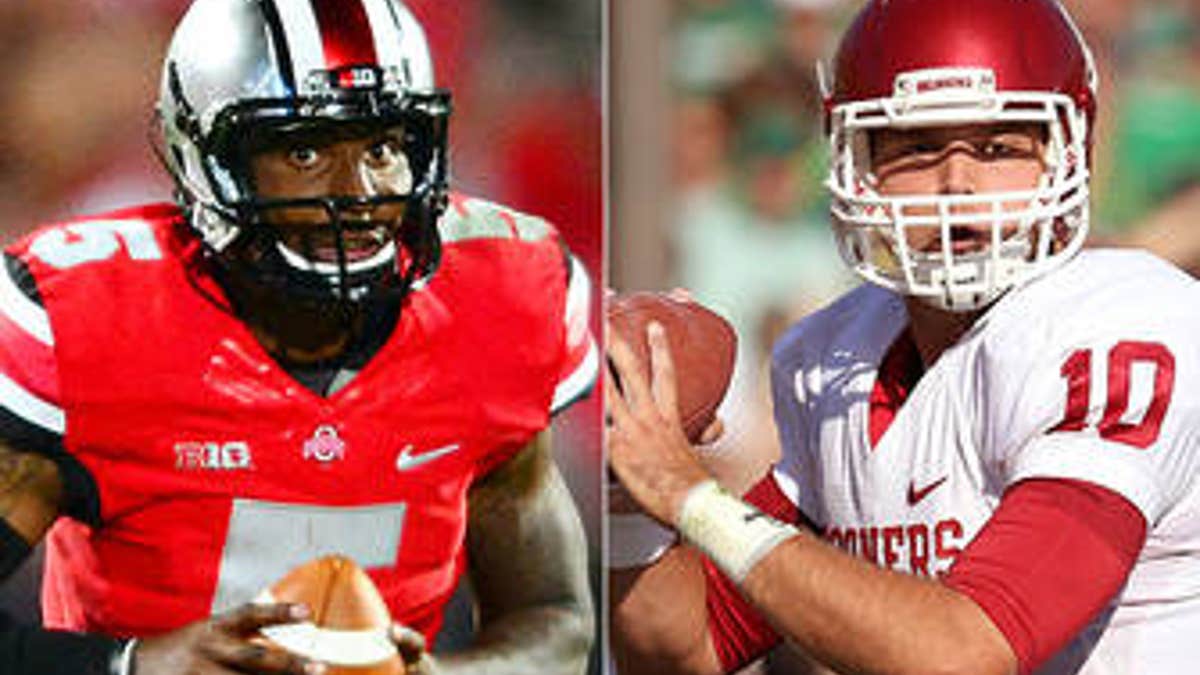 Last week was loaded with great ballgames.
LSU and Georgia both lit it up between the hedges, with the Bulldogs prevailing. Oklahoma went into South Bend and beat the Irish, stirring talks of whether it can contend for a BCS title. Ohio State took down Wisconsin and moved a step closer to a perfect season and perhaps its own chance to play for the crystal football.
What does Week 6 have in store? The Buckeyes go on the road to play No. 17 Northwestern in a potential upset match, while OU tries to improve to 5-0 by holdig off TCU at home. We cover those two and more in this week's Fearless Predictions.
Check out CollegeFootballNews.com for more on this week's games.
No. 4 Ohio State at No. 16 Northwestern Saturday, 8 p.m. ET, ABC Why You Should Give A Hoot: Maybe it's because fans across the country are hoping for one Ohio State loss to all but eliminate the Big Ten from the national title chase - with no due respect to Michigan - or maybe because an unbeaten Northwestern could actually be good enough to beat Ohio State, but it's almost like there's a hope and prayer for this to be the moment when OSU's 17-game winning streak under Urban Meyer stops. If it doesn't happen here, all that's standing between the Buckeyes and an 11-0 record going into Ann Arbor is a massive brain cramp.
OSU got by its one rival that truly matters at the moment - considering Michigan is in the other division - with a decent but uneven win over mistake-prone Wisconsin. The problem is that the Buckeyes are still an unknown, beating up a slew of miserable teams to start the season and hanging on for dear life last week against Bucky. But this could be a work in progress, and the best might be yet to come.
The young and relatively inexperienced defensive front seven did a nice job against the Badger running game. Braxton Miller proved once and for all that Kenny Guiton is a terrific No. 2 option, but there's only one real starting QB option, and the skill players are starting to grow into their own as the offense is showing a nice balance of explosion and toughness. This is a very good team, but is it truly elite? Is it good enough to hang with a big boy from the SEC, Oregon or even Oklahoma? It might come bowl time, but for right now, just getting by Northwestern would be good enough.
The Wildcats might be a wee bit better than you think. Banged up and bruised early, Northwestern has been missing star running back Venric Mark while playmaking quarterback Kain Colter has been hit-or-miss with injuries. However, now it's time to make a huge statement in the Big Ten race, especially with a road trip to Wisconsin coming up. This might be an interdivisional matchup for NU, but a win should mean a top-10 national ranking and the entire Saturday news cycle all to itself.
Why Ohio State Might Win: Northwestern, welcome to the short-to-midrange pass. The Wildcats have done a relatively decent job of keeping everything in front of the secondary and not getting torched too badly deep, but there have been some mistakes. Maine was able to stay alive by dinking and dunking, and Syracuse and Cal were able to spread the ball around a bit and push the play downfield. Miller was fantastic in the first half against Wisconsin, looking decisive with his throws and avoiding the big, costly mistake. Considering the pass rush has been hit-or-miss for the Wildcats, keeping Miller from making plays on the move could be a huge concern.
Why Northwestern Might Win: The Wisconsin connection of Joel Stave to Jared Abbrederis. Considering the Badgers have absolutely nothing going in the passing game without him, an argument could be made that Abbrederis is among college football's most valuable players. All Ohio State had to do last week was double team him and take chances elsewhere, but that didn't work out so hot with NFL prospect Bradley Roby getting ripped to shreds. Northwestern doesn't wing the ball all over the yard, but it showed against Syracuse that it can be deadly accurate and effective when needed. The Wildcats have a very nice, very underappreciated receiving corps that should be able to allow quarterbacks Kain Colter and Trevor Siemian to ... ?
What Will Happen: Ohio State won't go into "win-the-game" mode this week like it did against Wisconsin. Miller has been too sharp and too good, and there won't be any changing of the game plan as the Buckeyes come up with a strong road win and start to truly look like a top-five team.
Prediction: Ohio State 34, Northwestern 24
[Read the full prediction at CollegeFootballNews.com ]
TCU at No. 11 Oklahoma Saturday, 7 p.m. ET, FOX Why You Should Give A Hoot: So which is it? Is Oklahoma the best of a mediocre lot of Big 12 teams, or is it growing into a real national title contender with the talent and skill to make it to Pasadena? It's possible it's a little bit of both. There's still a wait-and-see attitude, mostly because the Sooners are sneaking up on everyone. Oklahoma State was the fashionable preseason pick to win the Big 12, and the Texas meltdown, Kansas State loss to North Dakota State, Baylor's offensive numbers and Captain Pretty Boy head coach Kliff Kingsbury at Texas Tech - along with all the hubbub at Oklahoma State - have occupied most of the Big 12 conversation so far.
The Sooner quarterback situation got a little bit of play, but not too much, after Trevor Knight was initially named the starter, and then very quietly, and very effectively, OU has rolled to four straight wins including an easier-than-the-score 16-7 victory over West Virginia and a tougher-than-the-score 35-21 win over Notre Dame last week. With Texas coming up next week, a good win over TCU would set the stage to really make a big splash.
TCU has had a disappointing and rocky start, losing to a national title-good LSU team to start the season and struggling against Texas Tech to kick off the Big 12 season. The offense hasn't been able to find a consistent groove, while the defense hasn't been up to its normally high standard, but a win over Oklahoma would change the campaign around in a hurry.
Why TCU Might Win: Zero. That's how many sacks the Notre Dame pass rush came up with last week in its loss to the Sooners, but there hasn't been much coming from the Irish line all year. TCU is a different story, generating seven sacks from all sides last week against SMU, even with Devonte Fields out with a foot injury. Sooner quarterback Blake Bell is mobile in the pocket and can shake off the pass rush with his size, but he still needs to be pressured. The OU offense has several different ways to move the ball, but it's at its best when the downfield plays are allowed to develop.
On the other side of the ball, OU's defense is strong, but it hasn't faced anyone who can run the ball with any consistency. Notre Dame got an 80-yard home run from George Atkinson, but that was about it. The TCU running game might not be consistent, but it has the running backs and the ability to crank out at least four yards a carry and come up with manageable second and third down opportunities. However, if it's third-and long ...
Why Oklahoma Might Win: TCU's offense won't go anywhere. The Sooner defense has been fantastic at getting off the field, allowing opponents to convert just 29 percent of the time on third downs. The defensive back seven has been phenomenal at keeping the big plays to a minimum, and it's not going to get burned deep by a TCU passing game that doesn't push the big play. Until Trevone Boykin can start stretching the field for a passing game that averaged a paltry 11.43 yards per completion, OU can cheat up to stop the run.
With Bell under center, the OU offense has found its stride. The passing game exploded against Tulsa and was effective against Notre Dame, and most importantly for a team with a terrific defense, there haven't been any picks over the last two games from Bell. Taking a sack isn't necessarily the worst thing in the world for the Sooners.
What Will Happen: TCU's aggressive defensive front will bother Bell, but the Oklahoma offensive balance, along with a strong day from the secondary, will keep the Horned Frogs playing catch-up all game long.
Prediction: Oklahoma 31, TCU 17
[Read the full prediction at CollegeFootballNews.com ]
No. 15 Washington at No. 5 Stanford Saturday, 10:30 p.m. ET, ESPN Why You Should Give A Hoot: Oregon-Stanford a month from now may be the Pac-12 title bout, but Washington-Stanford promises to be one heck of a good undercard on Saturday night.
The Huskies have been one of the nation's biggest surprises of the first month, winning all four games convincingly to rise to No. 15 in the latest AP poll. But are they ready to turn the North division into a bona fide three-team race? How U-Dub performs on the Farm, after opening the league slate with a win over Arizona, will tell a lot about the height of this program's ceiling in 2013.
Stanford has a little chip on its shoulder, feeling as if it has something to prove this weekend. Yeah, the Cardinal ranks No. 5 nationally, but how many people are taking them seriously as a legit national championship contender? Not as many as the program feels is justified. Oh, and there's also the business of payback. Washington handed Stanford one of its two defeats a year ago, a 17-13 loss in Seattle that none of the holdovers has forgotten.
Why Washington Might Win: It's only four games, and the competition is about to get a lot tougher, but the Huskies have been doing just about everything right so far. They're fifth in the country in total offense and 13th in total defense. Washington has balance and diversity on both sides of the ball. The offense has a true workhorse in RB Bishop Sankey, who leads the league in rushing, to go along with the steady hand of QB Keith Price. Justin Wilcox's D has been shockingly good so far, limiting four opponents to just 43 total points and a measly 3.8 yards per play. After employing a lot of youth in 2012, Wilcox has been coaxing more maturity and consistency out of his gifted defenders. The Huskies are confident and ready for their step up in weight class.
Why Stanford Might Win: Washington has yet to face an opponent that's even remotely as physical or assertive as the one it'll visit this weekend. The Cardinal are a different breed, one that's more comparable to an SEC prototype than the stereotypical Pac-12 program. Sure, the Huskies are improved in the trenches, but it might not be enough to combat the bare-knuckle demeanor of Stanford. The offense is blue-collar, running through opponents with fullback-sized tailbacks Tyler Gaffney and Anthony Wilkerson. The defense is among the biggest and baddest in the country. The U-Dub O-line could be in for a setback, as it prepares to lock horns with a talented, next-level-laden front seven spearheaded by linebackers Shayne Skov and Trent Murphy and ends Ben Gardner and Josh Mauro.
What Will Happen: Washington is ready, but so is Stanford. The Huskies are the real deal, even if they can't get off the Farm with a signature win this Saturday. The Cardinal will hold serve at home on the strength of its superior line play and defensive personnel. For the first time this year, Washington will be moved off the line of scrimmage, a reality that'll grow more profound in the second half. This time around, Stanford will be victorious in a close game with the Huskies, with both schools earning widespread respect once the weekend is over.
Prediction: Stanford 34, Washington 26
[Read the full prediction at CollegeFootballNews.com ]
Arkansas at No. 18 Florida Saturday, 7 p.m. ET, ESPN2 Why You Should Give A Hoot: The SEC doesn't play any defense anymore, right? That's one of the easy talking points of the moment after LSU and Georgia lit up the scoreboard like a pinball machine, and with Alabama and Texas A&M trading haymakers a few weeks ago. For this week, at least, forget the tippy tappy, high-octane offense stuff. This game should be about getting nasty. If nothing else, this should be one of the hardest-hitting, toughest games on the SEC slate.
Lost in Jeff Driskel's injury and the offensive issues is a Florida defense that's playing at a national title level. Even with star tackle Dominique Easley done for his Gator career with a blown out knee, this is still one of the fiercest Ds in college football.
Florida flat-out gagged away the 21-16 loss to Miami in early September, and the two-foot putt portion of the SEC program is over after dispatching of Tennessee and Kentucky, but the team is getting the luxury of being able to fly under the radar. With road games at LSU, Missouri and South Carolina coming up in the next five weeks, along with the date with Georgia in Jacksonville, any game in Gainesville is a must win. Arkansas isn't going to make it easy.
The Hogs have a long way to go to challenge for the SEC West title, but they pushed Johnny Manziel and Texas A&M hard last week in an entertaining 45-33 loss, and while that, combined with the meltdown late against Rutgers, hasn't made the defense look so hot, new head coach Bret Bielema has the team playing far better and nastier than it did last season. Now it's time to come up with a big win over a big team to really get the new era started.
Why Arkansas Might Win: Arkansas isn't Kentucky. This whole Tyler Murphy thing at quarterback worked just fine against the lousy Tennessee and UK defenses, but now Bielema and his staff have had time to prepare for the new Gator quarterback. Murphy might have talent, but he'll look like he's going in slow motion compared to Mr. Football. There is no downfield Florida passing game, so as long as the Arkansas defensive front can find a way to hold serve against the Gator power - far easier said than done - it should have a chance. The Hog run defense had problems with the scrambling Manziel, but overall the line has done a nice job against the run allowing just 126 yards per game. In a lot of ways, Arkansas does a lot of the same things Florida does - run the ball, own the clock, get tough on D when needed, but ...
Why Florida Might Win: Florida does it a lot better. Brandon Allen and the Arkansas passing game is a bit more effective than the stats might show, but if Arkansas isn't running the ball well, the offense isn't going anywhere. The Hog ground game was fantastic against the softies like Samford, Southern Miss and Louisiana-Lafayette, but once it came time to deal with Rutgers, the offensive line struggled and couldn't close out. Florida's Easley-less line should be able to hold its own and for Arkansas to change its game. The Gator formula should work - run, play great pass defense, play even better run defense, get the D off the field, move on.
What Will Happen: It's all about turnover margin with the Gators. As long as they're not making massive mistakes, they'll be more than fine. They'll stop Alex Collins and the Hog running game, they'll barrel away with their own ground attack, and while it won't be pretty, it'll be an effective, nasty game.
Prediction: Florida 30, Arkansas 16
No. 25 Maryland at No. 8 Florida State Saturday, 12 p.m. ET, ESPN Why You Should Give A Hoot: Florida State was supposed to cruise in the ACC's HOV lane to its Oct. 19 showdown at Clemson. Absolutely no one factored in Maryland as a potential speed bump on the way to Death Valley.
The Terrapins have been one of the biggest surprises of the season's opening month, exploding out of the gate to an improbable 4-0 start. It's not so much that Maryland is winning that's turning heads, but rather the way it's winning. The Terps have rolled by an average score of 40-10, including a 37-0 whitewash of the same West Virginia team that shocked Oklahoma State a week ago. The program is ranked in the AP poll for the first time in Randy Edsall's tenure, validation for the once-beleaguered head coach.
Florida State is looking at Maryland as, well, a chance to earn a quality win that didn't appear to be on the schedule before the season started. The eighth-ranked 'Noles return home from a tougher-than-expected trip to Boston College that exposed some cracks on the defensive side of the ball. FSU has dominated the series with Maryland over the years, winning 21-of-23 games, including the last six meetings.
Why Maryland Might Win: The Terps are an imperfect squad, but you sure couldn't tell from the opening month of evidence.
While Florida State has a knack for exposing a team's weaknesses, Maryland is playing exceptionally well right now. The offense is slightly ahead of the D because of the presence of multi-talented QB C.J. Brown. The senior has thrown seven touchdowns and just one pick, while rushing for 283 yards and six more scores. He's surrounded by improving skill players, like RB Brandon Ross and receivers Deon Long and Stefon Diggs, who can poke more holes in a Seminole D that gave up 34 points and 200 rushing yards to middling BC a week ago.
Why Florida State Might Win: FSU is going to dominate Maryland at the line of scrimmage. It more speed than the Terrapins, but it's also much bigger and stronger at the point of attack. Florida International, Old Dominion, Connecticut and even West Virginia failed to expose the fact that Maryland is not elite up front.
Florida State will. The 'Noles will get after Brown with NG Timmy Jernigan and linebackers Telvin Smith and Christian Jones, making the quarterback uncomfortable for a change. On offense, FSU is spearheaded by a terrific blocking unit that's going to create daylight for powerful running backs Devonta Freeman, Karlos Williams and James Wilder Jr. For the first time this year, Maryland is going to get punched square in the mouth.
What Will Happen: Maryland is weaving a terrific story, one that might still have many feel-good chapters left in 2013. But winning in Tallahassee on Saturday will be out of the Terps' reach. FSU got its wake-up call in Chestnut Hill last week, and it'll be better for it. The Seminoles won't be caught looking ahead. They have enough talent and physical ability to slow down an offense that's heavily rooted in a single player -- Brown. Jameis Winston and his backs will take care of the rest, building a lead that won't be relinquished. The key for Edsall and the Terrapins will be to make sure that this week's trip south doesn't go on to beat them more than once.
Prediction: Florida State 37, Maryland 17