Who is Vikings offensive coordinator Pat Shurmur?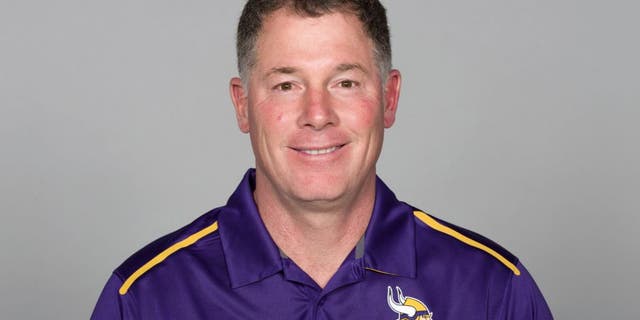 NEWYou can now listen to Fox News articles!
Norv Turner resigned Wednesday morning following a grim loss to the Chicago Bears, elevating former tight ends coach Pat Shurmur to the position.
"I have tremendous respect for Mike Zimmer, our coaching staff and our players and at this time I think it is in the best interest of the team to step down," Turner said in a statement.
The Vikings are the fourth team to switch offensive coordinators so far this season, joining the Buffalo Bills, Baltimore Ravens and Jacksonville Jaguars.
Shurmur will run the Vikings' offense on an interim basis, a role he's very familiar with after several stints as an offensive coordinator.
Here's what we know about Pat Shurmur:
-- Shurmur's NFL coaching career nearly overlapped with his uncle's. Fritz Shurmur coached in the NFL from 1975-98, primarily as a defensive coach and later coordinator. He made stops in Detroit, New England, L.A., Arizona and Green Bay. He eventually won a Super Bowl with the Green Bay Packers in 1997. Fritz died of liver cancer in 1999.
-- He got his start as a tight ends and offensive line coach for the Philadelphia Eagles in 1999. Shurmur eventually became their quarterbacks coach in 2002, Donovan McNabb's third full season as the Eagles' starter. He worked with McNabb -- who made six Pro Bowls -- throughout the decorated quarterback's career in Philadelphia.
-- Shurmur was eventually hired to run the St. Louis Rams' offense in 2009. The Rams drafted Sam Bradford the following year. Bradford was named the NFL's Offensive Rookie of the Year in 2010, throwing for 3,512 yards, 18 touchdowns and 15 interceptions as a rookie. Bradford set rookie records for completions (354) and attempts (590).
-- Shurmur's tenure in St. Louis was short. He was hired to coach the Cleveland Browns in 2011, where he was handed his next quarterback project: Colt McCoy. The former Texas standout had his best season as a pro under Shurmur, throwing for 2,733 yards, 14 touchdowns and 11 interceptions in 13 games during his second NFL season. The Browns went 4-12 in 2011 and 5-11 in 2012, leading to Shurmur's dismissal after just two years.
-- He returned to the Eagles a year later as an offensive coordinator alongside new Philadelphia head coach Chip Kelly, coaching quarterback Nick Foles to his only successful season as a full-time starter. Foles threw for 27 touchdowns and just two interceptions, the best ratio in NFL history. Shurmur was eventually reunited with Bradford when Foles was traded to St. Louis. He would eventually take over as the interim head coach after Kelly's stint in Philadelphia came to a disappointing end. He presided over a 35-30 win in his only game as coach, leading the Eagles past the New York Giants. The Eagles would eventually give the vacant head coaching job to Doug Pederson instead.
-- His son, Kyle, a sophomore, is the starting quarterback at Vanderbilt.
-- Shurmur was a factor in the Vikings acquiring Bradford. "Pat Shurmur gave us great insight on Sam, of all the intangibles that we're looking for, on the intelligence that we're looking for," Minnesota general manager Rick Spielman told Vikings.com. "He knows what his strengths and weaknesses are, and I think that's a valuable asset for us as our coaches teach him the offense and understand what he does best and what he may struggle with."