Whisenhunt says Titans expected to win in Kansas City, focusing now on Cowboys in home opener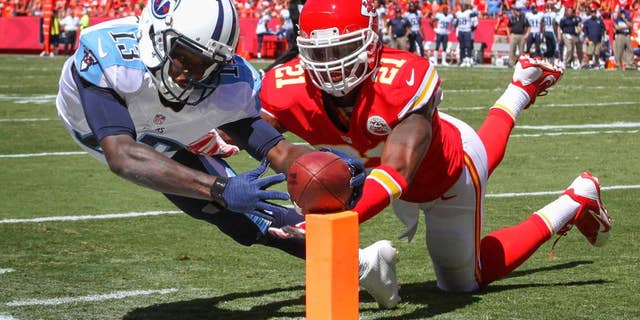 NASHVILLE, Tenn. – Tennessee coach Ken Whisenhunt is happy being 1-0 and says he fully expected the Titans to go into Kansas City and win their season opener.
Now he's ready to move on, put that win behind them and focus only on the Dallas Cowboys.
And the longer critics keep overlooking his Titans, the better.
"All I seem to hear about is much more coverage about other teams than us, and I'm happy with that," Whisenhunt said.
Whisenhunt said the Titans have a different opinion than all those who picked against them in Kansas City. The Titans left with a dominating 26-10 win.
"We didn't go in there with the idea 'it's us against the world, nobody's picking us to win,'" Whisenhunt said. "We went in there with the idea if we play football the way we're supposed to, we're going to win the game."
The Titans did just that with one of their best performances in years offensively and forcing three turnovers defensively with a unit debuting Ray Horton's 3-4 scheme. It's the start Tennessee needed with three road games in September; Dallas (0-1) comes to Nashville Sunday, the lone home game this month.
But Tennessee started 3-1 last season with a big opening win at Pittsburgh before finishing 7-9. That played a part in Mike Munchak being fired and Whisenhunt replacing him in January.
"This is a new team, new coaches, new players, everything, all of the above," safety Michael Griffin said. "It's a new year for all of us, so we got to go each and every week and prepare the same way we did last week."
Offensively, the Titans held the ball for 37 minutes, 44 seconds against the Chiefs. It was the team's best time of possession in a game since November 2009 in a win against Jacksonville — a span of 70 games, and the Titans dominated holding the ball for nearly 22 minutes of the second half.
That allowed Tennessee to roll up 152 yards rushing and 405 yards in total offense. Jake Locker threw passes to eight different teammates and finished with one of his best performances throwing for 266 yards and two touchdowns. He currently ranks fifth in the NFL with a 111.4 passer rating and second only to Peyton Manning in the AFC.
Whisenhunt's message that the win in Kansas City was just one game already has sunk in for the Titans.
"We left a lot out there," Locker said after the game. "There are a lot of things that we can improve on and do better as a football team and that's what we're going to focus on this next week, getting ready for the Cowboys."
The Titans have plenty of issues to focus on this week. They were flagged 12 times for 110 yards, Locker was sacked four times and hit a few other times, and they also settled for four field goals by new kicker Ryan Succop in his debut against the team he played for his first five seasons.
But Locker was sacked only once in the second half, and center Brian Schwenke said they didn't really make adjustments to better protect the quarterback.
"It's what we were supposed to do from the get-go," Schwenke said. "There were a couple mistakes, some small details, but those small details can get the quarterback hit. Just have to clean those up."
The Titans also expected the defensive improvement from the preseason. They allowed Kansas City to convert only one of 12 third downs and held Jamaal Charles to 19 yards rushing. Whisenhunt said they have to keep up what they started.
"It really doesn't mean anything if we don't make this a consistent thing," Whisenhunt said.
___
Online:
AP NFL website: www.pro32.ap.org and www.twitter.com/AP_NFL
___
Follow Teresa M. Walker at www.twitter.com/teresamwalker