Which pitchers would make MLB's five-man rotation?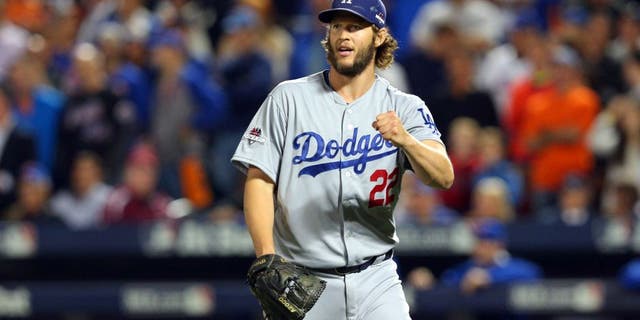 In 2015, pitchers dominated the majors as seven no-hitters were thrown, with one being a perfect game. With pitchers and catchers set to start reporting to spring training next week, the preparation for a new season will be underway.
Heading into the 2016 season, who would fill out the five-man rotation picking from the best MLB has to offer?
1. Clayton Kershaw
While Kershaw didn't win 20 games, or post a sub-2.00 ERA for the first time in two seasons, but overall, he still had an incredible 2015 season. Since the Dodgers lost it's number two (perhaps 1A) starting pitcher Zack Greinke to free agency, Kershaw is back to being largest anchor for the rotation. In 2015, he became one of the few pitchers to join the 300 strikeouts in a single season club. He's always had spectacular numbers, year-to-year, with no signs of slowing down; there's no reason he shouldn't be the No. 1 man on any MLB roster.
2. Jake Arrieta
Winning the National League Cy Young Award in 2015, Arrieta has been on the rise since his breakout season in 2014. For the upcoming season, there's no reason not to believe the Cubs' ace will continue to improve. In 33 starts and 229 innings in 2015, Arrieta won 22 games striking out 236 batters with a 1.76 ERA and 0.86 WHIP. With stiff competition in the National League at the pitcher position, can he make it back-to-back seasons winning the Cy Young?
3. David Price
Despite being traded midseason by the Detroit Tigers to the Toronto Blue Jays, Price was still able to put together a stellar season between the two ball clubs. With years of experience in the AL East, Price chose to the return to the division he's dominated since coming into the league in 2008 with the Tampa Bay Rays by signing a seven-year, $217 million contract with the Boston Red Sox. He's shown he can be an ace at any team he's on, which should be no different in Boston as he could help the turnaround of the club attempting to return to the playoffs after spending a season in the AL East basement.
4. Max Scherzer
In his first season in the National League, Scherzer pitched two no-hitters, and was second to Kershaw in strikeouts. Despite his career-best season, he was unable to pick up the Cy-Young Award in part due to Kershaw, Zack Greinke and Jake Arrieta having dominant seasons as well.
5. Zack Greinke
The righty spurned the Los Angeles Dodgers instead surprisingly signing with NL West rivals Arizona Diamondbacks on a six-year, $206.5 million deal. Earning every bit of the money he received from the D-backs, Greinke had a 1.66 ERA in 2015, the lowest mark for any pitcher in a season since Greg Maddux in 1995. While Greinke is joining his fifth club in 12 MLB seasons, his ERA has dropped during his three seasons with the Dodgers, will his number carry over to Arizona?