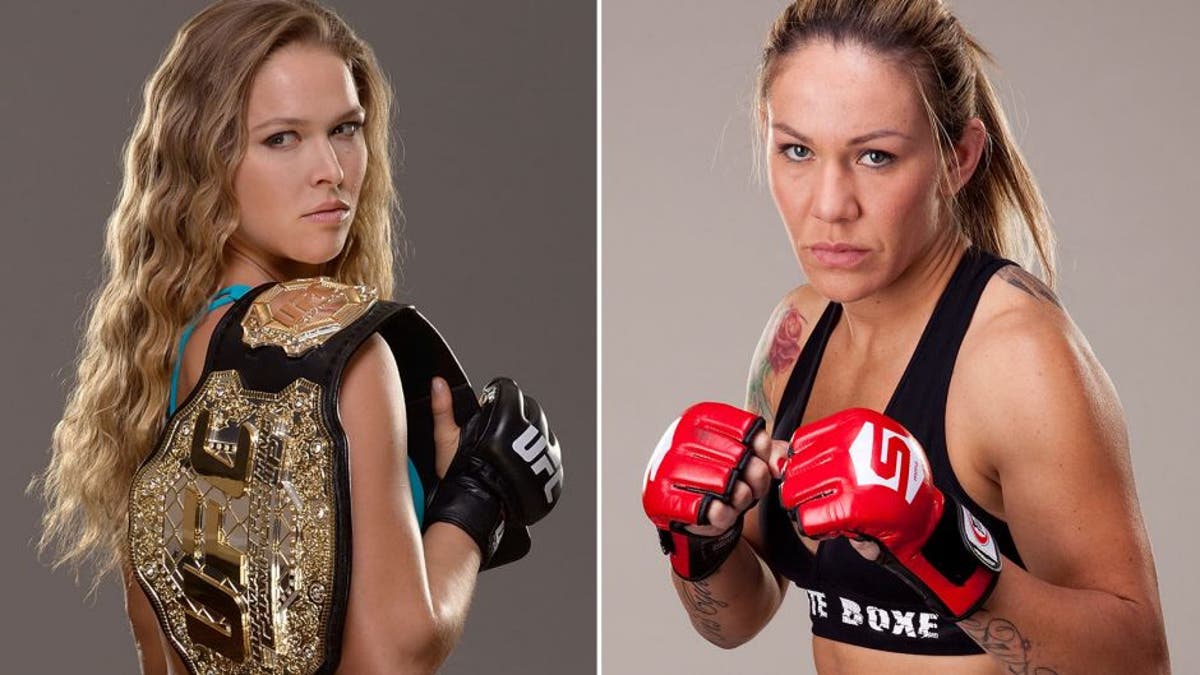 Two things off the bat - First, I want to see Ronda Rousey fight InvictaFC 145-pound champion Cris "Cyborg" Justino. Second, the UFC should have a 145-pound women's division.
Reasoning for wanting the former is simple enough. "Cyborg" is a dangerous, great champion at 145 pounds, and Rousey has beaten the best at 135 pounds.
As for the latter, well, most importantly, there are so many great female 145-pound fighters in the world that it is a matter of equity in opportunity. They deserve to get a chance to be featured and compensated similarly as their male counterparts do in MMA.
Right now, the only place that can happen is in the UFC. As it stands, the UFC has just two women's divisions.
For 20 years, they had none and executives who insisted they never would. In the last two years, two female divisions have been created in the UFC.
It is progress, to be sure. It's just awfully slow progress.
The second reason for wanting a female 145-pound division in the UFC is simply because it would make it easier to promote and sign Rousey vs. "Cyborg."
Right now, the two women don't just fight in different weight classes, they fight for different promotions, on different networks, with very little cross-over audience.
So, when Rousey says that she has no real reason to move up in weight (even a catchweight of 140 pounds) to fight a relatively unknown would-be UFC debutant, she's not just talking trash. She's also right.
If "Cyborg" and other 145 pound women were fighting in the UFC, millions would be witnessing her domination at a class just 10 pounds above Rousey's. The calls would be louder and stronger for Rousey to fight "Cyborg."
And, Rousey would actually have incentive to move up (if that's what it took), because she'd have the chance to become just the third fighter in history to win UFC championships at multiple weight classes. Right now, the fight is all risk for Rousey.
Why should she fight someone who has never fought in the UFC, at a heavier weight? Former world champion boxer Holly Holm didn't jump right into a title fight in her first UFC contest.
She's working her way up, and after two UFC wins it would appear that she still has a ways to go before she gets a title fight. Fighting someone most UFC fans don't know of would just be a matter of scratching an itch for Rousey, more than anything.
She can do big numbers and get paid a lot to fight anyone right now. Fighting a much larger, relatively unknown woman needs to be worth her while.
Unfortunately, there is no womens' 145-pound division right now. However, the UFC still wants to have "Cyborg" come over to their promotion and fight Rousey.
She just needs to drop down to 135 pounds to do it, they say. They offered her the chance to fight Rousey for UFC gold in a promotional debut before, but on quite short notice considering how much weight the Brazilian would need to lose.
So, Justino asked for a release from Zuffa, and fought elsewhere. Still, her appeal is such that the UFC went into business with InvictaFC, and they are keeping close ties with Justino in order to hopefully bring her over to fight Rousey.
Right now, the most likely way this hardcore fan's dream match happens is if "Cyborg" chooses to drop down to 135 pounds. For her, it would be more than "cutting" 10 more pounds.
"Cutting" is about sweating out water weight. Justino already likely does entirely too much of that.
The day after a recent fight, she released a photo of her supposedly on a scale after a successful 145-pound title defense. The scale read 175 pounds.
Justino could potentially get as low as 135 pounds. But, at a well-muscled 5'8, she would need to decide to significantly change her body structure, first.
She can do it, but it would take a long time. It's a tough decision to make for Justino if she needs to make that weight outside of the UFC before getting a UFC contract.
After all, what real immediate incentive does she have to make the life, supplementation and training changes necessary for her to lose enough walking-around weight to make a cut to 135 possible if it is just for another InvictaFC fight? Right now, and for years, Justino has enjoyed fighting many opponents who have been much lighter women who stepped up in weight for the chance to compete against her.
Those fights never went well for those women. In fact, the unfair beatings they took were pretty nasty to watch.
Justino is smart enough to enjoy fighting much smaller women than her, and that's fine. Every fighter who can will usually do the same.
Being bigger has it's advantages. You're stronger, and often have a longer reach.
However, none of those advantages include getting to fight Ronda Rousey, and all the cash that could come with it. Rousey is at least as smart as Justino with managing her career, and so she understands that she's the one who brings the money to this fight.
As recently as Saturday night, UFC president Dana White insisted that as soon as Justino can make 135 pounds, she's got the fight with Rousey. Hopefully either the promotion decides to trust "Cyborg" if she gives them her word that she can make the weight, and they sign her to fight Rousey, or Justino sees the long-term benefit of doing a test weight drop and fight at 135 pounds, first, in order to get the UFC title shot.
One thing is certain -- Rousey needn't feel compelled to change anything.
Justino just doesnt have any real leverage. She simply represents a tough unknown challenge at a heavier weight.
And, one who has been caught using banned steroids. No one should be able to convince Rousey to move up in weight even one pound to fight a known steroid user who is taller and much bigger than her.
Of course, Justino shouldn't feel ashamed if she never goes down to 135 pounds, either. If she feels like 145 pounds is the lightest she wants to compete at, that's her choice.
She's a great champion there. The thing is, she's been taunting and verbally challenging Rousey for years, now.
So, it would seem from her talk that "Cyborg" wants the fight with Rousey very badly. She'll have to decide whether or not it's worth it for her to back up her talk with actions, now.
And, the UFC will have to decide what it is willing to do to score a headliner that White said Saturday would sell a record 2.5 million pay-per-views. Either the UFC needs to introduce a 145-pound women's division and install "Cyborg" as the rightful champion, or Justino needs to take a year or so to change her body and come down in weight.
As for Ronda Rousey, she doesn't need to do a thing other than what she already is. If the UFC and "Cyborg" want the "Rowdy" fight so badly, one or both of them needs to give Ronda a reason to take it.