Where does SHR manufacturer switch rank in NASCAR history?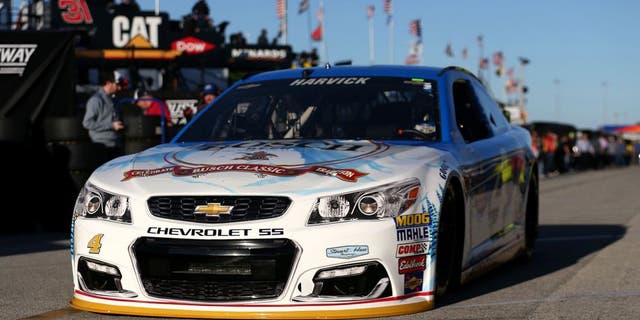 Stewart-Haas Racing shocked the NASCAR world on Wednesday when team officials announced they would change manufacturers from Chevrolet to Ford, starting in 2017.
It was a blockbuster announcement, one that surely will affect the balance of power among Chevy, Ford and Toyota in the NASCAR Sprint Cup Series. It's not the first time that a championship-caliber team as switched manufacturers, but it ranks up there among the biggest.
Following are the five biggest manufacturer changes in NASCAR history.
5. Team Penske to Ford, 2013 -- Despite winning a championship with Brad Keselowski and Dodge in 2012, Penske moved to Ford a year later. This deal was especially significant since it essentially killed off Dodge's NASCAR presence because the automaker couldn't find another top-tier team with the capability of building engines in-house as Penske did.
4. Stewart-Haas Racing to Ford, 2017 -- Truly, no one saw this coming. Since its inception in 2009, SHR has gotten its engines and chassis from Hendrick Motorsports. But next year, it will be Roush Yates engines and chassis that are built by SHR. A bold move by both sides, the ripple effects of this will be felt for years.
3. Junior Johnson to Ford, 1989 -- The former moonshine runner won six championships -- three each with Darrell Waltrip and Cale Yarborough -- in 18 seasons running General Motors products. But in 1989, Johnson moved his team to Ford, in a surprise move for the team given Johnson's longstanding loyalty to Chevrolet.
2. Joe Gibbs Racing to Toyota, 2008 -- After running General Motors products exclusively from their start in 1992 to 2007, JGR jumped ship to join Toyota and give the automaker its first championship-capable team. It took until 2015, but JGR, Kyle Busch and Toyota combined to win it all last year.
1. Petty Enterprises to Ford, 1969 -- No team had been more closely associated with Plymouth than Petty Enterprises, which had been with the automaker since the late 1950s. But PE stunned the NASCAR community by moving to Ford, although the deal lasted just one season before the team went back to Plymouth.