Where are the turnovers? After leading league in '13, Seahawks struggling to get takeaways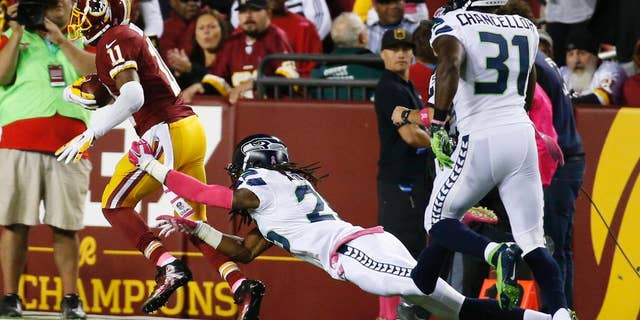 RENTON, Wash. – By this point a season ago, Richard Sherman already had danced with a cheerleader on the sidelines after one pick against San Francisco and raced into the end zone minus a shoe with the second interception return for a touchdown of his career in Houston.
This season, Sherman is being shut out in the turnover category, just like most of his teammates.
"You get anxious for them and then you let your defense down, you start gambling, you start doing things like that. You know, it'll come within the scheme," Sherman said. "Obviously, if we win in ball games, interception totals and things like that don't matter because you're winning. If the opportunity presents itself, we'll capitalize."
For a team that made a living a season ago on creating turnovers, the lack of interceptions and fumble thus far is noticeable. Through four games last season, the Seahawks had collected seven interceptions and six fumbles.
This season, Seattle has just one fumble recovery and two interceptions. Sherman and All-Pro safety Earl Thomas are still looking for their first picks.
"We're hoping that we'll keep with it and keep attacking the football," Seattle coach Pete Carroll said. "We kind of got this feeling that they come in bunches so if we can get this thing going, it can really make a big difference cause we're really playing without the turnover factor in our favor."
There are a number of reasons why Seattle's turnover numbers are down so drastically from a season ago. Some of it is simply luck. Seattle has forced six fumbles thus far, but recovered only one. San Diego put the ball on the ground three times and the Seahawks were unable to recover any of them.
There are tipped passes that have fallen to the turf instead of into the hands of Seattle's defenders.
And some of it is scheme related with opponents showing more respect for Seattle's secondary than a year ago. Quarterbacks are taking fewer risks with throws downfield, instead choosing to throw underneath and giving their receivers a chance to catch-and-run rather than trying to squeeze a pass downfield between defenders. Of the 155 pass attempts through four games against Seattle, only 13 have been thrown more than 20 yards.
Seattle's only two interceptions are from safety Kam Chancellor and cornerback Byron Maxwell.
"Last year, seems like they were just throwing it; deep ball after deep ball, fade ball after fade ball," Thomas said.
And this year?
"We've been getting the ball out, it's just one of those things where you have to keep going," Thomas added. "It's a daily process, it's a lot of coachable moments, but we always talk about it and it's always on our mind. We can't control that we're not getting the ball and we're still winning games. That's the most important thing."
Seattle has gotten away with a lack of takeaways so far in part because its offense has been taking care of the ball. Russell Wilson has thrown just one interception, that one coming in the second half against Denver. Of the two fumbles Seattle lost, one came on special teams in the opener against Green Bay.
Having a flat turnover margin is not where Seattle wants to be, but it's acceptable for now.
"Those are going to turn our way. I believe those are going to happen for us and I believe that we're going to get those turnovers," Wilson said.
___
AP NFL website: www.pro32.ap.org and www.twitter.com/AP_NFL