When Melo met Harry: New York Knicks' Anthony gets the royal treatment in London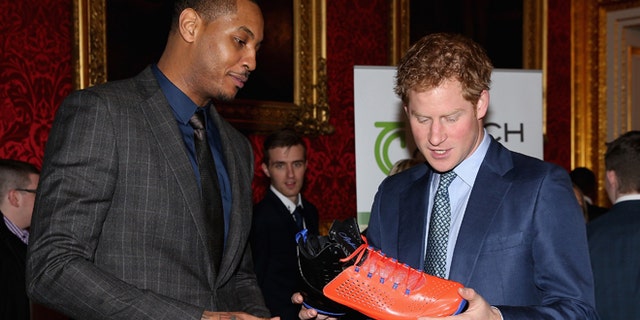 NEWYou can now listen to Fox News articles!
In London for a regular-season NBA game between the New York Knicks and Milwaukee Bucks on Thursday, the Knicks' star forward Carmelo Anthony made an appearance Wednesday at St. James Palace at an event for the Royal Foundation's Coach Core program, which offer underprivileged kids improved opportunities through sports.
"It was an honor, man," Melo said about meeting Prince Harry, who is fourth in the line of succession to the English throne after his father, Charles, his older brother, William, and William's 18-month-old son, George.
"For me, just seeing him and us walking into the room together," Anthony said before the team's practice at O2 Arena, according to the New York Daily News, "and the kids just laughing and joking, and he's laughing and joking. It was just a warm welcome from them to me, and it was an honor. I never thought I would meet the prince."
Anthony, whose father was Puerto Rican, was clearly left a little star-struck by the meeting with Harry.
"It's royalty," he said. "You can feel it. When you come to London … you can feel the royalty. So for me to be able to be right there in front of that—you sense that, you feel that, you get that energy, that vibe, you get that royal feeling."
This is not the first meeting between English and NBA royalty.
In December, Prince William and his wife, Kate Middleton, attended a game at Barclay's Center in Brooklyn, N.Y., between the Nets and the Cleveland Cavaliers, at which they chatted with LeBron "King" James, Jay-Z and Beyoncé.
Anthony has been nursing a knee injury, but he's hopeful that he will be able to play in London, calling it "a big possibility."
Will his new princely pal attend?
"I don't know," Anthony said, the Daily News reported. "He said he wants to. He will try, if not I understand. He's a busy man."
Like us on Facebook