When asked about the Warriors, Gregg Popovich says 'I just count the championships'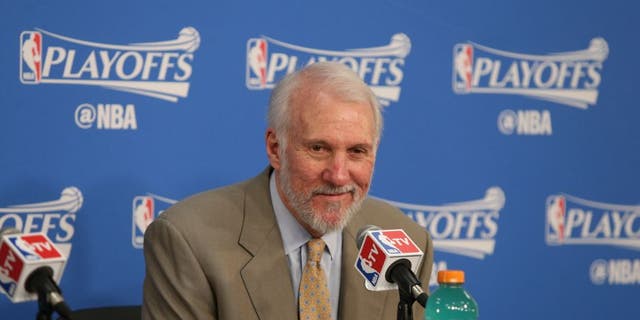 NEWYou can now listen to Fox News articles!
Maybe you've heard, but in case you haven't: The Golden State Warriors signed Kevin Durant this summer and have assembled a 'Super Team.'
While the Warriors and Cleveland Cavaliers will start the season as the overwhelming favorites to win the 2017 NBA championship, the San Antonio Spurs (a 67-win team last year) don't really care what people think.
In an interview with Bay Area News Group's Marcus Thompson, Spurs head goach Gregg Popovich was asked to elaborate on his feelings about the Warriors and the public perception of San Antonio's franchise. He responded:
"Naaaah ... I just count the championships."
Oh so perfectly Pop.
Popovich, who's currently in Las Vegas coaching USA's Olympic team as an assistant, has won multiple championships with the Spurs during his career. And if you've forgotten just how many, Gregg will be more than happy to remind you: