What's the scouting report on new Dodgers pitcher Kenta Maeda?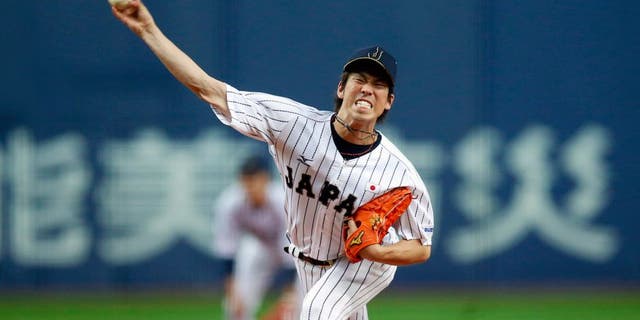 The Los Angeles Dodgers are not going to allow what happened in 2015 to happen again in 2016.
By the end of April last season, the Dodgers had lost two key members of their rotation -- Hyun-Jin Ryu (shoulder) and Brandon McCarthy (elbow) -- for the year. The dearth of viable options within the organization to replace those two lacked significantly for a team that finished with a near $300 million payroll.
Not this year. After losing Zack Greinke to the Arizona Diamondbacks via free agency and backing out of an agreed deal with Hisashi Iwakuma over physical concerns, the Dodgers have added, if nothing else, depth to their starting rotation.
Clayton Kershaw, Brett Anderson, Ryu, Scott Kazmir and Alex Wood were set to make up an all left-handed starting rotation. The Dodgers also had Mike Bolsinger, Zach Lee and Carlos Frias as potential depth should a need arise over the course of the season. Plus, McCarthy is scheduled to return from Tommy John surgery sometime in June or July.
But that apparently wasn't enough as the Dodgers have reportedly agreed to terms with Japanese right-handed starter Kenta Maeda.
Maeda (pronounced MY-AY-DUH), like any foreign player coming to the States, is somewhat of a mystery, but history, scouting reports and information from those who have played with him allow me to put together a likely projection of what his transition to MLB will look like.
Recently, the best imports we have received from Japan have been Yu Darvish, Masahiro Tanaka and Dice-K Matsuzaka. Maeda is not like these guys.
At 27 years old, he is not physically impressive in stature. At 6-feet and somewhere around 165 to 170 pounds, he is on the small side for a major-league pitcher. One of his recent teammates told me, though, that he's strong for his size. Maeda has never had a major injury, but the switch to the five-man rotation is always a concern for Japanese pitchers. Darvish and Matsuzaka both needed Tommy John surgery after coming to the States, and Tanaka is pitching with a partially torn ligament in his elbow that will at some point likely lead to the same procedure.
What works in Maeda's favor is his repertoire. Unlike the other three pitchers I just mentioned, Maeda does not throw a forkball or split-finger fastball, a pitch many Japanese players have mastered. The stress placed on the elbow when throwing that pitch is always something to keep an eye on when a Japanese player with a forkball or splitter comes to the States, where he is pitching every five days instead of every six or seven in Japan.
Maeda is mainly a fastball/slider pitcher. His slider is his out pitch and the one he relies on most. His fastball runs from 90 to 93 mph, and he has excellent command on it. He walked only 1.9 batters per nine innings in more than 1,500 innings pitched in Japan.
I always pause when evaluating the movement on a Japanese pitcher's fastball because of the differences in baseballs. Maeda's fastball has not generated a lot of movement, and he will throw a two-seam fastball, but wait until spring training to judge the movement. Baseballs in each country are different and even vary from the major leagues to the minor leagues, so the movement is not consistent when they make a move. Many American pitchers have watched their sinkers face a sudden death when pitching in Japan.
Maeda has shown an improved changeup, which is a pitch he'll likely need to use more in order to neutralize left-handed major-league batters. He holds the pitch with a traditional circle changeup grip. Maeda also throws a curveball that was described to me as a "show me" pitch or "get me over" curveball. That means it is not a great curveball but one he occasionally uses as a surprise, especially in a fastball count, to catch a hitter off-guard in the hope he takes it for a strike.
Maeda speaks little English but as been described as a great guy and teammate. He has tremendous work ethic, which I found to be common among Japanese players during the two seasons I was there. A teammate also told me he takes his preparation for games very seriously and is meticulous in the process. He's been a guy who always takes the ball and has pitched on short rest before but not very often.
Another aspect I always keep an eye on with Japanese pitchers is how they adjust to the MLB strike zone. In Japan, pitchers get more calls inside, both on and off the black of the plate. In MLB, pitchers get calls away and just off the plate much more than inside. In Japan, Maeda was excellent with his command inside to both left-handed and right-handed hitters. He won't get as many of those pitches called as strikes in the majors, and he'll face much stronger hitters than he ever has much more consistently. Plus, those hitters will be able to handle those inside fastballs pretty well I'm looking forward to the first Kenta Maeda vs. Anthony Rizzo plate appearance for exactly that reason.
The keys for Maeda will be maintaining the walk rate he had in Japan; Darvish and Matsuzaka were unable to do that. He'll need to continue to develop his changeup to hold lefties down, and he'll need to get used to the five-man rotation. Mentally, the final piece will be accepting the role of middle-of-the-rotation starter. He's not likely to be an ace here, and despite the fact he surpassed 200 innings pitched four times in Japan the Dodgers probably won't allow him to go deep into games early on. That can be difficult on former aces from Japan who take great pride in finishing games -- Maeda had 28 complete games in his NPB career, five last season.
Dodgers fans should temper their expectations -- they are not getting the next Darvish or Tanaka. However, Maeda should be a very serviceable starter who gives new manager Dave Roberts the right-handed arm he badly needed in his rotation.