What's on DW's mind this week?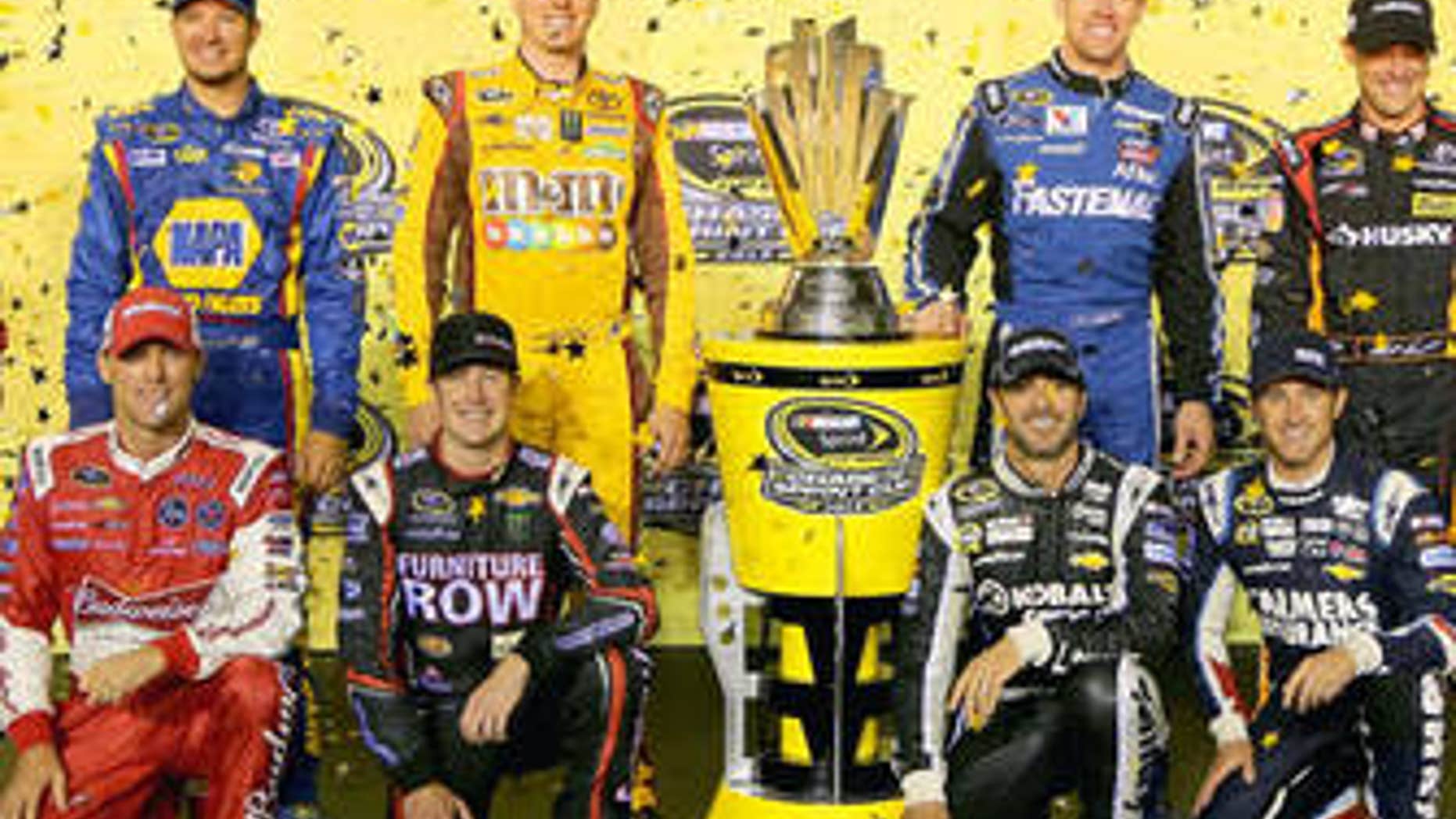 You know that old saying "this changes everything?" After Saturday night's race at Richmond, I think it's fair to say this changes everything. The Fords have struggled all year but the last few weeks they have come to life and Saturday night they won the race. Jimmie Johnson has dominated all year, but has really, really struggled these last few weeks and there's a lot of doubt that championship No. 6 is in his future.
Yes, at one point with his four wins and leading the points, I said it was Jimmie's championship to lose, but I really don't believe that anymore. They have struggled mightily. This weekend at Chicago I believe will be a real indication of where the No. 48's program is. Chicago is a mile-and-a-half racetrack and those type tracks are Jimmie's bread and butter. They sure aren't entering this Chase with much momentum.
You've heard me say it all year and it bears repeating - if you limp into the Chase - you'll limp right back out. That's the way it looks for the No. 48 right now and a few others. Jimmie and crew chief Chad Knaus simply are snake-bit. So again, this weekend at Chicago will give us a really good picture of where their program is at.
Congratulations to Carl Edwards. He started clear back in 26th spot, which is brutal on a short-track. He raced his way to the front, led 46 laps, got his second win of the year and the three extra bonus points added to his Chase points.
Obviously it's a huge deal for Carl and his No. 99 team but I also think is shows us how the Fords overall have been rebounding of late. Overall it's been a tough year for Ford drivers. In our 26 regular season races, they only won five of them. Lately however I have seen the Fords coming to life. Go back to Atlanta a few weeks ago. Brad Keselowski had the car to beat but lost an engine. His teammate Joey Logano, who won at Michigan in mid-August then had the car to beat but got a late caution.
So you could see the Fords seemingly had turned a corner and were running a lot better. Carl got the win and Rookie of the Year contender Ricky Stenhouse Jr. finished 10th. With the Chase starting this weekend there are three Fords - Carl, teammate Greg Biffle and Penske Racing driver Joey Logano - inside the 12-car field.
Saturday night at Richmond was also record-setting in our sport with Kurt Busch and the No. 78 car became the first single-car team to make the Chase field since the new format for the championship was implemented in 2004. Seriously, what Kurt, crew chief Todd Berrier and that whole Denver team has done is nothing short of miraculous. Obviously none of it would have been possible without the strategic alliance with Richard Childress Racing. The irony is that RCR fields three teams of their own, yet only Kevin Harvick made it into the Chase but there was Kurt racing his way in Saturday night.
Kurt led 73 laps, finished second in the race and now is starting 10th in the Chase. That car has been fast all year. Of course it's well-documented the problems they've had on pit road throughout the season. That issue reared its ugly head again Saturday night, but after that they settled down and had what I think, their best overall night in the pits in quite a while. Thankfully for Kurt it couldn't have come at a better time.
I'll say it right now, with the way that car has been running, if they can fix their issues with the pit crew, Kurt has as a legitimate a shot of winning his second NASCAR Sprint Cup championship as any of the other 11 drivers in the field.
That's what Saturday night proved to me - the 2013 Chase is wide open. The dominance of the No. 48 car isn't there. Matt Kenseth and teammate Kyle Busch have won nine races collectively but is the power and consistency going to be there for ten solid weeks?
What also came out of Richmond is something I have beat the drum about for years. There has to be some kind of way or some kind of formula to create the excitement we always get with our 26th race of the season and have it happen at our 36th and final race of the season. If you could start the Homestead race with as much on the line and as many cars involved it would make the championship race as dramatic as we saw Saturday night.
What I am worried about and we see it happen every year is once they drop the green flag at Chicago this weekend, we're back to points racing. Sure, it's going to take winning races to win the Chase, but you have to be consistent and can really only afford one bad race in these last ten. What happens every year is after each race one or two cars that are in the Chase fall by the wayside and usually when Homestead rolls around there are only two or three cars with a legitimate shot at the title.
So the Chase is on. There are a lot of cars that seemingly have a shot. I honestly can't pick a favorite right now. In the past we've seen drivers like Kyle Busch enter the Chase will all the momentum in the world and fall on their face. The 2011 season was the exception to the rule, where Tony Stewart limped into the Chase - sorry Tony, no pun intended, buddy - and came out on the other end with five wins in ten races and his third championship.
We can't ignore the fact there were also a lot of issues Saturday night at Richmond. It's like the movie "Jaws" when you hear that music - you know it's coming, it's building towards it and then it strikes.
The biggest controversy obviously was Clint Bowyer spinning out with seven laps to go. That caution ultimately helped his teammate Martin Truex Jr. make the Chase field by knocking Ryan Newman out. Did he do it on purpose? I don't know. I wasn't even in Richmond. NASCAR has stated they didn't initially think it was deliberate. NASCAR President Mike Helton said on Sunday before the truck race at Iowa that NASCAR would go back and review this issue.
I hope Clint didn't do it on purpose. You can't manipulate the sport. You can't manipulate the rules. We have to leave it up to the sanctioning body to review and decide. We all can speculate all we want, but ultimately this is a NASCAR decision. I will say I sure don't understand their tie-breaker criteria when it came down to the fact that Martin and Ryan Newman were tied. Why doesn't the tie-breaker go to the highest finisher of the race and not some second-place finish clear back at Texas? If that were the case, then Ryan would be in the Chase with his solid third-place run while Martin finished seventh Saturday night.
The other major issue of the evening had once again to do with restarts. This is like a bad dream that simply won't go away. This chapter of this on-going issue concerns the final restart with three laps remaining in the race of whether race winner Carl Edwards jumped the restart of leader Paul Menard. This is so convoluted and confusing. NASCAR has got to come up with a way to let these drivers watch the flagman and when he drops the green flag then you let the rough-side drag.
They simply have got to loosen that rule up a little bit. I think they have painted themselves into a box but they really have got to define it a little bit differently. Honestly I am surprised we don't have this restart issue at every race. The bottom line is it has to be addressed and fixed.
The other bottom line is the fact that we have four-time Sprint Cup champion Jeff Gordon and our defending champion, Brad Keselowski on the outside of this year's Chase looking in. I really thought Brad was going to turn it around at Richmond. He led the most laps of anyone - 142 laps - looked to have the car to beat but then for some reason faded into the Virginia night, finishing 17th.
Saturday night was filled with drama, but we head to Chicago with the 2013 Chase wide open. Due to his five wins and the bonus points that come with them, Matt Kenseth is on top of the points. Jimmie and Kyle Busch are tied for second only three points behind. Again, I think Chicago will give us a real snapshot of where the No. 48 program is but with the way he's running, I'd definitely be putting some money on that guy behind the wheel of the No. 78. The Chase is on and it's anybody's to win, so why couldn't it be a team based in Denver?