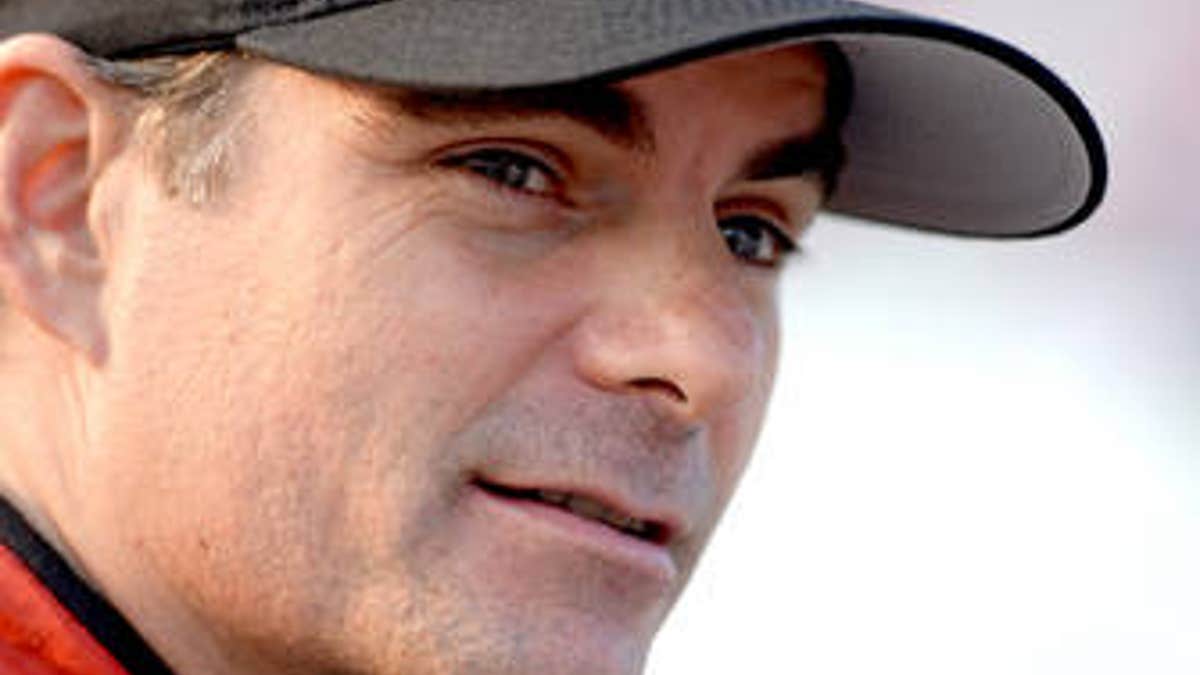 CHASE CONTENDERS SET -- The big dogs stepped up to the plate in qualifying for tomorrow night's Federated Auto Parts 400 at Richmond International Raceway, the 26th and final race in the NASCAR Sprint Cup Series regular season. Three drivers fighting for a berth in the Chase for the Sprint Cup qualified on the top of the board, with Jeff Gordon capturing the pole, Kurt Busch qualifying second and Brad Keselowski taking third.
Gordon comes into Saturday night's race 11th in points, six points behind 10th-place Busch. Keselowski is 15th and needs to win Saturday and have bad finishes from several drivers ahead of him to make the Chase.
Understandably, Gordon was thrilled to win his first pole of the season and 73rd of his career. "This is only part of it, but that is certainly a great run," said Gordon, who was also fastest in Happy Hour earlier in the day. "... All in all, a great day and a great moment for us."
By earning the pole, Gordon will get the coveted No. 1 pit stall, which could be a huge advantage during Saturday night's race. It also means he has won a pole in a record 21 consecutive years, breaking a tie Gordon had with David Pearson.
"That was huge," said Gordon. "To have to go out there and beat the 78 (Busch) -- there are so many storylines out there. ... We're going to celebrate this moment, then leave here, go into our debrief and figure out how to make this car go fast all night long."
Busch led for most of the qualifying session. He went out fifth, which is normally a huge disadvantage, but early on, the track was under cloud cover, meaning it was both cooler and faster than it would have been in bright sunlight. Busch put down an excellent qualifying lap of 130.334 miles per hour in his No. 78 Furniture Row Racing Chevrolet, which held up for a long time as pole time as the sun came back out shortly thereafter and heated up the track again.
Finally, Gordon dislodged Busch from the pole when he went out 33rd and jumped to the top of the charts with a track record lap of 130.599 mph in his No. 24 Hendrick Motorsports Chevrolet.
Still, Busch was pleased with second place.
"We just threw a bunch of stuff at it and it stuck," said Busch, who qualified on the front row for the eighth time this year. "It doesn't always translate to speed. ... We're feeling good right now. I love these challenges and right now Gordon and I are 1-2."
Clint Bowyer and Matt Kenseth completed the top five. Denny Hamlin qualified sixth, followed by Jamie McMurray, Joey Logano, Greg Biffle and Regan Smith in Jimmie Johnson's Chevrolet. Dale Earnhardt Jr. will start 14th, with Danica Patrick 36th.
Martin Truex Jr., who holds the second wild-card spot right now, will start 11th, while his closest competitor for that spot, Ryan Newman, was 24th.
JJ STILL THE MAN TO BEAT? -- As a team, Joe Gibbs Racing has won nine races this season, tops in the NASCAR Sprint Cup Series this year. Matt Kenseth has a series-high five victories himself and Kyle Busch has four, which ties him for second with Jimmie Johnson. With Johnson mired in a deep slump and with Busch having scored the most points over the last 10 races, does that now make Busch the title favorite? Maybe, maybe not.
Asked what his recent performances mean, Busch was blunt.
"It don't mean crap," he said Friday morning at Richmond International Raceway. "It doesn't -- I mean -- you want to be able to run well all year long. You want to be able to keep the consistency all year long. You want to be able to win all year long. At any opportunity, at any given point you want to be able to go out there and knock a win out or have the opportunity to do so. But, things are a lot tougher when it comes to the final 10 races."
As to whether Johnson and his No. 48 Hendrick Motorsports team are vulnerable right now, Busch was emphatic. "No. No," Busch said. "There is a switch somewhere over at Hendrick Motorsports they'll flip next week and they'll be just fine in Chicago. I guarantee it."
A NEW CAST -- Martin Truex Jr. has a new cast on his right wrist, which he broke two weekends ago in a crash at Bristol Motor Speedway. Truex's first cast basically disintegrated during Sunday night's AdvoCare 500 at Atlanta Motor Speedway, causing him tremendous pain, which he ought through to finish third. Given that Truex is on the bubble to qualify for the Chase for the Sprint Cup, he's hoping for better luck tomorrow night at Richmond International Raceway during the last race of NASCAR's regular season.
"Yeah, got a new (cast)," Truex said. "A little bit stronger. I molded it a little bit better. Hopefully I won't squish it, break it. I'm sure it's still going to hurt like hell, but we'll just have to deal with it."
Truex said that he was able to race effectively at Atlanta despite intense pain. "It was worse than I expected," Truex said. "At the same time I was able to drive the car better than I expected. It hurt but I could deal with it, I could still drive the car, get everything out of it even if it wasn't broken. It was just not comfortable at all."
NOTHING PERSONAL -- When Rodney Childers announced a couple of weeks back that he was leaving Michael Waltrip Racing to become Kevin Harvick's crew chief at Stewart-Haas Racing next year, MWR cut him loose early, with Competition Director Scott Miller replacing Childers on an interim basis. Friday at Richmond International Raceway, team founder and co-owner Michael Waltrip said he had no hard feelings towards Childers.
"Rodney and I are buddies and he has been a tremendous asset at Michael Waltrip Racing, but we are going to have meetings and build cars and put processes into place that we think will help us win a championship in 2014," said Waltrip. " When he
voiced his -- when he said he was going to leave MWR (Michael Waltrip Racing), that is just business. It's our information to protect -- and we felt like that was a smart way to protect it. I know he understands. In this world we live in, we've had some very pleasant texts over the last couple weeks about where he is and where we are and how that situation was handled. No one did anything mean, it's just business."
2014 SCHEDULE DUE -- The 2014 NASCAR Sprint Cup schedule likely will be out by the end of September, NASCAR's Kerry Tharp confirmed Friday at Richmond International Raceway. Tharp said there may be some minor tweaks to the 2014 schedule, but he did not expect a radical overhaul of track dates.