What to watch for at the NFL Combine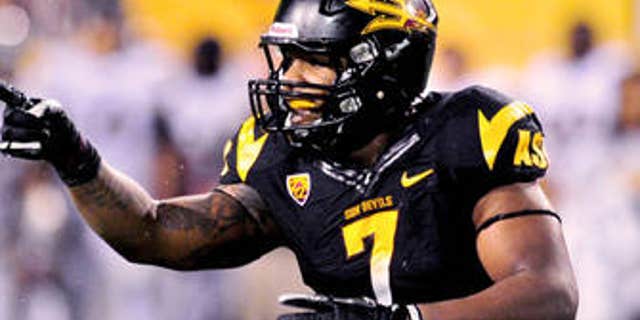 Now that the NFL playoffs and Super Bowl are finally over and out of the way, it's time to focus on what really matters -- the NFL draft.
This year's draft has more juicy storylines, more interesting characters, and more intriguing hypothetical questions to bat around than, arguably, any draft of the past 10 years. With the new collective-bargaining agreement making first-round picks suddenly affordable and sensible investments, expect aggressive trading up in the first round, strategic front office maneuvers over the course of the first three rounds, and teams focusing on the draft in April instead of rampant free-agent spending in March.
The 2012 draft class is incredibly deep with talent, but also swamped with question marks. Several of these questions will be addressed and scrutinized at this week's NFL Scouting Combine.
On the surface, the Combine is one of the sports world's biggest anomalies. Much of the seven-day event involves players standing in shorts and tank tops, coaches and scouts sitting hundreds of feet away in the stands kibitzing, and behind-closed-doors meetings and evaluations. And yet, it makes for compelling TV.
As Barry Jackson of the Miami Herald reported last year, 5.2 million American homes watched the Combine on the NFL Network in March 2010. Those TV ratings were better than any numbers Major League Baseball got on ESPN during any given regular-season week of the 2010 baseball season, despite ESPN being in 43 million more homes than the NFL Network. This year, the NFL Network is sending an estimated 24 on-air announcers to Indianapolis, roughly 22 more than what's probably necessary.
For the first time ever, fans will be in attendance at this year's Combine, as well. According to the NFL, tickets to the Combine are free for 250 fans, but those tickets won't be issued on a first-come, first-served basis. Instead, fans are encouraged to write a "short essay" on why they should be selected to attend. Essays! If the NFL were smart (or cruel), it would post these essays on NFL.com.
"I've always regretted not being in the building when Mike Mamula ran his 40 . . ."
"Oh, to have seen Kyle Boller throw his 60-yard spirals in person. What I would have done . . . "
"My clock is better than Tom Coughlin's. To have the chance to use it, in person, well, golly . . . "
But I digress.
Who should you be watching this week? Which players have the most on the line? Which drills are the most important? Here's a viewers guide to this week's 2011 NFL Scouting Combine:
Five biggest storylines 1. The Luck vs. RGIII debate
This one has been steadily brewing for quite some time, formulating deep under the surface, but is bound to boil over after Griffin III wows scouts this week in Indy. Andrew Luck has been the "no-brainer" first pick of the draft since he decided to return to Stanford for his junior campaign last January, and though he's done nothing but help solidify his draft stock the past 13 months, there are more and more good things emerging from the Griffin camp.
With the immediate impact Cam Newton made on the Carolina Panthers last season (with an abridged offseason, mind you), and the incredible turnaround Baylor football had in the four years Griffin served as their quarterback, there's reason to believe RGIII has the bigger "upside" than Luck. Griffin is the more athletic player, might throw a better deep ball and has many of the same leadership qualities that Luck is so roundly lauded for.
The amazing irony is that these two almost played together in college. As I first shared in my column from this year's Heisman ceremony , then-Stanford coach Jim Harbaugh recruited both men to play together at Stanford. Griffin, after briefly considering a Thunder and Lightning duo, decided he wanted to be "the guy" right away, and working in some sort of quarterback platoon wasn't what he had in mind for his collegiate career.
He turned down offers from Stanford, Miami, and Texas, declined an offer to play at Harvard, and committed to Art Briles at Houston. When Briles made the move to Baylor before Griffin's freshman season, he followed the coach who recruited him and promised him playing time right away. In his four years in Waco, he didn't disappoint. Griffin turned Baylor from a national laughingstock to a respected program, overcame what could have been a career-altering injury and somehow got better , and won a Heisman Trophy. Griffin III makes his teammates better and his coaches look smarter. Whereas Luck could be the next Peyton Manning, Robert Griffin III could be Cam Newton version 2.0. Both are tantalizing possibilities.
He's going to dazzle in workouts, he's going to wow in interviews and, if he measures up as listed, there are going to be teams that rank Griffin over Luck. The size issue matters. I've spoken to some NFL folks who insist Griffin is closer to 5-foot-11, 205 pounds than 6-2, 220. We'll see.
The rumor out in Indianapolis during the Super Bowl was that the Polians -- Bill and Chris -- both had RGIII rated higher than Andrew Luck on their early draft boards. Whether true or not, it's something to consider. Trust me, they're not the only ones.
If Griffin blows everyone out of the water this week? Buckle up, folks.
2. Star receiver or "Fat Alshon?"
In my mock draft on FOXSports.com before the NFL playoffs started, I had South Carolina receiver Alshon Jeffery slotted to go seventh overall to the Jacksonville Jaguars. Jeffery is dangerous deep threat with good physical tools, and I had him as the second wide receiver on my board. Jacksonville has a dire need for a wideout, he's a tremendous talent and I assumed it made for a good fit.
I had no idea of the negative reaction I would get.
I got the emails. I got the text messages. I got the direct messages on Twitter. "Check the game tape . . ."
Well, I still didn't see it. Jeffery had some off games in 2011, but he didn't exactly have Joe Montana throwing him passes, either. I saw him destroy Nebraska's t in one half of action in a bowl game, I saw him dominate the Southeastern Conference in 2010 and I saw him score eight touchdowns for a bad passing offense in 2011.
I needed more reasons, more proof, as to why I was being clobbered for having a superb receiving threat -- when a superb receiving threat is absolutely necessary in today's NFL -- going in the top 10.
Then I saw the picture. It came to me in the form of five different emails from readers, and you would think it was of him doing something illegal. This shot , from a photo taken in August, shows a noticeable belly on Jeffery. Were his numbers drastically worse in 2011 because of the team's quarterback play? Or was it because he was an out-of-shape schlub?
Which Alshon Jeffery shows up this week? We'll see. I've seen him compared to Terrell Owens. But if he's not in shape and those concerns are real, he could be another Mike Williams. And that's not a good thing. It's certainly not top-10 pick worthy.
3. Vontaze, Vontaze, Vontaze
In the few games I watched Arizona State play the past few years, I always came away thinking the linebacker, No. 7, was the best player on either side of the ball. Vontaze Burfict was always good for a punishing hit, a high-impact tackle, and at least one "Whoa, did you see that?!" play. He was also always "good" for one back-breaking penalty.
Then I watched Arizona State's bowl game versus Boise State. Burfict was invisible. He had one tackle. The more research and film work I've done on the linebacker, the more I've cooled on him. His instincts aren't great. He's not as physically imposing as I recall him being, and he's consistently out of position. When it's him -- one on one with a running back or quarterback -- there may be no one better in this draft. When he has to fight to make a play, he too often fails to succeed. Oh, and from what I'm told by numerous sources, he's a bit of a head case.
Burfict's going to be under a hot lamp his entire time in Indy. Teams are going to grill him on his defensive intelligence, his temper and his desire. Perception's a crummy thing, sometimes. He has an uphill battle ahead.
4. The big boys
The past five years, an average of six offensive linemen have been taken in the first round. They're rarely the flashiest picks, but there's a commonly held belief in NFL circles that taking a big tackle or guard is the safest, most risk-averse move in the first round. Jason Smith went second overall a few years back; Robert Gallery went second overall a few years before that. The point? Though there are some home runs on the offensive line, they're not exactly sure bets, either. After USC's Matt Kalil (whom some scouts aren't doing flips over, either), the offensive linemen in this year' draft are a bit of a crapshoot.
Stanford's Jonathan Martin and Iowa's Riley Reiff are considered the second- and third-best tackles in the crop, but neither was particularly dominant in college. Guards David DeCastro (Stanford) and Cordy Glenn (Georgia) are getting a lot of attention, but I like center Peter Konz (Wisconsin) a bit more. There's a small-school guy nobody's talking about (yet) -- Amini Silatolu out of tiny Midwestern State -- who may be better than the whole lot. The Combine will help sort these guys -- and several small school prospects -- out on draft boards.
5. What about Trent?
Watching the tape and talking to scouts, I believe you can make the argument that Alabama tailback Trent Richardson's the top running-back prospect to come out of college since Adrian Peterson. I repeat: the best. That includes Chris Johnson, Ray Rice and Darren McFadden. That includes his college teammate and the only running back to go in the first round last year, Mark Ingram.
But what's that mean anymore? Does that make Richardson a lock for the top five in this year's draft? Hardly. The top 10? I don't know.
In recent years, we've seen undrafted guys like Arian Foster lead the league in rushing, undrafted guys like LeGarrette Blount lead all rookies in rushing and undrafted tandems like Danny Woodhead and BenJarvus Green-Ellis get more playing time than second-round picks. Is a running back -- even if he's supremely talented -- ever worth a top pick?
When Ingram slipped to 28th last year, pundits broke out the same shocked "Why is he slipping?" routine, and that goes expected. But it's an antiquated and inappropriate reaction. Running backs are very rarely worth first-round picks, and even when they are, they can be gotten later than expected. Watching where Richardson -- a "surefire" top-10 guy for a lot of draftniks -- ends up will be fascinating.
Five small-school guys you'll know by next week 1. Amini Silatolu, OG, Midwestern State: Never heard of Silatolu? It's OK, you're not alone. Whether it has been Jahri Evans (Bloomsburg) or Mike Iupati (Idaho), it appears as though offensive guard is a spot where small-school talent has risen to the top in recent years. Silatolu's stock could skyrocket after a string of fantastic workouts this week. A 6-3, 320-pound mauler at left tackle in college, he's best suited for the inside at the next level. He's likely a second-day pick now. But after a breakout week, he could sneak into the first round.
2. Akiem Hicks, DE, Regina (Canada): The correct pronunciation of Hicks' school will make his fellow draft brethren snicker, but his 84-inch wingspan will shut them up awfully quickly. A transfer from LSU, Hicks is an athletic freak with tremendous size and strength. Listed at 6-6, 320 pounds, he has surprisingly nimble feet and good on-field awareness. He never put up big numbers in college -- at any level -- but he has all the physical tools that scouts salivate over.
3. Tim Benford, WR, Tennessee Tech: Another small-school guy with big dreams, Benford stood out at East-West Shrine Game practices by showing surprising strength for his 200-pound frame. Tennessee Tech's Watson Brown coached Roddy White in college. Brown says Benford has all the goods to make it on the next level. "Tim's just got enough of the pieces," Brown told the Chattanooga Times Free Press last week. "He needed to have a good (senior) year, he needed to work harder and he did all of the things that I asked him to do." Not a huge speed burner and "under-sized" at 5-11, 200 pounds, Benford might not be a first- or second-day pick. With a great week of workouts, however, he can solidify his place in that Day 2 conversation.
4. LaDarius Green, TE, Louisiana-Lafayette: The new breed of tight end is enormous, impossible to cover and a first-rate target in a big, passing offense. Jimmy Graham, Rob Gronkowski, Jermichael Finley -- meet LaDarius Green. At 6-6, 240 pounds, Green actually played in the slot in the Louisiana-Lafayette offense. He's an athletic freak who needs to put some more muscle on that frame. He will. Just wait until the scouts see him in the flesh in Indy. With a big week at Lucas Oil Stadium, Green could end up going in the second or third round.
5. B.J. Coleman, QB, Tennessee-Chattanooga: Every few years, there's a tall quarterback prospect from a relatively small school who intrigues and tantalizes the scouts. Meet B.J. Coleman -- this year's Joe Flacco/John Skelton. After backing up Jonathan Crompton for two years at Tennessee, the 6-6 Coleman transferred to Chattanooga, where he led the Mocs for three years as their quarterback. Big body, big arm, surprisingly mobile -- scouts are interested in Coleman's potential.
Five best drills to watch 1. The 40-yard dash: A player's career can be made, or destroyed, in a flash. My favorite 40-yard-dash story involves Deion Sanders' run in 1989. Back before the Combine was televised or even all that much covered by the media, Sanders reportedly showed up late and did just one drill -- and only once. As the story goes, Sanders ran a 4.29 in the 40 and then jogged right into the Hoosier Dome tunnel and out the building. Without breaking stride, he hopped into a limousine and took a trip to the airport, where he boarded a plane and flew home.
2. Bench press: How many times can a player put up 225 pounds in one sitting? Can't fake this one.
3. The gauntlet: A wide receiver or a tight end gets a pass from a coach, catches the ball and drops it. He then runs across the field and catches five passes in a row from five different quarterbacks across the field. It's all hand-eye coordination.
4. The speed-turn drill: A defensive back starts at the line of scrimmage, backpedals 5 yards, runs forward 5 yards and then is told to run in a certain direction. At about 15 yards, the defensive back is asked to look up and locate a football. What kind of ball skills do you have? The speed-turn drill gives an indication.
5. Three-cone drill: Three cones are placed in an L shape. Players go 5 yards to the first cone and back, then to the second cone and back and then run a loop around the third cone, switch direction and come back around the second cone. Got all that? A shifty running back/wide receiver can usually do a three-cone drill in 6.5-7.0 seconds.
Five potential character 'red flags' 1. Vontaze Burfict, LB, Arizona State: He'll be answering a lot of questions this week. Nothing criminal off the field to address, just a bunch of lingering question marks about his behavior, smarts, and judgment. Some teams won't even have him on their boards.
2. Chris Rainey, RB, Florida: A speed demon and a track star, sure, but a big character question mark, too. Rainey was arrested in 2010 and charged with aggravated stalking. According to Gainesville Police, Rainey sent the woman he dated on and off for three years a text message that read "Time to die, b----" after leaving her home. So, yeah, there's that.
3. Janoris Jenkins, CB, North Alabama: The third-rated cornerback on a lot of pundits' boards, Jenkins will be asked about his time at Florida and his eventual dismissal from the team last season. Booted from the squad for being caught with marijuana, some teams will want to go beyond the game tape on Jenkins this week.
4. Michael Floyd, WR, Notre Dame: It's rare you see the words "character red flags" and Notre Dame in the same sentence, but Michael Floyd will be forced to address multiple off-the-field issues this week, Floyd had three separate alcohol-related offenses, including a March 2011 arrest on a drunken-driving charge, in a three-year span at South Bend.
5. Janzen Jackson, DB, McNeese State: Considered the top defensive back on the roster heading into the Vols' 2011 season, Jackson was dismissed from the team in late August for off-the-field offenses. Jackson, a second-team All-Southeastern Conference performer while at Tennesseee, battled substance-abuse issues during his time in Knoxville and eventually was dismissed after failing to live up to coach Derek Dooley's zero-tolerance policy.
Five teams to watch 1. St. Louis Rams: The Rams hold a lot of the cards in this year's draft. With the second pick overall and no need for a quarterback, look for St. Louis to trade down with a team in hot pursuit of either Robert Griffin III or Andrew Luck. With success and quarterback-starved teams in Miami, Washington and Cleveland, look for St. Louis to fetch a rich combo of young players and picks for that second selection.
2. Cleveland Browns: It's a commonly held belief around the league's media circles that the Browns are going to make an aggressive move for Griffin. I'm not so sure about that. Brad Childress was just hired as offensive coordinator, Pat Shurmur's a West Coast offense guy and Griffin's not that kind of quarterback. With the Browns holding the fourth pick and Atlanta's selection at 22nd overall, it'll be interesting to see the moves they make in the first round. A guy to watch for the Browns? Ryan Tannehill, the Texas A&M quarterback prospect.
3. Cincinnati Bengals: Thanks to the Carson Palmer trade, the Bengals not only have their own pick (the 21st), but the Raiders' 17th overall selection, too.
4. New England Patriots: The Patriots have four of the first 63 picks. With New Orleans' first rounder and Oakland's second, in addition to their own first- and second-round picks, New England has a lot of juice in the first two rounds. Traditionally a team to trade down and stockpile picks, do the Patriots package a few of their selections and move up into the first half of the first round this go-around?
5. Seattle Seahawks: If Tannehill's still on the board when the Seahawks are on the clock, it will be very interesting to see whether Pete Carroll rolls the dice on a quarterback with just a year-and-a-half of real college quarterback experience.
Five Combine question marks
As much as the Combine can highlight the best physical qualities of certain players, it can put a spotlight on the shortcomings of others. Here are five accomplished college players who might not "wow" at the combine:
1. Kellen Moore, QB, Boise State: The NCAA all-time wins record holder, Moore failed to wow scouts at the Senior Bowl and has question marks about his size and arm strength. He also looks about 11 years old. Will he be a leader at the next level? Is he Drew Brees or just another great college quarterback who makes little impact at the next level?
2. Case Keenum, QB, Houston: In a similar vein as Moore, Keenum's a familiar name who might slip further than most fans would expect. The sixth-year senior out of Houston, Keenum came back from a devastating knee injury to shatter NCAA records and lead Houston to the Ticket City Bowl last season. Is that knee up to snuff? Are his best days behind him?
3. Brandon Weeden, QB, Oklahoma State: The scouts I speak with love Weeden. The obvious red flag is his age. At 28, he's not exactly a spring chicken. Is that necessarily a bad thing? Danny Watkins was 26 years old and went in the first round last year. The argument, there, was that he was a fresh 26 -- the body of a 20-something, with the maturity of a man. Can the same be said for Weeden? Or is the guy who was traded from the Yankees to the Dodgers for Kevin Brown -- yes, that Kevin Brown -- just too damn old to draft with an early round pick?
4. Rueben Randle, WR, LSU: One of the biggest high-school recruits of the '09 class, Randle never put up big numbers at LSU. Was that a reflection of him not living up to expectations or did he play in an offense that hardly focused on the pass? Scouts will have their eyes peeled on Randle, a guy several NFL draftniks were surprised declared for the draft and left school early.
5. Jared Crick, DE/DT, Nebraska: No player benefited from Ndamukong Suh double and triple teams two years ago quite like Crick. The past two years, though, the Nebraska defensive lineman has seen his production dip. A result of various injuries? Or was he merely the benefactor of Suh's dominance in 2009?
Five bold Combine predictions 1. Robert Griffin III puts on an absolute show in Indy, sizes up at 6-2 and makes a lot of quarterback-hungry teams think long and hard about their quarterback draft boards.
2. Griffin's Baylor teammate, wideout Kendall Wright, solidifies himself as a first-round selection with an outstanding workout. He's only 5-11, so there are questions about Wright's size. With outstanding hands, balance, speed and route running ability, he'll emerge as a first-round prospect in Indy.
3. Talk of Alabama All-American Dre Kirkpatrick making the move from cornerback to safety will heat up after the Combine this weekend. With outstanding size and skills and a draft devoid of many premier safety prospects, Kirkpatrick might make more sense as a safety than a corner.
4. Cordy Glenn, the 6-5, 350 pound guard out of Georgia, will show off a surprising athletic ability and dominate the strength drills. He'll solidify himself as a top-20 pick this week. Versatile, smart, and dynamic -- he could jump into the top 10.
5. Zach Brown, the North Carolina linebacker, will leave scouts dragging their jaws off the carpet after his 40-yard dash. It's rare that you see linebackers run 4.4 40s. Brown will do just that, solidifying his status as a first-rounder.