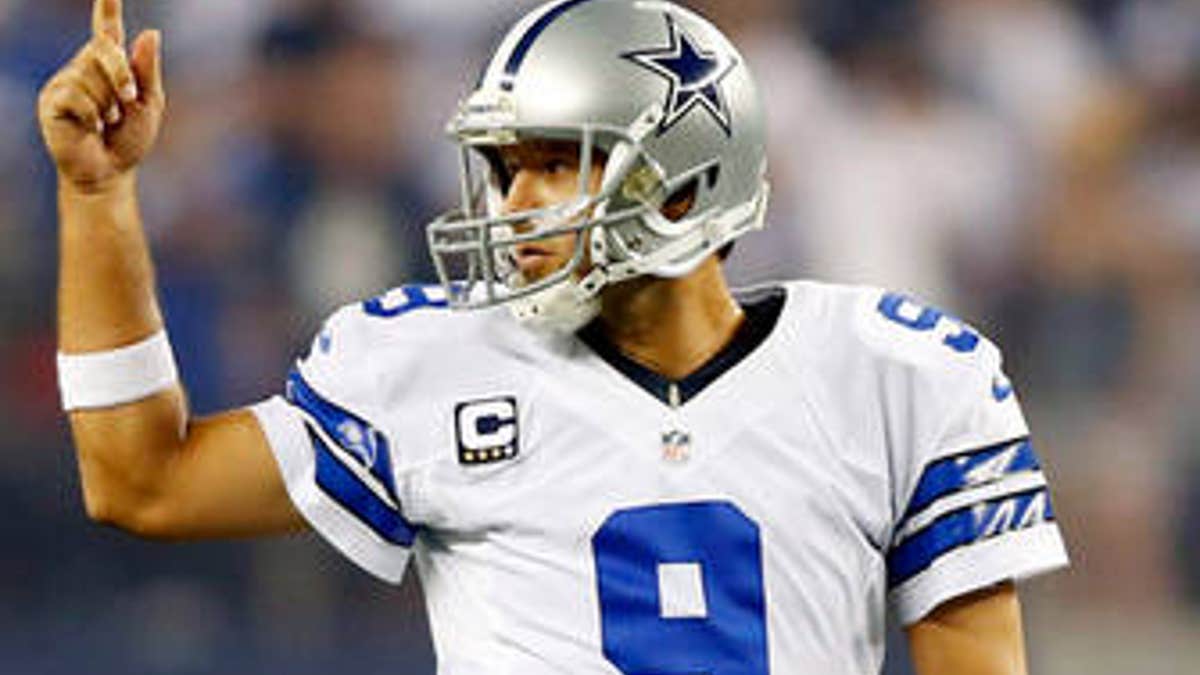 ARLINGTON, Texas – And 1: HSOs from the week that was in The Jock Kingdom.
They're real, and they're spectacular.
1. The contract this offseason kick-started the tired, old debate again about Cowboys quarterback Tony Romo and whether you can win with him, whether he is worth the money, whether he is a lost cause.
Dallas' victory Sunday against the New York Giants needs to quash that mess once and for all.
Because as good as the Cowboys defense was in finally handing Eli Manning and his Giants a loss at JerryWorld -- and they were with six turnovers, including a pick-6, to win good -- this game again proved it is still all about Romo. When he went down in a crumpled heap between two Giants defenders right before halftime, the Cowboys' season flashed before their eyes.
"It's hard not to go to the worst," Cowboys owner Jerry Jones admitted to me afterward.
What happened next, or really after halftime, is exactly what people always forget when debating Romo. He returned. He played with crazy sore ribs that will be X-rayed at some point Monday. He played despite not being 100 percent. And although he was not great, he was just good enough.
"He caught me pretty good," Romo said. "I just had to take a little time. . . . There is always going to be things throughout the season. I don't think I've ever gone through a season where I didn't have things that linger. There are no excuses. No one really cares. That is the truth."
This is the thing with Romo. He has been playing through something almost the entire time he has been in Dallas -- lack of receivers, lack of blocking, injuries because of the lack of blocking and, of course, the defensive issues. This is what people forget when talking about him, how much better he really has made this team look over the years -- with his toughness and his ability to turn something into nothing.
What having a defense around him does is give him a chance. But without him, there is no chance.
2. The funny, actually not really funny at all, thing about the Cowboys defense was how after 58 minutes and five turnovers, the prevailing thought was, "Oh, wow, they are going to choke. Again."
"I'm thinking about it in my mind, 'Here we go, here we go again,' " Cowboys defensive lineman Jason Hatcher said. "I thought about last year."
This is what the Giants do when they come to JerryWorld. They get down. They look beat. And in the final moments and typically the most heartbreaking fashion, Eli and Co. find a way to win. Which is not exactly true. It is usually the Cowboys finding a way to lose -- on picks by Romo or, more likely, collapses by the defense. It was like nobody quite knew what to do with Dallas' defense getting an interception to win Sunday.
"I know, I know, (Eli) had that look of, 'I'm used to winning here,' " Hatcher said. "But things have changed, and we're a different team."
3. The reality is the Longhorns were in trouble the second coach Mack Brown started dropping 2020 as his expiration date. You'd never hear Nick Saban saying this, or Les Miles for that matter, because both have security.
From winning, and winning recently.
Brown had no such illusions going into this season. His seat had become hot, or at least hot by Longhorns standards. The burnt-orange faithful tend to be patient when compared to most big-school fan bases. Eight years after the Vince Young-Rose Bowl-national championship and too many ugly losses to Oklahoma to count that good will evaporated, which is also how defensive coordinator Manny Diaz was fired Sunday.
This is no defense of Diaz. The defensive coordinator of record as the Longhorns gave up 500-plus rushing yards in a loss to BYU on Saturday is pretty much indefensible.
Of course, so is the head coach who declined to fire Diaz in the offseason, who failed to act when no defensive adjustments were forthcoming in Provo, who has valued loyalty more than he despised mediocrity.
I have been trying to imagine how that conversation went down.
Mack: You're fired.
Diaz: You are firing me?
Mack: Twitter thought it was a good idea.
Diaz: Check your mentions, bro.
This does not look like a power move by a strong coach but rather the desperate last stand of an aging coach afraid his last, best chance has long since faded. And I say this as a columnist who very much likes Brown. He genuinely cares about his players long after they leave Austin, too.
I had a chance to talk to Brown in August about his job security. What struck me most was not how convinced he was this was going to be a big year for Texas, that is him, but rather how he talked about his legacy. He wants to, and should be, remembered for the kind of program he has created at Texas. This again is the problem because the great coaches are not thinking legacy at all or expiration dates; they are being cutthroat and firing Diaz long before disasters like Saturday.
4. As I waited for the Cowboys-Giants game to start and watched 49ers receiver Anquan Boldin absolutely eviscerate Green Bay with Colin Kaepernick, I played a game of bigger loss: Baltimore trading Boldin, or New England letting Wes Welker walk.
The bare numbers say Boldin, as does anecdotal evidence from Baltimore's loss in Denver on Thursday. Joe Flacco absolutely needed a Boldin, and he had to be watching Sunday's performance and bemoaning losing his wing man/BFF/man crush/trusted ally.
What I kept coming back to, though, was my sit-down interview with Ravens coach John Harbaugh for FOX Sports Live. I asked him if he had ever walked into general manager Ozzie Newsome's office and said "What the hell?"
"No," he interrupted.
Looked at him sideways?
"No," he said.
Not even once.
"No," he said, and then explained why.
He knows the plan. He knows the salary cap whys and Flacco contract realities and building plans around the decision. This is why the Welker decision feels worse. That felt like a situation where the business was allowed to get personal, that the why behind the decision was not really good, especially as we near the twilight of Tom Brady's career.
The Boldin loss was painful but necessary; the Welker loss just unnecessary.
5. The performance of the long weekend, for me at least, belonged to Jets QB Geno Smith. It was ugly and lucky, at points, and not nearly as effective as say Peyton Manning or Kaepernick or even Alex Smith. What he did do was hang in, gut his way through a very tough situation and, in the end, do just enough to win.
That is pretty impressive for a guy who free fell in the draft because of questions and was so awful in extended preseason action that people were clamoring for injured Mark Sanchez. It is a single game and there is typically too much overreaction to what happens in Week 1. But Geno Smith earned the benefit of the doubt on Sunday, and a little bit of time.
6. On tap for this week, a trip to College Station for Bama-Texas A&M. Forget all that's been said to this point about Aggies quarterback Johnny Manziel. How he ultimately will be viewed will be decided Saturday. If he beats Alabama, he's a fiery competitor. If he loses, if they lose, he's a distraction. It should not be that simple, but it will be.