What should the Ducks expect from TCU without QB Trevone Boykin?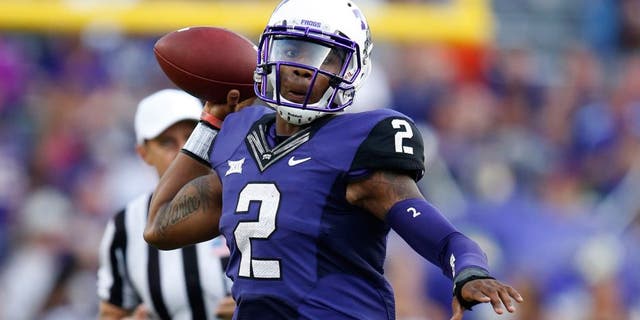 NEWYou can now listen to Fox News articles!
TCU quarterback Trevone Boykin was suspended on Thursday by the team after he was arrested early Thursday and charged with felony assault of a police officer. The news came as a shock to all and puts a damper on Friday's Alamo Bowl.
However, the Ducks must not focus on containing TCU's backup quarterbacks Bram Kohlhausen and Foster Sawyer.
Kohlhausen replaced Boykin against Kansas after the Heisman Trophy contender went down early in the game. Kohlhausen, a senior, went 13-of-19 for 112 yards and threw an interception as the Horned Frogs came away with a 23-17 victory against the Jayhawks, who wound up 0-12.
The next week against Oklahoma, Kohlhausen got the start before being replaced by freshman QB Foster Sawyer. The two combined to throw for 219 yards, one touchdown and four interceptions in the 30-29 loss to the Sooners. Sawyer was 8-of-18 for 107 yards, a touchdown and three interceptions.
Oregon certainly has to feel better about its chances against Kohlhausen and Sawyer than it did against Boykin. However, the Ducks defense is ranked No. 116 in the country. The loss of Boykin is certainly huge, but the Horned Frogs are still capable of scoring points on the Ducks.