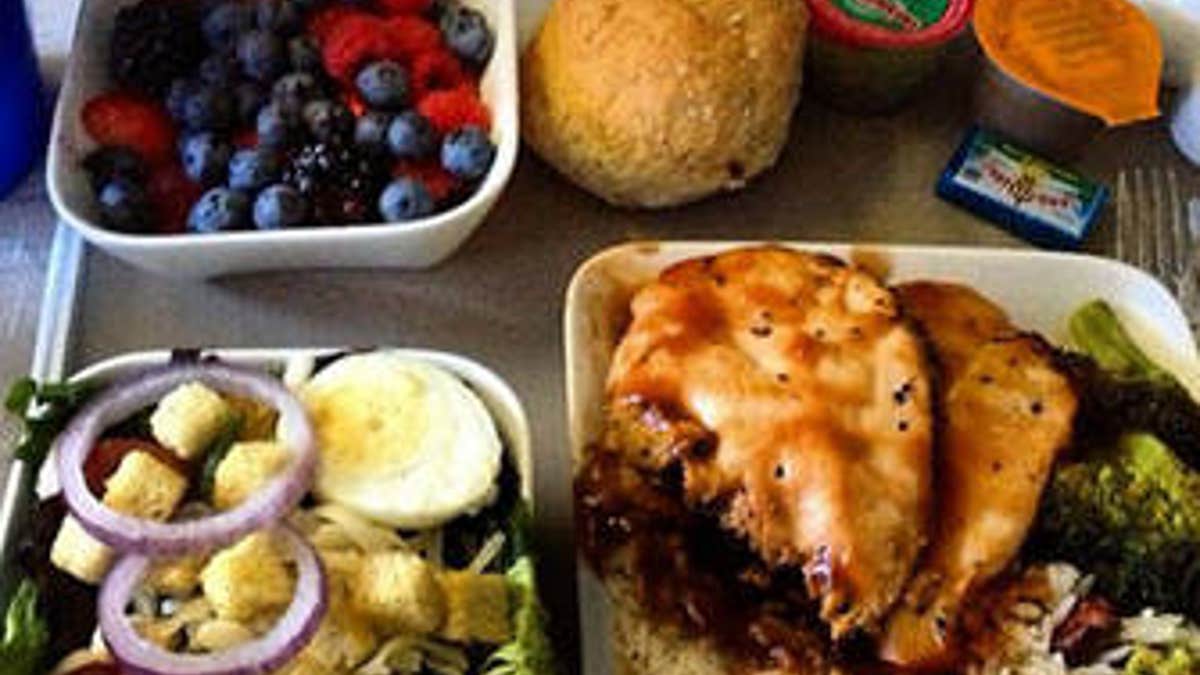 To all the foodies out there, the NFL takes in-flight dining to a new high.
Since I entered the NFL, a long-lasting, sacred tradition has been in place: Rookies are required to provide fried chicken for the entire team as an appetizer for every away game.
Popeye's Chicken is the gluttonous fried franchise of choice. Every away game, following the walkthrough on Saturdays, rookies are scrambling to get their chicken orders in and make the team plane for an on-time departure.
If they are late there is a fine, if there is no chicken they risk locker-room retribution. On Saturdays, the hustling doesn't stop on the field.
Ozzie Newsome couldn't wait for Ray Rice to deliver his two chicken legs and two biscuits on the team plane. The two enjoyed this so much that the tradition continued for my entire five-year tenure as a Raven.
Of course, a different rookie was making the chicken run, but Rice would hand deliver -- like clockwork -- Ozzie's favorite combo. Ozzie was always punctual and early so he would sneak in a turkey and cheese sub with some Lays prior to his chicken delight.
The way it works is that rookies for every position had to supply their entire position group with chicken. If you were a Ray Lewis-type, fried chicken was not going to cut it. Ray typically opted for a Chipotle chicken bowl or chicken fried rice.
Since I was also in that same boat, I was obliged to not only deliver Ray's chicken bowls but also grab Coach Harbaugh his favorite chicken tacos from Chipotle.
If Harbs was hard on us that week, I would "accidentally" slip him spicy salsa instead of medium. If you know Chipotle at all, even the medium packs a punch so you know spicy is not only hot on the way in but also ....
While you are checking in for the flight and picking up your per diem, ham and turkey subs, brown bag-style, are available while boarding. Fresh fruit and cheese platters are handed out as soon as you sit down. The produce is actually sweet and delicious year-round. Definitely imported!
If you are not the natural sugar type you can opt for the less healthy option and go for your favorite candy bars, which are also passed out by the flight attendants.
In 2012, Harbs did limit the amount of candy on the plane, particularly to help the linemen and others keep their weight in check since most teams do weigh-in every week in the NFL and every pound you are over is punishable by a $470 fine - per lb.
Now that the subs, fried chicken, candy and fruit platters are an afterthought, the NFL private charter is well underway. At 35,000 feet, free wifi is chewing up data, free movies and live TV are streaming. Menus are handed out with the remaining food options.
Typically there are two to three hot food choices, usually a filet, chicken parm, or a salad with grilled chicken breast. I would have to say it is usually quite tasty. Accompanying the main entrees are a salad, shrimp cocktail and some sort of dinner roll.
With so many temptations, moderation or complete bad food abstinence is key. I played most of my career at around 230 pounds and by now I am a good 1,200 calories in.
I don't know how much the 330-pounders ate but I have an inkling that it is somewhat proportionate to the amount of cals that I am taking in relative to my weight. What I am really trying to get at is that we haven't even eaten dessert.
Throw a chocolate-and-almond covered Häagen-Dazs ice cream bar in there or two freshly baked chocolate chip cookies and a couple cartons of 2% milk and I am upwards of 2000 cals and the big boys are pushing 2500-3000 cals, which is well above the daily average intake of a typical person in only a few hours.
As you can see, with so many food options it can easily get out control. NFL players burn an amazing amount of calories on game day but it is critical to get whole foods into your system.
Foods rich in macro nutrients and not junk.
There are not too many guys that fail their weigh-in tests during the course of the season. In fact, many guys actually do lose weight. I don't see NFL teams opting for natural or organic foods any time soon but there are just as many healthy food options on flights as there are non-healthy ones. You just need the will power to stick to the game plan.
The original article can be found at FOXSports.com: What NFL players eat on the plane.